This post is sponsored by Lunchbox. All opinions are my own.
Are you, or your children, crazy for Super Heroes? With two hot new Marvel Avengers movies – Captain America: The Winter Soldier comes to theaters April 4th and Thor: The Dark World just released on blu-ray Avengers are all the buzz! Walmart has a dedicated landing page that is the go-to stop for all things Avengers! You can learn about the different Avengers characters, download free wallpapers, find themed toys, and more! There's even a sweet pizza deal for dinner and a digital movie when you purchase any new Marketside pizzas! Look for a collectible Hero mini print on each of the boxes!
Select from six total Thor wallpapers for your desktop or mobile device, all completely free to download! My favorite is the mobile wallpaper featuring Thor's hammer!
All of my boys love Super Heroes, but my 5 year old is obsessed! He was even Captain America for Halloween and has worn his costume several times a week since, I can hardly get him out of it! We got to check out a few of the new Captain America toys. I should have had my camera ready because as I opened the box he screamed out "Awesome!!!!! CAPTAIN AMERICA!!! These are the coolest toys ever!" After opening the toys and checking them out, he ran off to dress up, full Captain America style.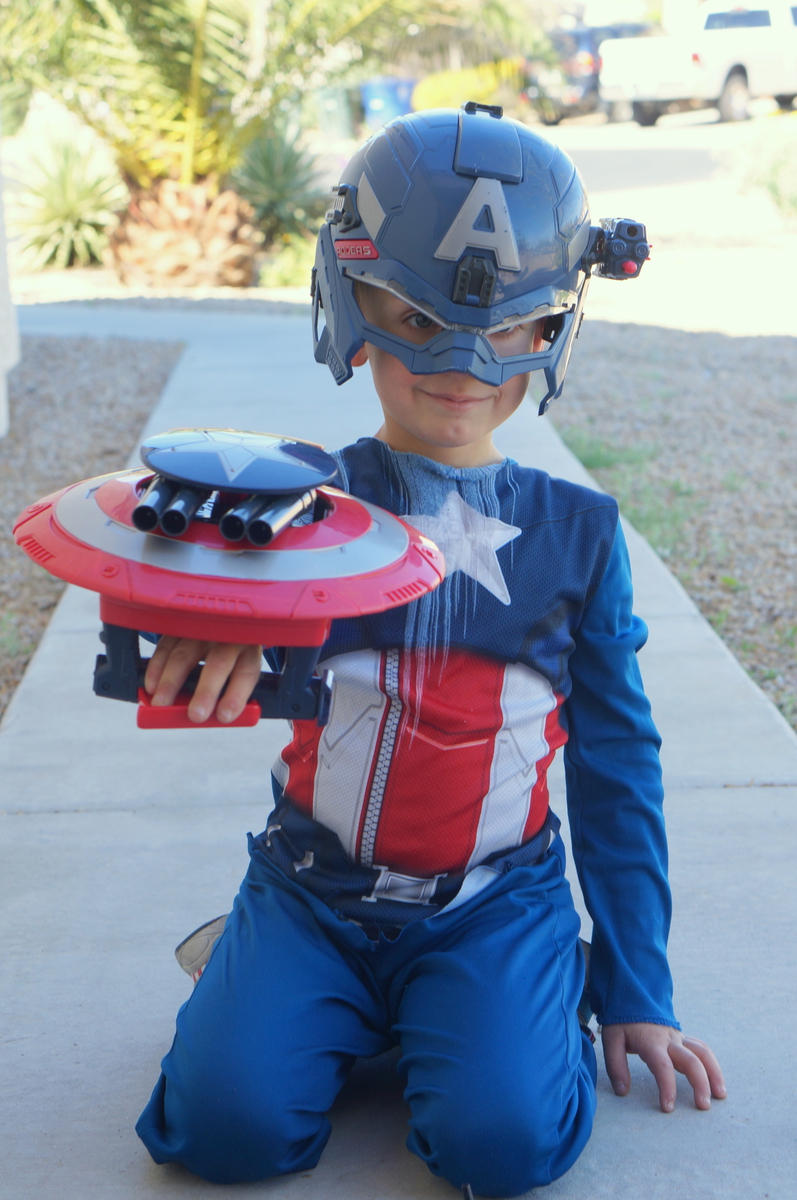 Geared up with a Captain America Super Soldier Gear Battle Helmet with light up vision and mini rocket launcher as well as a Captain America Stealthfire Shield he was ready to be his favorite of all the Super Heroes! He loves anything that launches things, and the Marvel line seems to understand that! All of the Captain America toys have a button ready to launch! The shield is really cool because it had a built in NERF mechanic. You can launch each of the four soft bullets and then squeeze the handle one more time and the launching mechanism collapses, ready to be reloaded. It is a little bit tricky if the kids try to pull on the launchers they can get pulled out of place and then need to be readjusted, but it's not hard to get them aligned back into place so you can get back to playing.
The favorite of the toys was the Shield Storm Captain America Figure. He talks and has a launching shield as you squeeze his legs. These two actions paired together make him feel like a real hero. My 5 year old has been taking him everywhere we go, showing off his sayings. You can take your Captain America for a ride on the Shield Blast Motorcycle Vehicle which has three ready to launch shields that to spin off the motorcycle to stop the bad guys. The motorcycle was my 3 year old's favorite. He loved that he had three shields to play with so he could keep on launching and then go collect them all to start again.
All of these toys are really cute and very affordable at under $20 each! Of course, you can browse toys from the other Marvel Avengers favorites, too, including Thor and the other favorites. Head over to see all the Avengers fun online at Walmart.
What is your favorite Avengers character?