I received a variety of samples in compensation for this post.All opinions are my own.
Looking for fun, innovative, unique, and personalized gifts? These six creative gift ideas will make shopping for the upcoming Holiday Season extremely easy and stress-free.
Give the gift of creativity through Eco Lips. Eco Lips provides the opportunity for you to design and create your ideal lip balm. With over 2 billion combinations available, Eco Lips provide all-natural, gluten-free, cruelty-free, organic, and luxurious lip care. I had a blast creating my very own Eco Lips: Sweet Satisfaction. I loved being able to choose my favorite ingredients, container, cap, and label. I found the website well organized and helpful as I designed the perfect lip balm. Combining sweet almond oil, beeswax, kiwi flavor, mango, coconut oil, Shea Butter, lavender, and Vitamin E, my lip balm smells fantastic and leaves my lips soft and healthy. My previously dried lips are healed thanks to Eco Lips. To create [my] Eco Lips .15 oz stick, visit Eco Lips ($6.99).
What woman doesn't enjoy the gift of style? This gorgeous 3 layer statement piece necklace from A Painted Nest is the perfect Holiday accessory. I recently stumbled upon A Painted Nest's pop-up market; this trendy website features modern home decor and other fun products at discounted prices. This website is full of unique gift ideas! I am smitten with A Painted Nest's brown statement piece necklace. These rich colors remind me of fall/winter: cherry red, brown, and mustard yellow. I love pairing this necklace with my gray cardigan, black skinny jeans, and caramel boots. I can't wait to debut this necklace at an upcoming family wedding. To give the gift of fashion through this brown statement piece necklace ($13.99) visit A Painted Nest.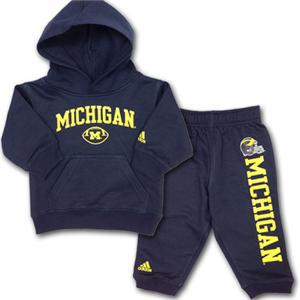 Give the gift of team spirit with Baby Fans' baby sport clothing. Featuring NBA, MLB, NBA, and collegiate team clothing, your little one will look adorable sporting your favorite colors. Baby Fans provides team jerseys, sweat suits, accessories, cheerleader uniforms, and hats perfect for infants and toddlers. My husband is a huge University of Michigan Fan – to say the least, he was delighted to receive a Michigan Adidas Sweat Suit for our little toddler. As soon as he opened the package he exclaimed, "This is the coolest thing I've ever seen. I want one!" I love watching my hubby and son wearing their Michigan gear while watching a football game – there's nothing more precious. After all, Baby Fans sport gear isn't just a gift for the kiddos – team spirit is a gift the whole family can enjoy. To learn more about this Baby Michigan Adidas Sweat Suit ($30) or to check out sporting gear from other teams, visit Baby Fans.
Looking for the perfect personalized gift? Flattenme's Multicolor Kid written by Jennifer Hess and Caity Redfern and illustrated by Jennifer Hess, makes reading come alive by inserting your child's name into the text. Multicolor Kid expresses the many colors of your child's personality through beautiful artwork and powerful words; "Evan loves to wiggle and giggle under the bright yellow sun. With a joyous smile and twinkling eyes, Evan is number one." My son loves reading Evan is a Multicolor Kid. He will open the book and sit there quietly until I come read with him. He points at all the brightly colored pictures and perks up every time I mention his name. For more information concerning Multicolor Kid ($24.95), visit Flattenme.
Give your man the gift of comfort with Fruit of the Loom's Men's Fleece Full Zip Hood and Elastic Hem Fleece Pants. Available in a variety of colors and sizes, these newly re-designed clothing items provide softness, warmth, and the perfect fit. My husband loves Fruit of the Loom's new media pocket in his Zip Hood; he doesn't have to worry about his phone falling out due to the pocket's perfect size. My husband immediately changes into his Fleece Pants and Zip Hood the second he gets home from work. After all, what makes a man happier than absolute comfort? For more information concerning the Zip Hood ($12.99) or Fleece Pants ($6.99), visit Fruit of the Loom. These clothing articles are also available for purchase at Walmart.
Labato offers perfect, fashionable gifts to protect your smartphones, tablets, and iPads. This 100% handmade black leather case (with a red, white, and blue stripe on the cover) is designed for the iPad 2, 3, and 4. Labato's sleek design and and light weight case is the best iPad case I've owned. I love the cover's magnetic sleep/wake capabilities, stand positions, and inner soft-lined material. I love how the case fits perfectly around the corners of my iPad without creating a bulky appearance. This the first iPad case I've owned that holds my iPad perfectly in place without covering most of my iPad's border. The hard back protects my iPad from my clumsiness and the front magnet holds the front cover perfectly in place. Labato's affordable black leather iPad case ($12.99) makes the perfect gift this Holiday season. For more product and purchasing information, check out Labato products on Amazon.