If you're considering adding Switzerland on to a nearby European vacation or maybe you live in Europe and want to plan a quick getaway, you will never regret a trip to Switzerland! There as so much to do in Switzerland, and with this 3 day Switzerland Itinerary you'll have an easy-to-adapt plan to call our own!
Let's get started, here's my top picks for What to do in Switzerland, with some alternative suggestions to fit your schedule, time of the year, or varied interests.
3 Day Switzerland Itinerary
Day 1: Flight Day, Arrival in Zurich, Commute to first Destination
Many flights from the United States depart in the evening and fly overnight to Europe. We took advantage of that and were able to arrive the evening after we departed.
Technically, the start of our trip was day 2, but because of leaving in the evening we didn't need to take off any extra work and we were able to count day 1 as our arrival day!
We arrived at 5:30pm local time and went right to the rental car location. If you want to rent a car during your trip, Switzerland is the time to do it! It will give you a lot of flexibility to see any of the sites you want and the roads are fantastic for driving.
Shortly, we were on the road and headed to our first destination where we would be staying in an airbnb for the next couple of nights. We chose to stay in Hasilberg, which was an incredible small town! It worked for what we wanted to see and do during our trip.
We loved it there. We even got stopped on our way out the first morning with a herd of cows being walked down the road to their trail for the day. It was so impressive – especially the young boys who led the herd.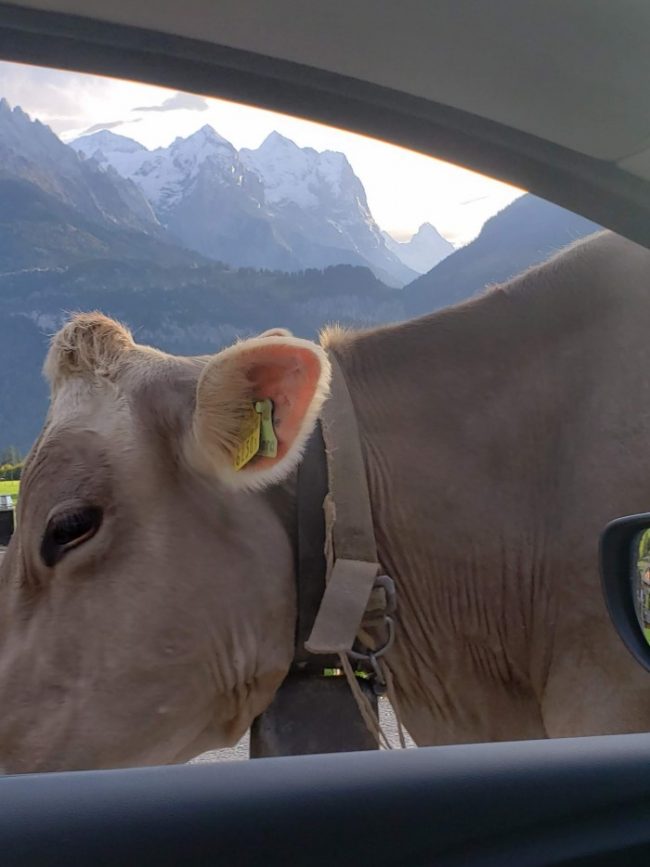 I would recommend anywhere within an hour or so of Lauterbrunnen, depending on what accommodations you can find within your travel budget.
You'll want to stay up as late as you can that first night, until 8, 9, or even 10 if you can manage. The later you can stay up, the better your chances of acclimating to local time easier. Melatonin helped us settle to sleep and stay asleep that first night.
Day 2: Lauterbrunnen
Lauterbrunnen is a city nestled in the Swiss alps and the alps literally tower over you in every direction. It is perfect for outdoor enthusiasts, but there is something for everyone here.
I highly recommend taking the trolley car up to the carless city of Murren and walking around to see the views and the darling town. Your trip up to Murren takes you on a lift that goes straight up the alps. It's really neat (and slightly terrifying!)
There are lots of really cool things to do in Lauterbrunnen, Murren, or the surrounding cities at the top of the alps. You'll want to book an specific activities you're interested in doing before your arrival, as attractions sell out quickly.
Lauterbrunnen Area Excursions:
Paragliding
Rock Climbing the Via ferrata
Trummelbach Falls
Jungfraujoch "Top of Europe"
Cable car to Eiger
The First Flyer Zip-line
Skiing in the winter
We spent the day heading straight up to Murren. We checked out the town, enjoyed a meal with the Alps in view. This authentic hashbrowns and eggs dish at Hotel Eldelweiss was to die for!
From there, we looked for a paragliding excursion. Unfortunately, they were all booked for the day. We did, however, find the spot where they paragliders took off and watched in awe as they floated down into the valley below.
Instead, we ended up hiking down to Gimmelwald, which is a 2km hike that takes about 30 mins. It's a serious incline, so you will work out those calf muscles, but you'll have a serene experience hiking out in the middle of the alps with a chorus of cow bells and scenery you won't find anywhere else.
From Gimmelwald, we took the cable car back down to the valley floor and caught a bus direct to Trummelbach Falls. Make time for these falls, even if you feel like you have seen waterfalls before. Trummelbach is not like any falls you've ever seen before.
At Trummelbach falls, the water is runoff from melting glacier water and it thunders back and forth through the mountain carving out a path that sends the water shooting down in curves through the inside of the mountain. It's incredible and absolutely worth the visit!
Day 3: Aare Gorge, Gimsel Pass and Furka Ice Caves
Start your day at the Aare Gorge. This is an incredible gorge with crystal blue water with walking paths that cut through and along side the gorge walls. It stunning and makes for a wonderful day hike.
The Aare Gorge is 1.6 km one way, and take about an hour to walk. You'll certainly want to take lots of time for pictures, as well. When you come out the other side of the gorge, you'll walk a short distance down a trail and across a bridge to the coolest train stop I've seen, yet!
The train stop is cut into the mountain side with a button to press if you're requesting the train stops at the destination. It's a short train ride back to the start of the trail where you parked and you can be on your way to the next stop of the day.
From there, we hopped in the car and headed to the Furka Ice Caves. If you come in the summer through early fall, you can venture inside of a glacier in the carved out up to 100m long Furka ice caves.
To get there, you'll weave your way through Gimsel Pass which will take you up to the top of a peak and then back down the other side. It's fun to head up through the pass and see a few patches of snow, even in the summer. There are also several dams and a surprising change of scenery that's incredible in it's own way.
Then, at the ice caves, you'll snake your way through the glacier and have fun taking silly pictures. It really is beautiful burrowed deep inside the ice tunnels, even if it is a bit touristy of a stop. To be up close to a glacier is a pretty incredible thing to mark off your bucket list.
We continued on from the ice caves back to Zurich. From there, we continued on our 2 Week Italy Itinerary with an overnight train to Rome!
Alternative Attractions or
More Time in Switzerland
Murren: If you have an extra day, or additional time, in Switzerland how should you spend it? I would recommend an overnight stay in Murren, if you can afford it. The accommodations aren't cheap, but any extra time spent in this area is well worth the expense. You might also consider a side trip to check out St. Beatus Cave nearby.
For more on what there is to see and do in Murren and the surrounding area, see our travel guide from my previous trip!
Lucerne: Another option is to spend a day in Lucerne on your way to or from Zurich. There, you can see the Lion of Lucerne carved into the side of the mountain and take a short walk around the lake. Nearby, you can also explore the UNESCO Biosphare Entlebuch for one of a kind hiking and views.
Aare Gorge Area: Near the Aare Gorge you could add on a trip to the Reichenbach Falls, where Sherlock Holmes met his demise. There's also a Sherlock Holmes museum in the town. Consider a side trip to the Trift Bridge, which is a long suspension bridge over the Trift Glacier.
Bern: If you're coming in from the West, take the time to stop in Bern, Switzerland. It's a college town that has all the feelings of an authentic old town. With cobblestone lined streets, a clock tower, medieval architecture, and a river weaving around the town it's got incredible charm!
I visited Bern on my last trip to Switzerland and was caught off guard by a city I wasn't expecting all that much from. We fell in love with the city. It's wonderful for just walking around the streets and feeling the vibe of the city.
Jungfrau: Take a trip up to the Top of Europe, the highest point in this Swiss Alps available by public transportation. There is a site here where you can skate through an ice room, walk out along a path on the snowy mountain top, and other attractions and recreation.
No matter what you decide to do on your trip to Switzerland, you'll be anxious to make your way back again soon! Switzerland is incredibly beautiful, not crowded or busy, and offers such varied attractions that it's sure to be a hit with your travel companions.
I've been to Switzerland twice, now, and I'm still anxious to go back when I can! It's a place I don't think you can ever get enough of.
To see more of our trip, follow our path to Rome and onward with this adaptable 2 Week Italy Itinerary!