If you live in the East Coast, one of the best destinations to visit is Florida for your family vacations. There is so much to do and see that it's easily a vacation to fit all family's interests! With these 10 tips, you'll find ways to save while planning the perfect Kissimmee Florida family vacation and sticking to your budget!
We partnered with the Kissimmee Tourism board who helped facilitate complimentary accommodations at FantasyWorld Resort and admission to Fun Spot and Wild Florida during our stay. All opinions are our own.
Kissimmee Florida
Vacation on a Budget
1. Stay in the Nearby City
You can save a lot on your vacation by looking for accommodations and attractions in the neighboring city. When Orlando is your destination, there is no better place to stay and to play than in Kissimmee, Florida.
Where we stayed, at FantsyWorld Resort, we were only 15 minutes from the major parks including SeaWorld and Disney attractions and two of our activities were within 2 miles of our accommodations! There is so much to be said about choosing to stay in Kissimmee, Florida. It is really a hot spot of fun with unique attractions hidden around every corner.
2. Book Versatile Accommodations Instead of a Hotel
There are a lot of choices when in comes to where to stay when planning your vacation. It's arguably one of the most important decisions you can make as it will affect your sleep, comfort, and even dining options.
The best thing you can do to ensure a successful family vacation to Florida is to look beyond hotel options. On our recent family trip to Kissimmee, we stayed at FantasyWorld Resorts. It offered everything our family needed with a comfortable villa with two bedrooms to give the kids their own space to sleep.
The kitchen saved us lots of money giving us the opportunity to dine at home for many of the meals. Plus, they included extras like breakfast, complimentary shuttle to the parks, and evening drinks included! The extra perks like drinks and breakfast are available to anyone when you join their free Rewards Program!
At a resort, you'll be able to spend your down time still packing in fun with time at the pool and other resort activities like mini golf and seasonal fun!
3. Focus on only One Major Theme Park
Theme parks are the fastest way to blow through your budget. Instead of trying to visit all of the theme parks during your Florida vacation, you can save a lot of money by focusing on your top pick and then maximizing your vacation around the offers and incentives that park offers.
It's certainly tempting to squeeze it all into one trip, but your family and your wallet will be much happier without every day of your trip spent trudging through busy parks.
4. Take Advantage of Mutli-Park Passes
If you have your heart set on theme parks as the focal part of your trip, look for and take advantage of offers to visit more than one park owned by the same company. You can often add additional parks for a very low rate compared to purchasing individual tickets for competing parks.
We usually pick a different brand of parks each trip, and this time went with the SeaWorld family of parks as we really love visiting Discovery Cove. It's a one-of-a-kind park that's not overly crowded and provides an experience unlike any other!
With a day pass to Discovery Cove, we could add on the two additional SeaWorld family of parks – SeaWorld and Aquatica water park, for only about $10 per person, which made the tickets much more affordable for our family!
5. Book Ahead of Time to Save
Planning out and booking your activities in advance can let you take advantage of sales, promotions, and other offers. For example, booking a day at Discovery Cove increases in price as the date gets closer and their spots start to book up. Plan out a rough outline of attractions and dates, then start to fill in your schedule by first booking attractions that are the most date-specific.
Some tickets may have flexibility and you can plan a specific date as your trip gets closer, but others, like our day at Discovery Cove, we needed to select one specific day and the prices varied by actual date. We planned that attraction into our schedule first, then worked in the rest of our activities around that to help us take advantage of savings.
6. Look for Alternatives to the Major Theme Parks
One way we love to save on vacations is looking for fun and attractions that are outside of the major theme parks. In places like Kissimmee, Florida, where there is so many options and variety to choose from, it won't be a challenge to find alternatives your family will love.
One such place for us was Fun Spot! It's got a lot of appeal like the major theme parks but absolutely no lines if you go during the week. While at Fun Spot we were able to ride any ride we wanted over and over and over again.
We did each attraction within the park a couple times each and a couple of them we went on a dozen times getting right back into the line and back onto the ride when it was over! They have big rides, smaller carnival rides, and even go carts. How fun to maximize your day of rides and fun without endless lines.
7. Use Deal Sites to Find Affordable Fun
We love using deal websites to find affordable fun to fill in any gaps in our travel itinerary. On our most recent trip to Kissimmee, we found two really fun activities I knew my family would absolutely love that a much more affordable price with using Groupon to score a deal on tickets!
The first was something we've been wanting to do, a fun themed Pirates Dinner Adventure! Since dinner and a show were included, it really made for a decent price and we all had such a fun time at the show.
Another thing we absolutely love to do as a family while on vacations is escape rooms. It's hard to know what places are good and to be able to afford the experience for a large family.
With Groupon, we were able to compare the reviews and find a great price that let us have such a fun time! We went with Doldrick's Escape Room who had a promotion during our travel.
8. Plan Unique Experiences
It's those once-in-a-lifetime experiences that you'll remember and talk about for years to come. Wild Florida provided that for us with a park that is like no other!
We started with an airboat tour which is a must do anytime you visit Florida. It's so much fun and a really refreshing day away from the busy crowds as you get to see the marshy areas of Florida and spot the local wildlife.
After the airboat, we got to experience their Drive Thru Safari which was so much fun! You'll stay in your own car and get a guide of animals to spot. There was a huge variety of animals to spy and my kids were frantically looking in every direction pointing out all the animals.
We ended the Drive Thru Safari with feeding the giraffes which was really, really cool! We were all like little kids excitedly feeding the Giraffes. Wild Florida was such a unique experience that my boys are still talking about!
9. Take Advantage of No-Cost Activities
Don't overlook opportunities to experience all your destination has to offer! We love taking time in our schedule to do things that are out in nature and don't cost anything at all.
Our favorites when visiting Florida is of course spend a day at the beach! Even from Kissimmee, it's not too far to make it to the ocean and spend time splashing in the waves! It's a must-do to add to your list if you have a vehicle during your trip.
Another great way to have free entertainment and really explore your destination is to look up local hikes and you're likely to spot unique wildlife, too! We spotted an armadillo — I had no idea they lived in Florida!
10. Research Your Options for Ways to Save
Look through the rules and regulations of the different attractions you have on your schedule. This will help you be prepared and aware of any hidden ways to save.
For example, at SeaWorld and Aquatica, we were able to pack our own water bottles and snacks into the park. They do have exclusions around lunch and meal type products, but with the help of a variety of snacks we were able to skip expensive meals in the park and head home to our resort for a big dinner.
6 Day Kissimmee Travel Itinerary
Here's a sample itinerary to help you make the most of your trip to Kissimmee, Florida. You can rearrange the days, but this will give you full and fun days that aren't too packed to leave you needing a vacation after your vacation.
The Experience Kissimmee Tourism board website helps makes it easy to find places to stay, play, and dine that fit your family perfectly! This should be a go-to resource to help you discover and plan your trip.
Day 1: Discovery Cove
Spend your first day getting a first hand view of amazing sea life at Discovery Cove. The Grand Reef is really incredible and when you're ready for something a little different the river loop is a refreshing change of pace with a beautiful aviary you float through.
Day 2: SeaWorld
With SeaWorld being one of the major theme parks, this was our most tiring day. Be prepared for the crowds and the lines and schedule what's most important to you first, then fill in what you have time for after that.
Since we didn't pay for a full price admission, we didn't feel like we had to stay the entire day to get our money's worth and made a priority for the whale show and a few big coaster rides, plus of course seeing some of the sea life before we left the park.
Day 3: Aquatica & Pirate Dinners
Your day at Aquatica water park will be so refreshing after a hot day spent at a theme park. We found the park wasn't super busy so we really enjoyed our day! One stand out for us about the park was the Roarin' Rapids that was a fast paced lazy susan that was so much fun!
We of course loved the water slides, like this one that slides you right through the dolphin pool! There was even a water slide where you stand on a platform with a hatch door that closes. It then counts down to the platform dropping out from below you as you shoot down a speed slide!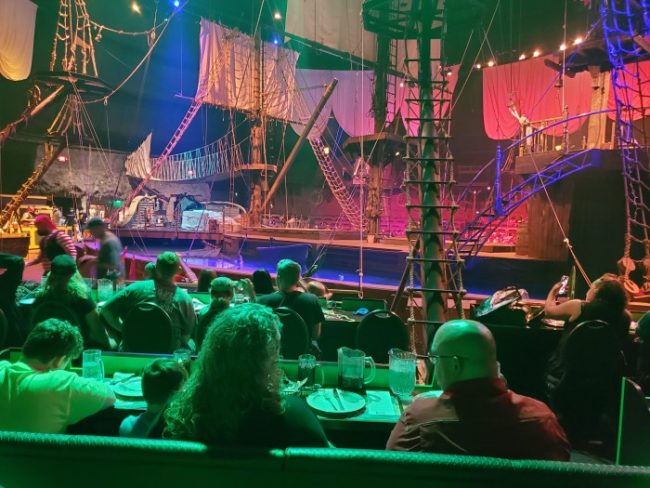 We then ended our day at a Pirate Dinner Adventure which covered our dinner so we didn't have to think about anything. Just enjoy a meal and a show as they got us involved in cheering and chanting along with the crowd!
Day 4: Pool & Fun Spot
Start your morning enjoying the pool at your accommodation of choice. FantasyWorld Resort had a pool, splash pad, and even had a lazy river and water slides we were thrilled to take advantage of!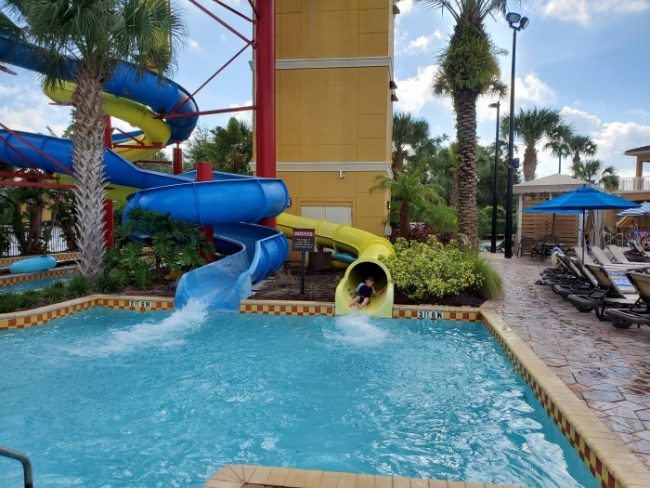 After spending the morning playing, we had a little down time for lunch and a nap before heading out to Fun Spot that's open from 2pm to Midnight. Aim your Fun Spot day for a weekday, when possible, to enjoy a park that feels empty with no lines or crowds!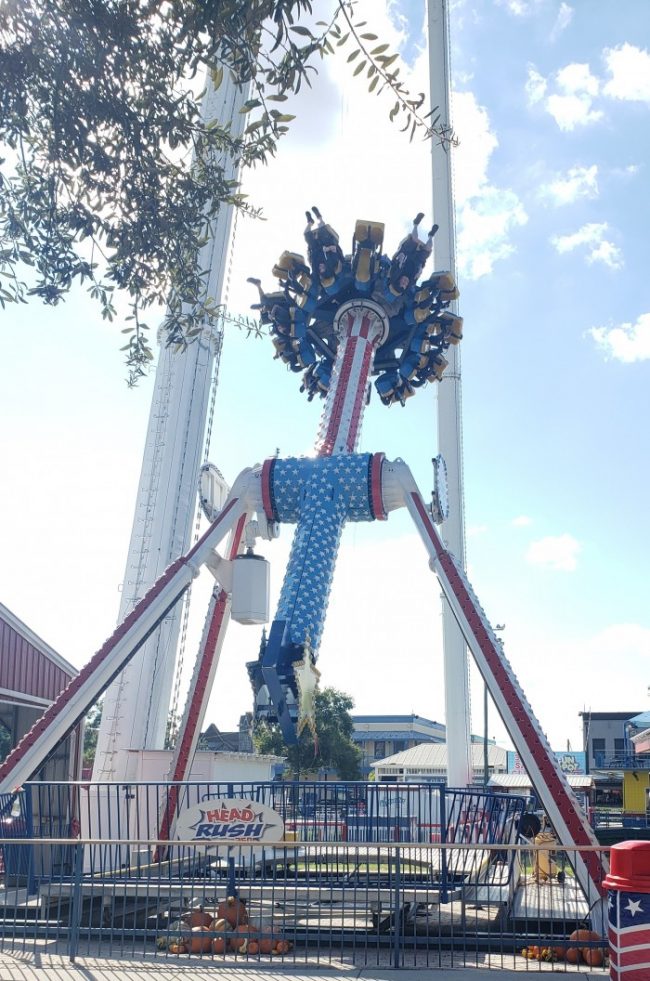 Day 5: Beach and/or Hike
After a busy trip so far, plan a more relaxed, low key day that doesn't have a pressed schedule. We felt the 2 hour drive to the beach was more than worth it to spend a day seeing the ocean and relaxing on the beach. It was a much needed change of pace after a few busy day at parks!
Day 6: Wild Florida & Escape Room
Next, plan a day to take advantage of all the fun attractions at Wild Florida. Start with an airboat tour that you won't soon forget. We also really loved the Drive Thru Safari and feeding the giraffes! You can return to your resort to relax and then plan an evening attraction like an escape room to get out, have some fun, and not have too busy of a day!
What's your best tip for saving money on a family vacation?