I recently set off on a 2 week Italy vacation including a couple days in Switzerland on a girls trip. We scored incredibly cheap flights to Zurich, Switzerland, which is just a couple hours north of Italy by train.
It was too good to pass up, and soon I was planning and plotting out a 2 week Italy Itinerary with a start in Switzerland! There are lots of perks to starting in Switzerland, and it will probably be a highlight of your trip, like it was for us!
Switzerland and Italy are both incredible countries, and will make this an unforgettable trip of a lifetime! So, let's jump right in with an overview of the schedule.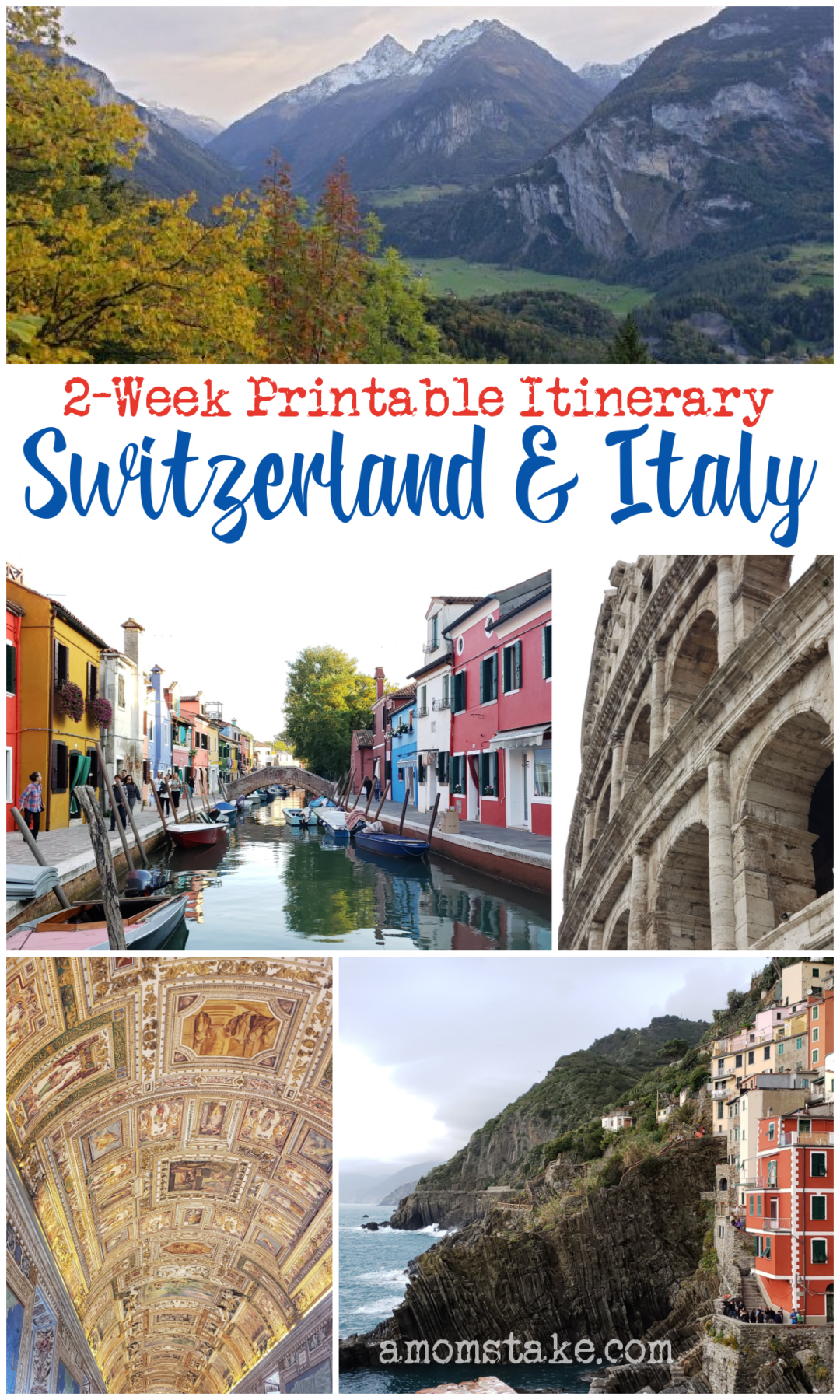 Italy & Switzerland Travel Itinerary
This itinerary starts in Zurich, but can easily be adapted to fly in and out of different airports or work the loop in a different sequence depending on what airport you can find affordable flights out of.
Check Zurich, Venice, Florence, Rome, and Milan airports for cheap flights! They'll make the biggest difference in your trip budget.
2 Week Italy Itinerary that includes Switzerland:
Day 1: Depart / Lose a Day Traveling
Day 2: Arrive in Zurich
Day 3: Lauterbrunnen
Day 4: Furka Ice Caves and Gimsel Pass
Day 5: Return to Zurich, Overnight Train to Rome
Day 6: Rome – Sightseeing major attractions
Day 7: Vatican City
Day 8: Rome – Sightseeing major attractions
Day 9: Pompeii & Naples Tour
Day 10: Florence & Pisa
Day 11: Cinque Terre
Day 12: Venice
Day 13: Venice Islands
Day 14: Milan and Depart Zurich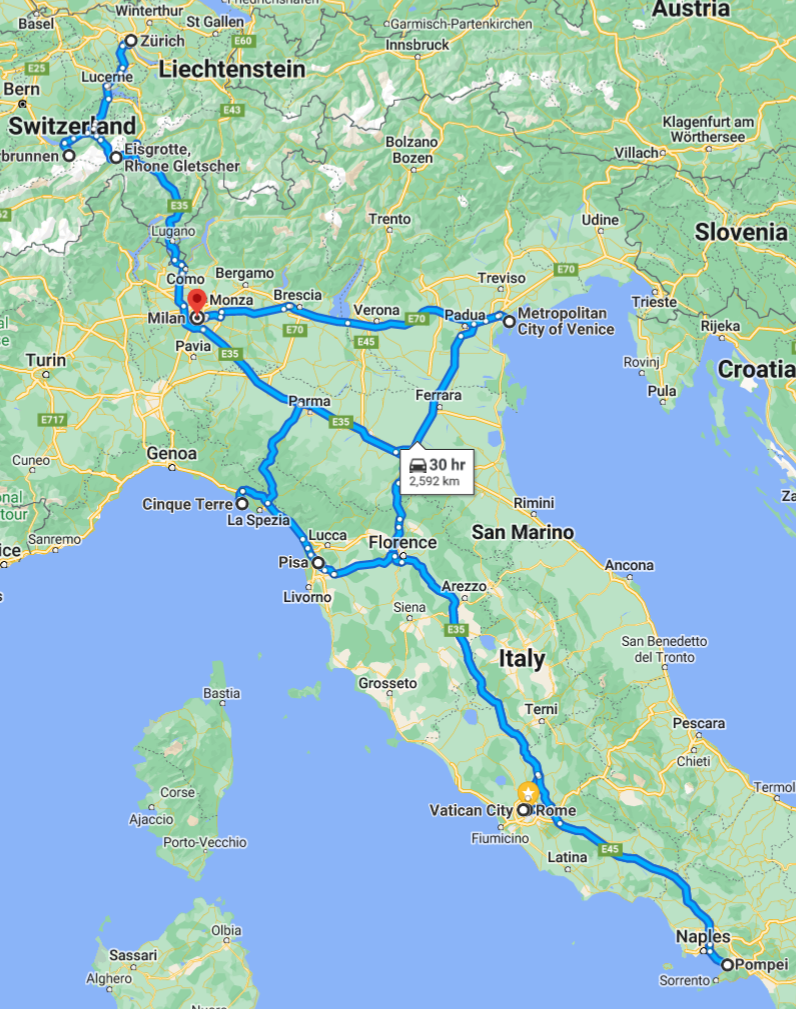 Summary of where I stayed:
(Lost a night traveling + time zones)
3 nights in a small town of your choice in Switzerland (I stayed in Hasilberg)
1 overnight train (Zurich to Rome)
3 nights in Rome
2 nights in Pisa
3 nights in Venice
1 night in Zurich near airport
Benefits of Starting in Switzerland:
Switzerland is much, much less crowded than any part of Italy we visited. Even the touristy area of Lauterbrunnen was much less crowded. That means, you'll be able to better adjust to the time zone changes with a more relaxed environment.
Jumping into Rome immediately is very difficult on you. There is just SO much to see in Rome and it required a lot of walking (or bus, train, taxi) to get around to see all of the sites. Coming off of jet lag in that very densely populated city is not ideal. You won't get the most out of Rome if you try to hit it first.
Switzerland is incredibly gorgeous and will take your breath away. We couldn't help but express how beautiful the views were in every direction. You won't regret your choice to add Switzerland to your itinerary, and will probably be itching to go back! You're going to love every minute of your 2 weeks in Italy and Switzerland!
Day-by-Day
Switzerland Itinerary
Head here to see an in-depth 3 Day Switzerland Itinerary
and alternate options, as well!
Day 1: Depart from your Home
Your first vacation day will be spent in transportation. Whether by flight, train, or car, you'll make your way to Switzerland on day 1. We flew in from the United Stated to the Zurich airport, then opted to rent a car.
Day 2: Arrival in Switzerland
Depending on your arrival time, plan to make your way to your first destination city so you can make the most of your first full day in Switzerland with little commute time.
Settle in for an early evening in the town you chose. If facing jet lag, do your best to stay up until 8pm or later, local time, to help you better adjust to the time difference.
Day 3: Lauterbrunnen
We started our Switzerland adventures with a day in Lauterbrunnen. It's a really cool city nestled in between the Swiss Alps with lots of different attractions to try.
I highly recommend a trip up to the carless city of Murren for breathtaking views of the alps and a serene city that's so pleasant to walk around. It's a cable car ride up to the top for a spectacular view, a bit of free time in one of the best places in the world, and a perfect place to grab lunch and just slow down.
You'll also want to make time to see Trummelbach Falls, which filters all the melting glacier water from the major alp peaks down through the center of the mountain in tumultuous falls that are unlike anything you've seen before.
Day 4: Aare Gorge, Gimsel Pass and Furka Ice Caves
Spend your next day beginning at the Aare Gorge. It's a slow paced 1 hour walk through the gorge on platforms built into the side of the gorge walls. You'll spot crystal blue water and gorgeous scenery.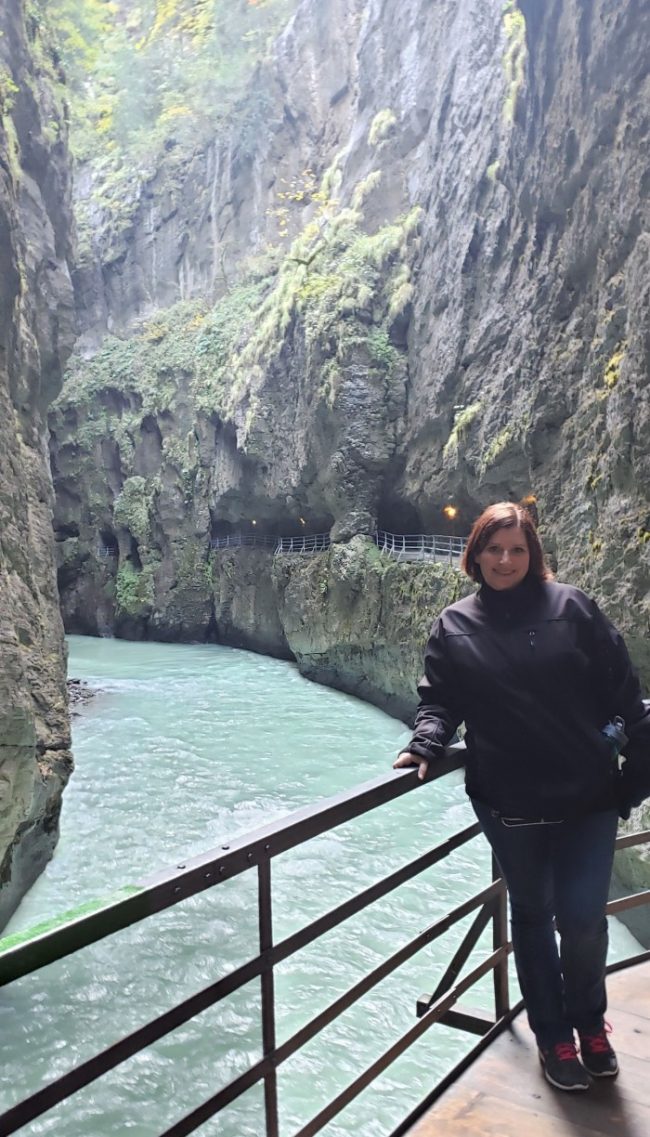 From there, hop in the car and wind your way up, over, and then back down Gimsel Pass. It's the perfect way to spot a little snow if you head to Switzerland in the summer or early fall. The scenery changes so much, and it's unique and beautiful in it's own way.
On the other side of Gimsel pass, you can stop at the Furka Ice caves to walk inside an actual glacier! It's a one of a kind experience.
From here, we headed back to Zurich to catch our overnight train to Rome.
Day-by-Day
Rome & Pompeii Itinerary
Pop over to read our in-depth 4 Day Rome Itinerary
and alternate options, as well!
Day 5: Rome
There is so much to see in Rome and it's the largest city on this itinerary! You'll most likely want two full days to see everything in Rome. We did it all in a single day, but it took 12 hours and over 20,000 steps walking. I wouldn't recommend it!
On your first day in Rome, hit the major sites with a tour. You'll really want a local guide to make the most out of the sites and really learn about the history here.
Our walking tour took us through the Colosseum, Palatine Hill, and the Roman Forum. We learned a ton, and it was incredible seeing all the history here in the city center. Add a few other of your top picks for the city on the first day, but don't overdo it.
You'll also love this list with the 12 Best Things to See in Rome with a Self-Walking Guide!
Day 6: Vatican City
Hop on a bus or taxi and head your way over to see Vatican City. You'll need most of the day here. Double check the Pope and Vatican schedule before heading here, as that can drastically impact the tourist count.
If you enjoy museums, you can venture into the Sistine Chapel. It starts by winding through the Vatican Museum which takes hours weaving in and out of the exhibits. There's no way out of the long lines and winding path, so be ready for a lengthy walk and endless art. Of course, check out St. Peter's Square and Basilica.
Visit the nearby Castel Sant'Angelo and Ponte St. Angelo Bridge. You'll find really cool angels lining the bridge and an neat perspective looking down the road back toward the Vatican City.
Day 7: Rome
Finish checking off everything from your must-see list on your second full day in Rome. Make sure to take time to see Pantheon, Trevi Fountain, and the Arch of Constantine.
Make your second day a slower paced day, or consider taking a Vespa tour to see the city in a really unique way!
Day 8: Pompeii & Naples Tour
We weren't sure about Naples and read mixed reviews, but we really enjoyed the day trip. Plan for your entire day to be consumed, but since someone else is handling all the transportation it's a laid back day overall.
After comparing the prices of booking our own train tickets and needing the fast train to make Pompeii even work in a day, the price of the train tickets alone was almost the same as the tour — so a tour was an easy pick for us. These 2-in-1 day trips to see both Naples and Pompeii was absolutely worth seeing!
Naples was really neat and we learned a lot, plus it was wondeful to try Naples pizza, which was fantastic! Then on to Pompeii which as a chilling site, but also so very fascinating. We were all very glad we took the time to see these two sites.
Day-by-Day
Northern Italy Itinerary
See our 5 Day Itinerary to Northern Italy
over here with alternative suggestions!
Day 9: Florence
Take a quick train ride north from Rome to explore Florence. The Duomo here is incredible and the leather shops are so fun to wander through. You can also make time here to see the David statue.
We traveled another short train leg to be closer to our next days attraction, and opted to stay in Pisa. Staying in Cinque Terre would also be a fantastic choice, or anywhere en route.
Day 10: Cinque Terre
We loved so much about every part of our trip, but we all voted Cinque Terre as our favorite spot! It's absolutely stunning with the 5 cities dotted along the Mediterranean coastline.
Make time to see at least 3 of the cities, more if you can! We squeezed in all five cities in one very full day, and it was a lot but worth it! Each city is very different from the next so they are all worth a visit.
Unfortunately, the hiking trails were closed due to rain the day we were there, but hike at least one of the short connecting trails if you get a chance!
Day 11: Pisa
Pisa may not be the top of everyone's bucket list and is another destination that guests were sometimes underwhelmed with. But we stayed in Pisa as a convenient stopping point near Cinque Terre. For us, without going too far out of the way, we actually really enjoyed a short visit to Pisa.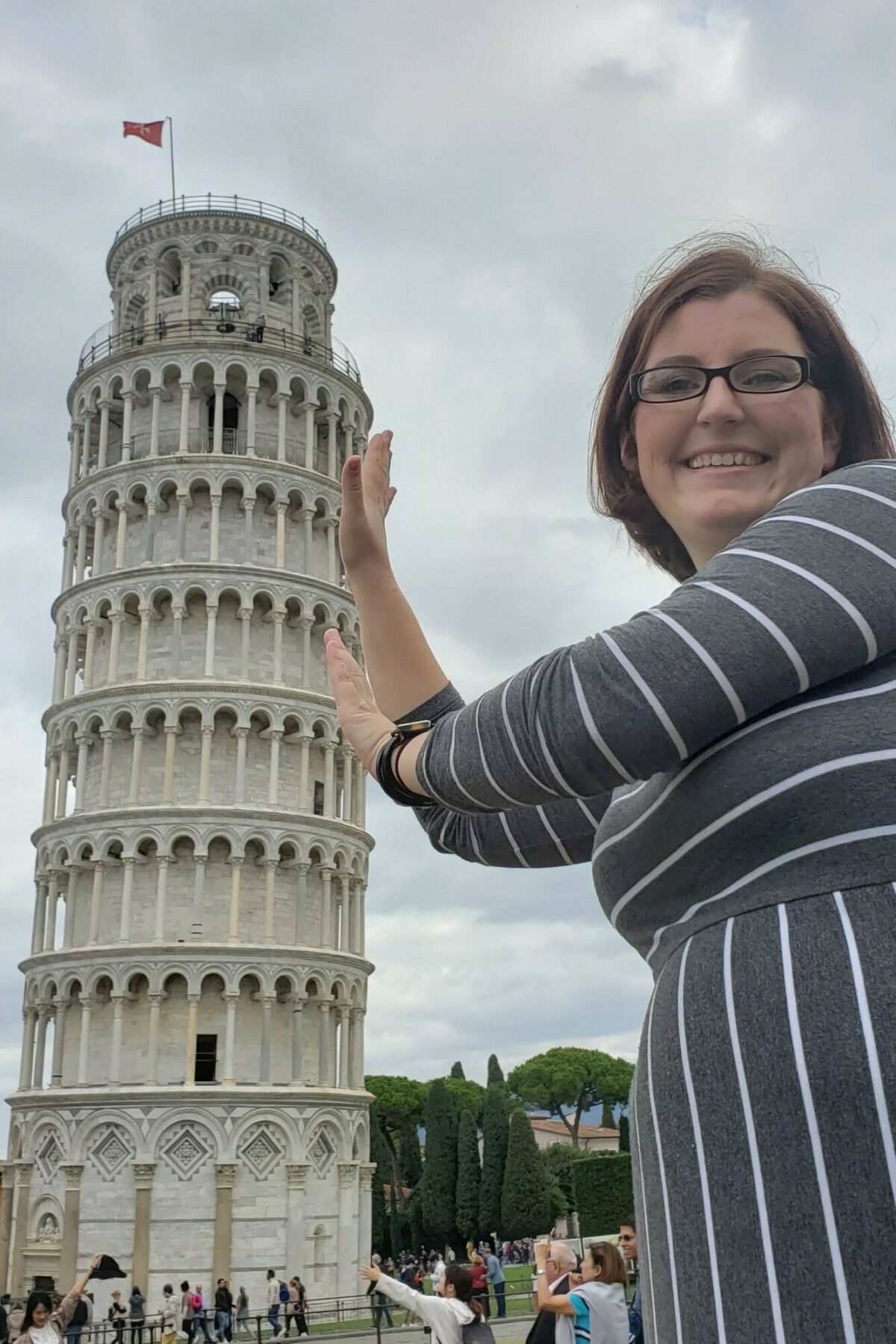 In Pisa, you'll see more than just the leaning tower. There's a duomo and baptistery in the plaza with the leaning tower that have beautiful architecture. So, stop in if it's convenient along your route and take the silly pictures. It's fun and memorable, and then continue on your way to Venice!
Day 12: Venice
Spend an entire day devoted to winding the streets of Venice. We didn't make any big agenda and just weaved in and out of the alleys and bridges. We also spent a lot of time shopping in Venice as there was just so much variety and really loved all there was to see.
You can make time to see St Mark's Basilica and Square and the Rialto Bridge. Plus, hop on a gondala if you're so inclined.
Day 13: Venice Islands
You'll want another entire day to devote to the islands around Venice. They are each so unique and we fell in love with Burano.
If you start at Mazzorbo you can wander through the vineyard and then walk across the connecting bridge to see Burano. Set aside a few hours for Burano to just wander the colorful homes.
Then, you can hop on another vaperetto to see Torcello nearby. Then back toward Venice you can stop at Murano to see endless glass shops or a glass blowing demonstration.
Day 14: Milan & Depart
Plan your final day to head back to Zurich with a stop at Milan en route. You'll only need a couple hours in Milan to wander the shops. You don't want to miss the impressive Duomo there. You can also wander aroudn the Sforzesco castle grounds for a unique view of the city.
Then, make your way back to Zurich with time to spare before your flight or for an overnight stay for an early morning departure.
Printable 2 Week Italy Itinerary
To make your planning easier, I'm sharing the Switzerland & Italy vacation itinerary I used for my own trip. I've edited out my personal trip details and stays and left it as a Word document so you can easily adjust the sheet to meet your travel needs.
Also included in the printable Italy itinerary is a small info section with some helpful guides for train stations, types of trains, expense planning, and more!
The document is a 4-page spread that can be printed back-to-back to take your whole schedule in a 2-page guide that's simple to stash in your purse or pocket!
What are your must-see Italy destinations topping your Itinerary?