We all desire healthy and youthful skin. However, did you know that the body's natural aging skin process starts in your 20's? The good news is that by taking care of your skin, it is possible to repair skin damage, reverse aging effects, and obtain beautiful youthful skin. By following these 5 simple steps, you'll be on the road to obtaining youthful and rejuvenated skin.
I received Monsia Skincare in exchange for this post. All opinions are my own.
Youthful and Rejuvenated Skin
Eat foods high in collagen: Collagen is essential for youthful looking skin. Unfortunately, as we start to age, our body starts to produce less collagen. Less collagen means that wrinkles start to form. The good news is that you can naturally boost your body's collagen by eating foods that are high in collagen; fish, dark green veggies, tomatoes, peppers, beats, carrots, blueberries, etc.
Use Sunscreen: Did you know that even 10 minutes of daily sun exposure can lead to wrinkles over time? Make sure that you are using a daily moisturizer that contains an SPF of at least 30. When you're in the sun for longer periods of time, be sure to reapply sunscreen at least every 80 minutes.
Don't Smoke: Smoking is one of the main extrinsic causes of premature aging; smoking introduces your body to trillions of free-radicals that damage and age your skin. Want better skin? Stop smoking!
Exercise: Exercise does wonders for the body. Not only does exercise relieve stress (which also ages skin), but it provides the skin with oxygen and nutrients vital for collagen production.
Create a beauty routine: Every night before you go to bed, it is vital to wash, hydrate, and moisturize your skin. Not washing your face can lead to clogged pours and breakouts. Washing away the grime and dirt on your face will provide you with beautiful and rejuvenated skin. Let me tell you a little bit about my new beauty routine with Monsia Skincare.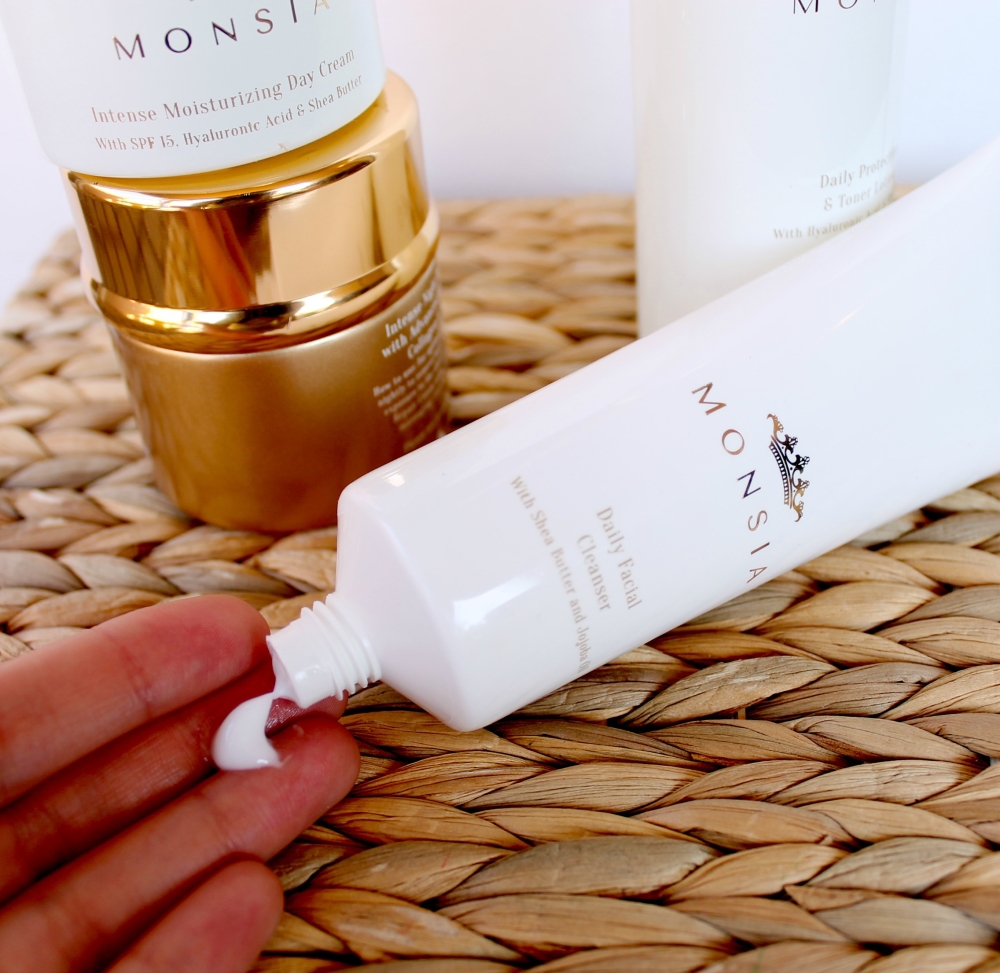 Monsia Advanced Skin Renewal System protects your skin and repairs damaged cells. Each morning and evening, I enjoy washing my face Monsia's Facial Cleanser. This cleanser leaves my face feeling light and refreshed. I've noticed that since using Monsia's Facial Cleanser, my breakouts have been fewer and my skin feels well hydrated.
After rinsing, it's important to apply Monsia's Daily Protection and Toner Lotion. Applying this toner with a cotton ball feels like cool breeze is blowing across my face; I love it!
Depending on the time of day, I conclude my daily beauty routine with Monsia's Intense Moisturizing Day Cream or Intense Night Repair Cream. These creams are INCREDIBLE! I love that they hydrate my skin without leaving a sticky feeling on my face. My husband also uses these creams on his dry face and loves the hydrating results.
Ever since introducing Monsia Advanced Skin Renewal System ($299) into my skincare routine, my skin glows, feels younger, and stays hydrated – definitely worth the pretty price tag! Try it today and enjoy youthful and rejuvenated skin!
How do you obtain youthful and rejuvenated skin?