This shop is part of a social shopper marketing insight campaign with Pollinate Media Group® and BJ's Restaurants, but all my opinions are my own. #DineInOrderAhead #pmedia http://my-disclosur.es/OBsstV
My husband and I are both completely last minute planners. When it comes to planning for our date nights, usually I look around about 3 in the afternoon and decide I have no energy to cook and tonight is the perfect night to sneak away with my sweetheart! This past week, my midwife gave us the order form to go and get an ultrasound. I was really excited to find out if baby #5 would be a boy or a girl. When I called up to make an appointment, they had availability that evening which sounded perfect for a last minute planner like me and for one who really didn't want to wait any longer to find out if we were going for pink or blue!
Since we would be planning a weeknight date which included an hour long ultrasound appointment and a 45 minute commute each way, I knew we would need to sneak in our date night dining in as little time as possible so we wouldn't keep our young babysitter out too late.
This made it the perfect opportunity to try out BJ's Restaurant and their new app with the Dine in Order Ahead feature that lets you pick out and pre-order your entire meal right from the app. We had our whole meal planned before we even left our driveway on our date.
The app is really easy to navigate and make selections and I really appreciated the images showing me exactly what I would be ordering along with a description and pricing. I loved that by the time I finished selecting my items, I knew exactly what my order total would be for our date night.
We ordered two entrees, a drink, and dessert for just over $40. Best of all, when we got to BJ's, they pulled up our order and we didn't even have to crack open the menu once, though I had to peek as this was my first time visiting BJ's. We did ask to add a side ceasar salad to split and I had to go for their signature root beer as well. It was really easy to add on items to our check, it was a completely seamless experience for us.
Having all of our food already picked out gave us more time to talk and a lot less time waiting. Our salad and drinks were at our table within a few minutes each and we were able to chat about the first half of our date and really enjoy our time talking rather than stewing over what to pick and than impatiently waiting for our food to start arriving.
All of the food was absolutely delicious! I ordered Southern Fried Chicken which came served with mashed potatoes and corn and everything tasted great together. It is definitely an entree I'll order again.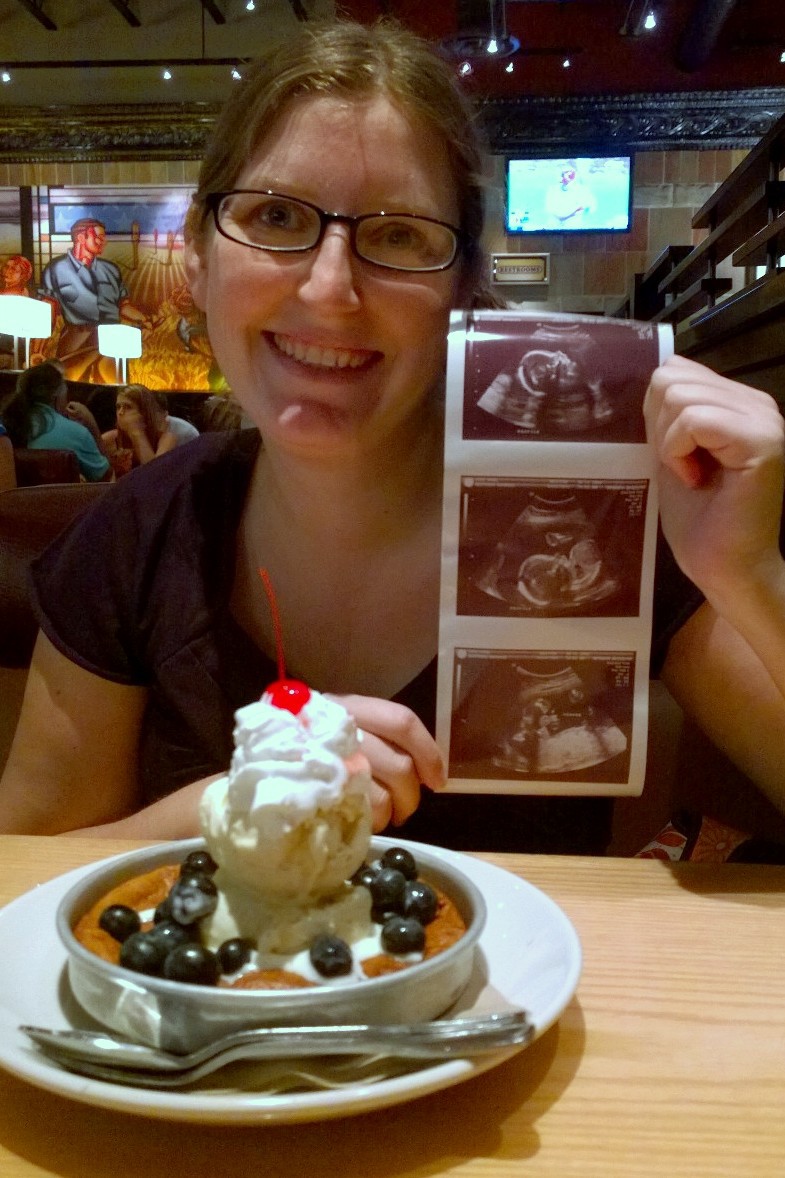 We also asked our waitress if she could top our Pizookie dessert with blueberries, to show off our exciting news! You may not be able to tell from the bottom ultrasound pictures, but baby #5 is a BOY!! Yup, we are expecting another boy. I was pretty shocked, I thought I was having a girl this time as my morning sickness was completely different with all day nausea instead of early morning puking I've had with my previous pregnancies. My 5 year old tells me, "Mom, I think your belly only knows how to make boys!" Must be true.
After dining, I always start feeling antsy for my check so I'm not tied to the bill arriving in order to leave. The Mobile Pay option lets you check out right from the app at your convenience. Our bill was updated to reflect not only the drink and salad we added to our order, but also a $5 off coupon that was offered just for using Mobile Pay! The promotional offer was on a flyer right at our table, and our waitress even pointed it out to us. Score for finding a deal! Paying from the app is a huge time saver. You could totally dine with an entree only meal in 20 minutes or less with Dine In Order Ahead and paying with Mobile Pay if you're trying to sneak in BJ's restaurant during a workday lunch break.
We were there about 35-40 minutes with an appetizer, dessert, and adding on a few extras, that's the fastest I have ever been in and out of a restaurant — and best of all I didn't feel rushed but instead I felt like I got more quality time to talk and enjoy our date night without some of common slow points of dining out.
BJ's Restaurant app is available for both iPhone (with ios 7) and on Android. If you love BJ's, you'll love this app. It not only saves you time but you can start earning rewards, too!