You know the song, I'm sure you've already got it stuck in your head just from the title of this post. Well building a snowman as a print and play activity is really a ton of fun!
My boys loved to color, cut, and assemble their snowman. Especially since we don't get snow here in Phoenix, they loved this activity to help them feel like winter is here!
Build a Snowman
Printable Activity
Start by printing out a copy of the Build a Snowman printable, you'll find the file at the end of this post after the directions!
It's a free PDF I made by hand drawing snowman parts. You can download, save, or print that PDF file. It will take two sheets of paper to print.
When your pages are printed, set aside the snowman body circles, and have your child get to work coloring all his accessories!
My 5 year old loved coloring in all the parts! Once they're colored, it's time to start cutting! I had him cut out all of the parts, except the mouth stones we kept connected and cut around the set of stones as a single piece to add to our snowman. Don't forget to cut out the snowman's main body circles as well.
Start assembling by first gluing or taping on the white circles onto a piece of construction paper, overlapping them and in descending order with the smallest circle on top.
Now, let your child add all of the snowman accessories! I made tape bubbles for him for most of the parts so that he could move them all around as he wanted which kept him playing for a while with his snowman.
He did a really awesome job assembling his snowman without any directions, though the nose and arms did end up upside down, which really doesn't matter as far as the design goes. In the end, his snowman turned out so cute and it is fun to have on display to remind us all that winter is here!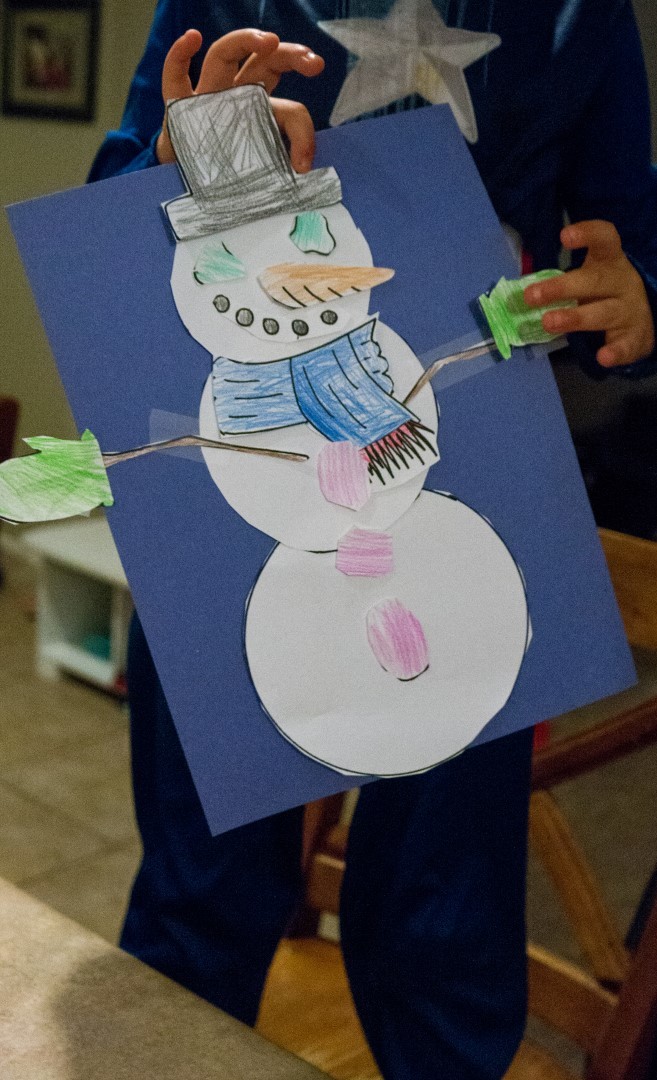 Click here for the printable:
So, now the only question left is…
Do you want to build a snowman?