With the holidays quickly approaching, so is that long winter break from school. Keep the kids geared up and excited for the upcoming holiday festivities and busy from their boredom blues with this cute, free printable winter activities bingo game.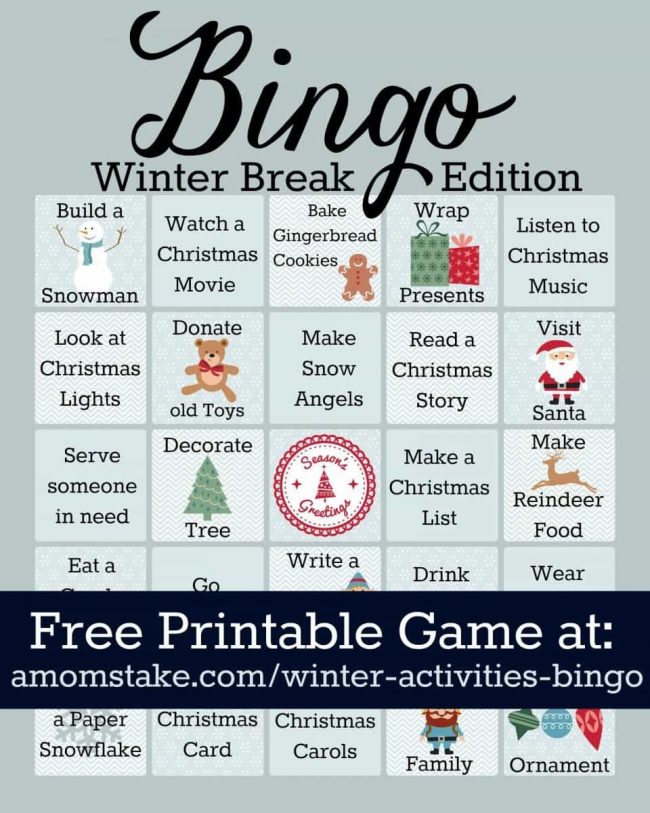 My boys love the cute little characters and designs scattered throughout the bingo card that really bring it to life. It gives us little ways to countdown and celebrate the days until Christmas and make the most of their winter break from school.
If you have children that need lots of encouragement to get things done, you can even use this chart to encourage positive behavior through winter break. You could, for example, say we can do one of the bingo squares once the family room is picked up or after everyone has finished dinner. Then, let the whole family gather 'round and pick out a fun activity to do together.
Click the image or link above to download the free Winter Activities Bingo Printable card.
This comes as an 8×10 print that you can download for personal use. You can then print it on out on regular printer paper, or print out on a sheet of 8×10 photo paper and frame the print. If you frame your winter bingo card, you can use a dry erase marker throughout the month to mark off your sheet, and start over once complete to reuse the same card year after year.
What are your family's favorite winter activities?