The First Years knows that there are many milestones of being a parent, and with their product line they help ensure that we reach each one safely! Their product line includes things for nursery, travel, feeding, care, and play.
Their breastfeeding products are designed to help moms nurse for as long as they want. Their car seats and strollers are designed to make safety simple. They strive to keep our children's first years safe. "Get ready for The First Years!"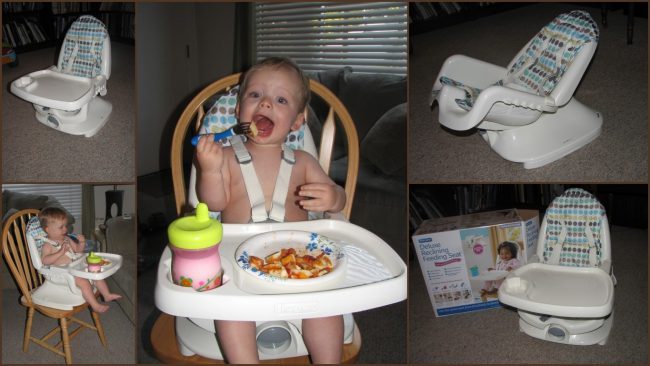 The First Years Deluxe Reclining Feeding Seat is perfect for use from newborn to 4 years old. It features five different reclining positions so it can truly grow with your baby's phases. It has a full-size padded seat, a tray, has two height adjustments, and a 5-point harness.
It attaches right to a chair and easily converts to a toddler booster seat. I think this feeding seat is genius! I only wish I had it when my little toddler was still a baby. It would have been so helpful when he was still small and wobbly and didn't sit up as well.
You can recline the seat right back to help with those little babes. It's durable and easy to clean – which is a must now that our boy thinks he needs to feed himself everything! I highly recommend this seat that grows right along with your baby!
The First Years Deluxe Reclining Feeding Seat is sold at Amazon.com, ToysRUs, & Walmart. It retails for $39.99.
Disclosure: I received a First Years Deluxe Reclining Feeding Seat in exchange for my honest review. I was not compensated in any other manner. The opinions expressed above are my own and any claims should be verified on the sponsor's site.