Nothing says summer like delicious salads! Living in Arizona with the eternal summer, a salad is the best choice for dinner almost any time of the year. Also, being a mom of 4 littles, I love a one-dish meal because it cuts down on the prep and dishes. My entire family LOVES this salad and always comes back for seconds. This pasta salad recipe includes tons of goodies that you wouldn't normally find in a pasta salad, but make it unbeatable!
The Everything Pasta Salad Recipe
Salad Ingredients:
One box of bowtie pasta boiled till tender (10-12 ounces)
3 chicken breasts cooked and shredded (or two cans of shredded cooked chicken)
3 cans mandarin oranges drained
1 can water chestnuts drained and chopped
1/4c chopped parsley
1/2 bunch chopped green onions
1/2c craisins
1/4c sunflower seeds
1/2c salted caramel peanuts (if you can't find them, honey roasted peanuts will do)
10oz baby spinach
Dressing Ingredients:
1/2c canola Oil
1/4tsp salt
4Tbl sugar
1/3C white wine vinegar
1/2c teriyaki sauce
1/2tsp pepper
Directions:
Whisk dressing together and set aside.
Mix all ingredients (except spinach) and put into a large ziplock bag.
Add dressing
Marinate the salad overnight, periodically flipping the bag over to re-marinate.
When ready to serve, mix spinach into the salad.
Marinating the salad overnight allows the dressing to soak into the chicken, the pasta, the water chestnuts, EVERYTHING! It is a deliciously light teriyaki dressing that will make you eat multiple servings.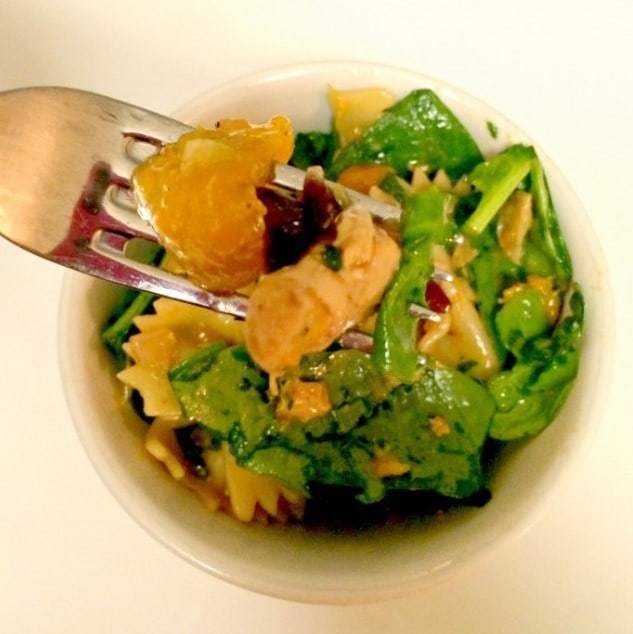 Other than having to marinate the salad overnight, it is an extremely easy one-dish meal to fix. Perfect when you know the next day will be busy. And please don't let that overnight marination keep you from trying the recipe, it is absolutely my favorite salad ever (and I am kind of a salad snob)! There is something for everyone in the salad. My husband loves the chicken in it (he hates it when there are only vegetables in a salad), my kids can't get enough of the marinated pasta and the mandarin oranges, and I love all the crunchy stuff!
Is there anything you would add to this EVERYTHING Pasta Salad Recipe?