I received a Marble Track and two Puzzle Doubles in exchange for this post. All opinions are my own.
My boys LOVE marbles. My 5 year old even asked Santa for marbles for Christmas last year. It was the only gift he wanted, and of course Santa delivered. So when I saw the awesome marble tracks by The Learning Journey, I knew my boys would be head over heels to check it out! I had no idea how much they would love the tracks! We picked out the Techno Gears Marble Mania Galaxy 2.0 set from The Learning Journey to review.
I was worried about how difficult it would be to put together when I saw the tons of pieces that came in the box. When we first got started, the first few pages into the directions, we had all the wrong sizes and pieces and had to start over. Once we realized there are little imprinted numbers on every single piece, putting the track together was MUCH easier.
We just put the bags of the main blocks in order by size number and that really simplified putting together the set. Still, it took my husband and I about two hours building the track. We had a great time chatting and working together and let each of the kids take a turn helping us. (It was too chaotic when they were all trying to "help". Every time we finished another section of loops or dips the kids would all huddle around to try it out. So setup, while long, was actually fun!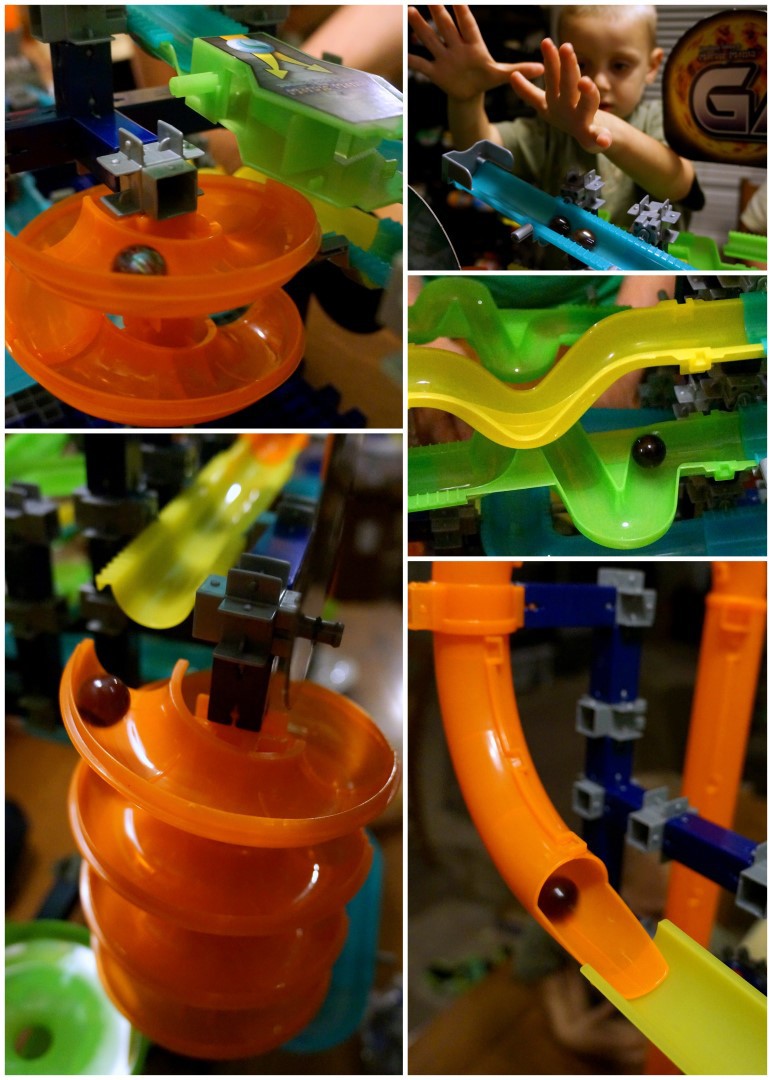 My 3 year old is absolutely in love with the Techno Gears Marble Mania Galaxy 2.0. We had put all the boys to bed and heard someone out playing with the tracks. We came out to see my 3 year old up playing with the tracks relishing the fact that he had the playset all to himself. We decided to join in and play with him and let him stay up a bit late. He loved it! All four of my boys think this marble race set is tons of fun! I do worry about the set breaking apart, as it has lot of smaller points where all the pieces connect, but we haven't had too much of a problem with this yet. If one of the tracks comes loose, it's a quick and easy fix.
My boys are old enough to move up to 100-piece puzzles but so many of the higher count puzzles have teeny tiny pieces, which they can't figure out at all. I was really impressed with the Puzzle Doubles that gives you big pieces, about the size of your palm, with lots of details making it easier for kids to complete the puzzles. Plus, once you're done, you can flip off the lights and see your puzzle glow in the dark!! After you've built your puzzles colored side up, the kids can move onto the more challenging size that is white with outlines. After they build their puzzle, they can color in their design with crayons.
Techno Gears Marble Mania Galaxy 2.0 retails for $79.99 and the Puzzle Doubles retail for $14.99. You can find these and other great toys for kids at The Learning Journey's website.