I received play tent in exchange for this post. All opinions are my own.
My girl's love making tents around the house. They use blankets, chairs and whatever they can get their hands on. Their tent becomes a house, a store, or a cabin in the woods. I love to hear them giggle, and make up stories. It's always weird to hear them call out "Mom" and when you answer they say that they were playing house, and they weren't talking to me. I cherish these times, because most of the time they are arguing over something.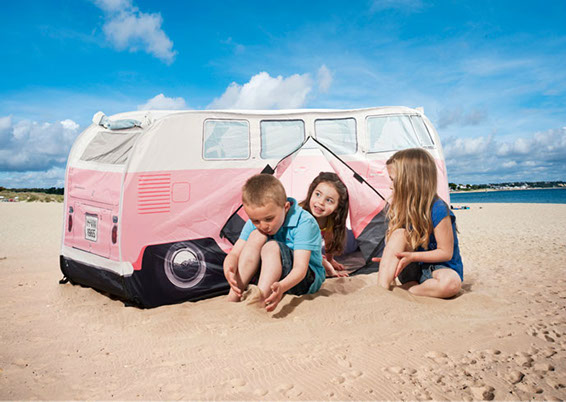 A children's play tent is taken to the next level with The Monster Factory's amazing 1965 VW Camper Van Play Tent. These tents look exactly like the original VW Van! Super easy to set up, you can bring these anywhere to add some fun to your summer trip. They are packaged in a stylish and easy to store VW Wheel bag, which is flat and very light weight. Each tent accommodates up to three children comfortably, so you don't need to take turns getting in. You can bring your VW Camper Van Play Tent with you to the beach as a great way to get out of the sun for a bit, or just pop it up in the living room and have a drive-in movie! "Drive" your child's imagination!
My girl's went absolutely gaga for this children's play tent. They couldn't wait to open it up. It took me about a minute to put it up. It pops right up, and you add 4 poles to make it sturdy. I love that it looks exactly like a real VW Van! The colors are super bright, and it even has a window for them to peak out and pretend they are driving. My girls have been playing road trip, having drive-in movies and just laying inside and reading books. It has plenty of room for my 7 year old, 4 year old and 17 month old to go in together. When play time is over, it folds up super quick (think pop up window shade for a car) and goes into the cute wheel bag.
The Monster Factory's amazing VW Camper Van Play Tent is available here in 3 great colors (pink, blue and red). Pick one up for the grandkids coming to visit this summer, or for a special treat to beat the extreme heat. Love the look of the VW Camper Van Play Tent, you can also get a full sized tent for adults too! It's exactly the same scale as a real VW Camper Van, how cool is that?