Wrapping up gifts under the tree is so much fun, but don't forget about filling up that stocking! I love to find small gifts that will make my family smile! No matter who is on your shopping list, young or old, there is something here that is sure to make their day!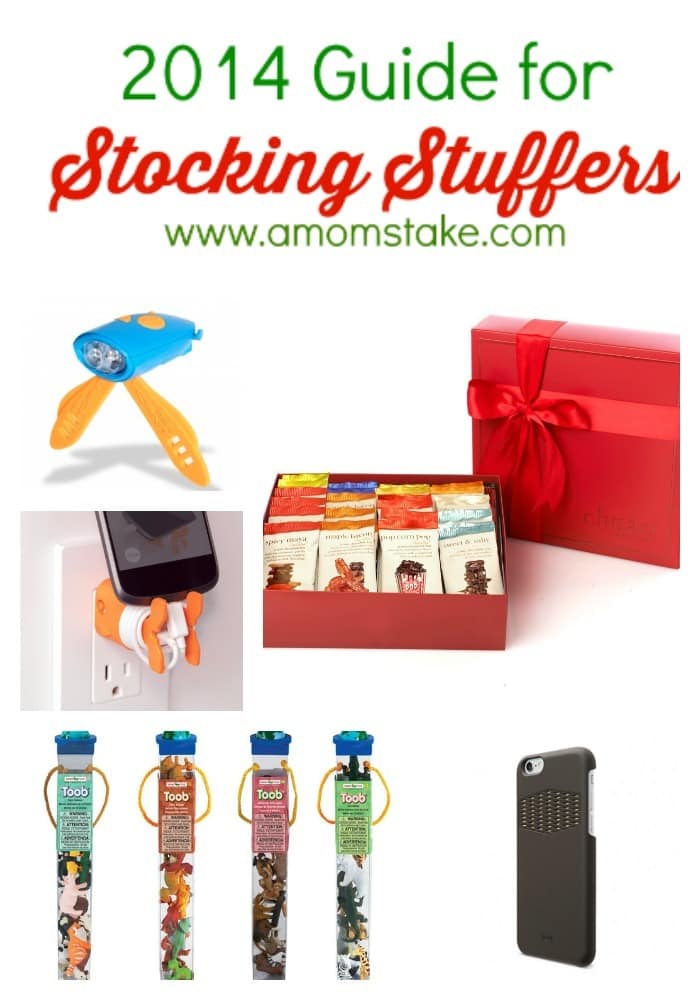 We received a variety of samples and/or compensation for inclusion in this gift guide. All opinions are our own.
Kids Stocking Stuffer Ideas
While your kids are busy riding on their new bike, scooter, or riding machine this year – keep them equipped with safety in a fun way with a Mini Hornit! The flexible wings make it easy to attach to whatever your riding. The Mini Hornit is a cool bicycle horn and light in one that can play 25 different sounds. The 12 lumen light adds an element of safety to help your children see and be seen! Safety is most important, so they've even thought to make a remote trigger that can be attached right by the handlebars so your child doesn't have to remove their grip to honk their horn! Look for the Mini Hornit at Walmart as well as toy and bicycle stores across the country.
My kids can spend hours and hours playing with figurines. I love to hear their imaginations come to life as they travel through time and settings to act out elaborate scenes with their toys. I have looked near and far and Safari LTD is the best of the best! Their figurines are all hand painted and perfect! They have everything from buildings to dragons, but our favorites are their Toobs. Each Toob comes with a variety of mini figurines based on a theme. Whether your child is into dinosaurs or babies, there is something for you from Safari LTD and I promise it will be perfect for filling for their stockings!
If you're giving your child a tablet this year, consider a new pair of headphones to go along with it. Sakar International's new line of kids-safe headphones allows kids to safely listen to and enjoy music. The kids-safe headphone series features a built-in volume limiter, protecting children's hearing by automatically limiting audio volume to approximately 80% of the original maximum volume. Kids-safe headphones are compatible with all portable devices that feature a 3.5mm stereo jack output, including iPod, iPhone, iPad, Android smartphones and tablets, and portable gaming devices such as the PlayStation Vita and Nintendo DS series. These headphones are also compatible with laptops, PCs, CD players, and home audio systems. Available in their favorite characters like Hello Kitty, Batman and Spiderman! Available at Amazon.
Stocking Stuffers for Adults
Keeping your devices charged and your cables easy to access is a constant problem. How many times do your friends ask to borrow a charger? I know we've always got a visitors phone plugged in! CableKeeps make a perfect stocking stuffer to help you keep your own devices charged and ready – wherever you might go! We have one plugged into our kitchen outlet so our phone is nearby, even when charging. CableKeeps keep the cables from being tangled by wrapping around the base of the cute fish design and double as a pedestal to hold your device while it charges. You can choose from Goldie for iPhone, Nibbles for iPad, or Goldie Plus for non-apple products with a standard micro USB charger. CableKeeps are available at The Container Store, Amazon, and other retailers.
Keep fresh and clean smelling with portable and reusable Reviver Swipe Wipes! These smart dry wipes help eliminate odor with a non-toxic formula that is small enough to fit in your purse, gym bag, or pocket. Use one swipe wipe up to 10 times to help you smell fresh wherever you are. These are great for after hitting the gym, between washing clothes, or to eliminate the smell of pets or smoke on your clothing. They come in a line of seven different varieties to help with different needs including: original clothing reviver, reviver for dogs, reviver for cats, pets reviver for you, spark for him, spark for her, and smoke swipe. Toss a Reviver sampler pack in their stockings – you'll get to try 4 different swipes for $10.
Everyone needs something sweet in their stocking. Chuao Chocolatier has the perfect chocolate bar for every pallet! If you love all things sweet, Oh My Smores or Honeycomb might just make your day. If your prefer a savory treat Spicy Maya or Maple Bacon may be a better fit. Just stay away from the Potato Chip bars, they are ALL MINE! I love the bars that include popping candy, such a fun, surprising texture in a treat! Each and every flavor from Chuao Chocolatier is a unique and delicious experience. No matter which bar you choose the world's finest chocolate and ingredients will make your holidays this year the sweetest yet!
Technology is great and our devices need to be protected, but what about protecting ourselves from the devices? Pong Cases do both for you! Pong cases contain a micro-thin, gold antenna that redirects wireless energy away from you. This redirection reduces your exposure to mobile device radiation by up to five times below the FCC Specific Absorption Rate (SAR) limit without compromising your device's ability to communicate. Plus, they offer protection from 4′ drops and are drop tested to U.S. Military specifications. In addition to all of that, they look really cool. They offer cases for your iPhone (including the 6 and 6+), iPad, Samsung and more. Find your device here.
Simple and beautiful these Sterling Silver Bali Inspired Flower dangle earrings from South Paw Studios are perfect for the stylish lady in your life. The earrings feature rectangle balinesian textured dangles with an antiqued blackened finish on the sterling silver. The granulation and the placement within the wire coiling giving these earrings a botanical design. They dangle freely from nickle free sterling silver earwires and are hollow in the middle, therefore fairly light weight. Great for church, the office or the grocery store!
The book lover will love this amazing Recycled Paper Bead, Book, Sheet Music and Map Jewelry. TrashyCrafter gives damaged books a second life! 100% handmade in sunny San Diego, California, TrashyCrafter cuts, rolls and coats all of the paper beads that are made from the actual recycled book pages. All of the other beads are gathered from the local swap meet, they are repurposed beads from broken jewelry. Eco friendly, locally sourced and made from your favorite children's books like the Very Hungry Caterpillar, Harry Potter and novels like Pride and Prejudice.
Fun this Holiday Season
The best part of the holidays is gearing up for the season with decorations and fun for your family! Personal Creations have tons of awesome products that can be personalized and make wonderful gifts as well. This year, we will be getting ready for the holidays and having fun together with three fun gifts from Personal Creations. One way we have fun is counting down to Christmas. This adorable Santa advent calendar includes 24 little drawers for each of the days of December as you countdown. We will be filling our Santa with miniature ornaments to add to our Christmas tree. To unwind indoors, this adorable Snowball-Fight-in-a-Bucket will be a blast! I love that it can bring an element of the snow and cold into our sunny Phoenix home. One of the most fun elements of the season is the stockings themselves! Picking out a personalized stocking for each family member is a great way to make your family members feel special. These adorable Winter Wonderland stockings come in 8 adorable styles so you can customize a different stocking for each member of your family. Visit Personal Creations for even more fun personalized ideas for the holidays and Christmas gift ideas!
A favorite tradition of ours is the yearly visit with Santa! This year, HGTV is presenting Santa HQ – a unique photo experience with Santa! It's more than just a simple photo opportunity, but a chance to experience a piece of the North Pole right at your local mall. This interactive experience includes a Naughty or Nice O' Meter, an ELFIE selfie video studio, ELF-RAY Vision that shows you secret worlds inside Santa's Observatory, a light show, and more! It's a fun and captivating experience you won't soon forget. You can reserve a time to visit Santa at one of 10 select shopping centers across the country. If you know you'll want to take home a picture with Santa, you can pre-pay for your pictures online to get a discount package rate. To find out more information or to find out if Santa HQ will be in your area and book your visit, head over to santa-hq.com.
What do you have planned for stockings this year?