St. Patrick's day is almost here! Instead of passing out pinches this year, pass out a cute treat or favor! It's easy to make up treats for the classroom or for coworkers or friends in just minutes with our St. Patrick's Day treat bag topper free printable!
You'll Need:
Zipper baggies
Goodies to fill your bags
Cardstock
Printer
Stapler
Start by printing out a copy of our Free St. Patrick's Day Treat Bag toppers! You'll want to print on cardstock so the label is nice and stiff and won't rip off your baggies.
Next, fill your baggies with whatever treats you would like. You could use green or rainbow colored candies, make up a treat like our Fruit Loop Krispie Treats, or even add a snack like green grapes, dry cereal, nuts, or whatever else would be a good fit for your recipients!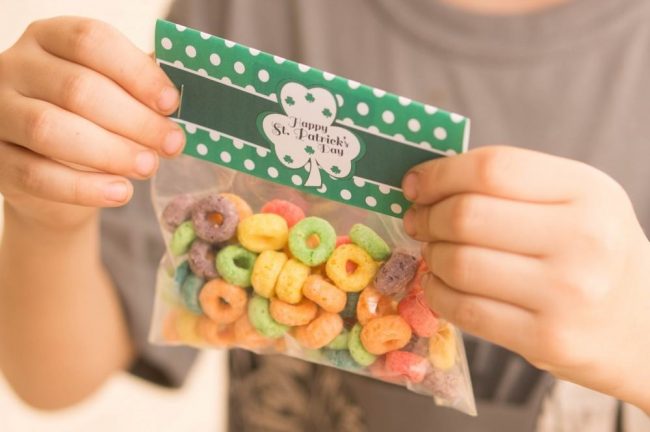 Finally, cut out your tags, fold them in half, and then staple on the side of each baggie up by the zipper to secure them in place. I used snack sized baggies and folded the ends in to make it slightly smaller so they were a great size for gifting!
Just click the link above and our St. Patrick's Candy Bag Toppers will open in a new link as a pdf file. Just print or save a copy for your own personal use. Each sheet can print 4 goody bag toppers on a single page! Want to share this freebie with a friend? Just use the share buttons below or direct them back to this post where they can download their own free copy of our printable!
What would you add to your St. Patrick's treat baggies?