Just the other day I was trying to make a sandwich for one of my hangry kids while the other one was at my legs crying because she couldn't find her baby doll. They were both yelling at me because they were in need of something and couldn't possibly wait their turn.
In a moment of pure chaos, I exclaimed, "You guys! I can only do one thing at a time!" My 4-year-old son thought for a moment then responded, "But you have two hands!" I laughed and shook my head thinking, "Man, if only it were that easy!"
Having multiple kids means many moments of absolute joy mixed with absolute chaos. Know the feeling? Then hopefully these Sanity Saving Tips With Multiple Kids with make your life that much easier!
I received samples and compensation in exchange for this post. All opinions are my own.
5 Sanity Saving Tips for Moms With Multiple Kids
1. Choose your battles. I'll be honest, I'm still struggling over this one. When I choose not to fight the little battles, it typically results in my son going out in public dressed as his favorite character of the day (hence the goggles and hat in the bottom pictures).
Although his costumes are not quite to my liking, he's happy and I get to save my energy for other things. When a situation arises, I ask myself "Will this have lasting negative effects?" If not, I choose to roll with it.
2. Wear a backpack. Having multiple kids often means that you may run out of hands. Wearing a backpack as a diaper bag means two free hands – enough said!
3. Get everyone on the same schedule. I remember having a toddler and baby at the same time…one would go down for a nap as the other one would wake up. I felt like I could never go run errands or get out the house because someone was always sleeping.
When I finally figured out how to get my kids on the same schedule, I was able to taste freedom! Now I feed, bathe, and put my kids down for naps at the same time which allows more time for me to complete my daily tasks.
4. Teach your kids to help each other. I can't even tell you how much of a game changer it is when you have a kid old enough to help their younger siblings! I try and allow my oldest child as many opportunities as possible to help his younger sister.
I ask him to help her do things like pick up her toys, read her a book, find her shoes, etc. This not only keeps them both busy, teaches them independence, but also gives me a nice breather.
5. Use a double stroller. I'll admit it, when I first became a mother of two, I NEVER left my house. Just thinking of trying to handle two small kids with different needs (in front of strangers) terrified me.
It wasn't until I got a double stroller that I felt like I could take on the world. Having a safe place for both of my kids to sit makes the difference when walking to the park, shopping at the mall, or strolling through the library.
In my four years of being a mother, I have tried out a variety of strollers (7 to be exact), and I have to say that this is ranked #1 in my book.
First of all, I love how many ways there are to utilize this stroller. It allows for one child to sit up front and the other one to either sit on the rear seat, or stand up using the foot platform.
Up until we had the BravoFor2, my son HATED sitting in a stroller. He would often complain that he felt like a baby when we were going on walks. Now, he begs for us to take the stroller on walks so he can sit and stand up in the back. He likes to pretend that he's riding as skateboard when we go on our daily walks.
Another fun feature about this stroller is that it is also compatible with Chicco infant car seats like the top-rated KeyFit 30 and the new Fit2 Infant and Toddler Car Seat. Where was this when I had my baby and toddler? That would have make life SO much easier.
I also love this stroller because it maneuvers better than any double stroller I've owned. This helps A LOT when steering through tight isles at the mall. It also makes driving around in circles a dream – seriously, it's amazing!
Also, please note that this stroller does come with an umbrella shade to keep the sun out. I just took it off for our walk so my son could have a better view of our surroundings.
Because the Chicco BravoFor2 is so light weight and folds up incredibly easily, we enjoy taking this stroller with us on all of our family activities – trips to the park, walks around the neighborhood, shopping, etc.
Not to mention, the breaks lock and unlock seamlessly! Super easy and user-friendly. Talk about the perfect way to simplify life with multiple kids. Seriously you guys, this stroller is a dream!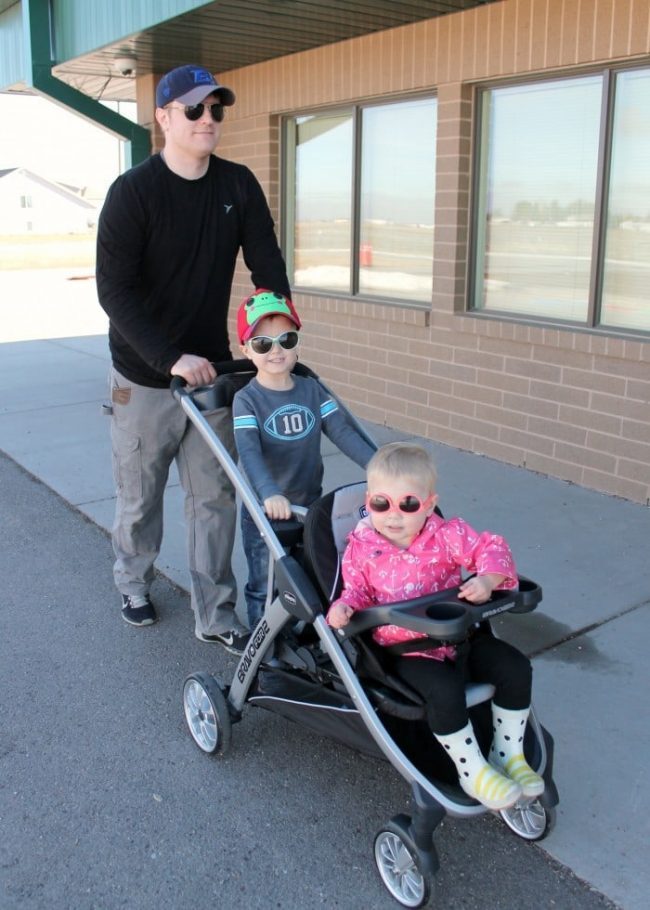 Be sure to visit Chicco to learn more about the BravoFor2 Stroller. It retails for $279 and can be found on ChiccoShop.com and BuyBuyBaby.com.