We love traveling in an RV whenever we get a chance. It brings a sense of adventure to our travels and with a crew of little boys along for the trip it means trips to the bathroom, snacks and entertainment, and even naptime become easy problems to fix. But traveling in an RV isn't without it's challenges! Here are some inspiring RV hacks that have helped us simplify our travel and helps all be comfortable in the space.
4 Inspiring RV Hacks
1. Save Time Packing – The convenience of RV travel can quickly fade if you have to spend hours packing in and packing out of the big rig before and after each trip. You don't have to spend a ton of money in order to fully stock your RV and have it ready for every trip without any prep time. I watch for bargains at garage sales and second hand stores or hang onto my home items when I upgrade them and hang onto those still-good-but-not-my-favorite items and give them a new home in the RV. We shared an RV Roadtrip Packing Checklist last year that will help you plan for what duplicates you'll want to be able to keep in your RV. Then, when it's time to travel you'll just bring your clothes, tech, and food and you'll be ready to hit the road!
2. Add Your Own Storage – Finding spots to store everything you'll need to bring along on your trip can be challenging. But adding a few solutions to maximize your storage space can make a huge difference. Here's a couple of tricks we use:
Over the Cabinet Storage – You can repurpose a storage container that is meant to hang on the backside of your kitchen cabinets and face it outward – giving you a place for large items that often don't fit in the small cupboards. Add some rubber backings to keep it from rattling and you're simple fix in ready!
Shower Storage Solutions – Depending on your space, you can opt to add in soap/shampoo dispensers, a hanging caddy to go over your shower sprayer if it's mounted to the wall, or even a caddy to hang over the shower or back of the bathroom door to give you a place for extra towels and your other bathroom necessities!
Simple Closet Solutions – Add a hanging shoe organizer, or a hanging pocket organizer to keep things in a designated space in your closet. You can also utilize bins and baskets to get more use out of the closet floor space.
3. Make it Your Own – Don't be afraid to change things up in your RV to make it feel like home on the road. You can make really simple changes that can make a huge difference to your space. Grab a slipcover to give a facelift to an outdated couch or add new bedding and throw pillows into the space. You can secure pictures to the wall by tacking them in place to add even more personality.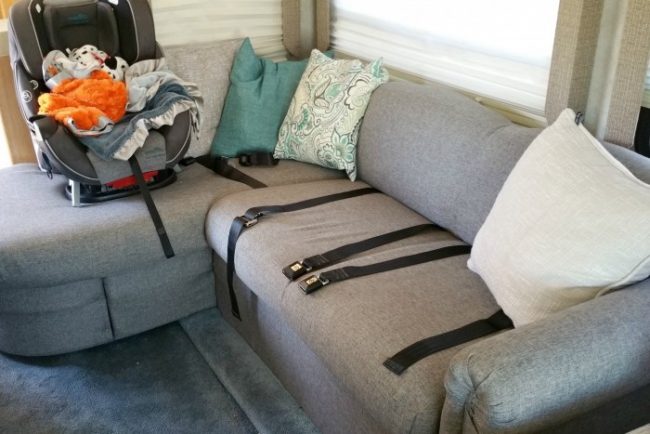 4. You Have Options for Parking – When the weather is good and you don't have to rely on being connected to the grid, you can save money and stay outside of a traditional RV campground or park. Most Walmart stores will allow you to overnight park on their premises, at the back of the lot away from the store. There are some Walmart location that may not allow overnight parking or occasions when the lot may not be available due to busy events or other functions in the area. This practice is even one of the FAQ's on Walmart's corporate website where they have confirmed they welcome RV travelers, where possible and approved by individual management:
"While we do not offer electrical service or accommodations typically necessary for RV customers, Walmart values RV travelers and considers them among our best customers. Consequently, we do permit RV parking on our store parking lots as we are able. Permission to park is extended by individual store managers, based on availability of parking space and local laws. Please contact management in each store to ensure accommodations before parking your RV."
Additionally, there are many locations where boondocking, or parking without hook-ups, also sometimes referred to as dry camping can be a great alternative to save money and not travel beyond your daily limits.
What are your favorite RV hacks to make the most out of your motorhome travels?