This is a sponsored post written by me on behalf of Ruby Tuesday. All opinions are 100% mine.
I am salad obsessed, always on the lookout for a great salad either at home or away. I'm sure there are quite a few other salad lovers out there who would LOVE to get a new recipe to try out on their own. I've got three great ones! No, they were amazing salads! Salads I would eat over and over and over again!!
Recently, my husband and I were out at Ruby Tuesday to grab a bite that I didn't have to cook, and without any children. It was amazing. When we walked in, I noticed that they had re-done their Garden Bar Find out More about Ruby Tuesday's All New Endless Garden Bar and I was really impressed! I was in the mood to get a burger, but after seeing their new Garden Bar, I changed my mind. They now have over 55 ingredients! Do you know how many amazing salads you can make with over 55 ingredients? Quite a few!…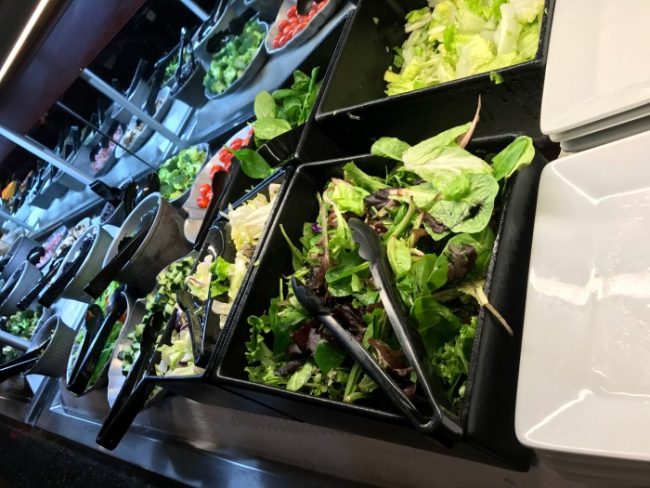 No matter what I wanted walking in, I now wanted a taste-explosion salad. A little bit of everything!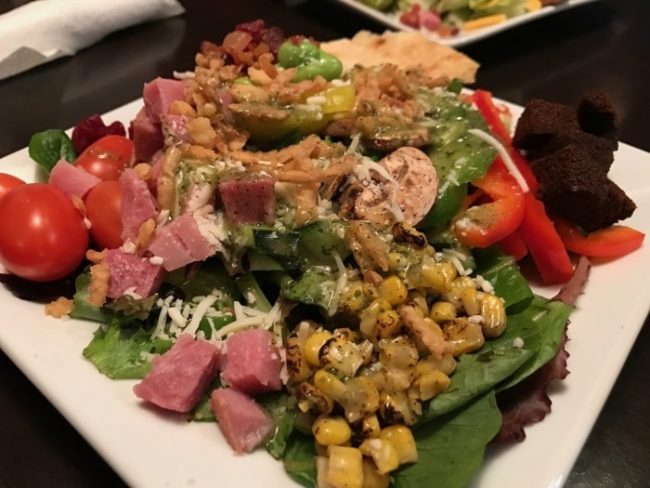 Three Salad Recipes inspired by the New Garden Bar at Ruby Tuesday. The first recipe I want to share is:
Mediterranean Cobb Salad
Ingredients:
Field greens and baby spinach
smoked ham chunks
red and green bell peppers strips
grape tomatoes
diced cucumbers
roasted corn
green peas
beets
black olive slices
edamame
banana peppers
sliced mushrooms
shredded cheese
crispy onions
crispy parmesan chips
crumbled bacon
croutons
Italian Herb Vinaigrette
Trust me, this will satisfy all those delicious salad cravings you might have. It has a little bit of sweet, spicy, salty, and savory all mixed together on one plate. But that was not the only salad recipe that was inspired by that night (because the Garden Bar is endless…many, many trips…many, many different salad options!)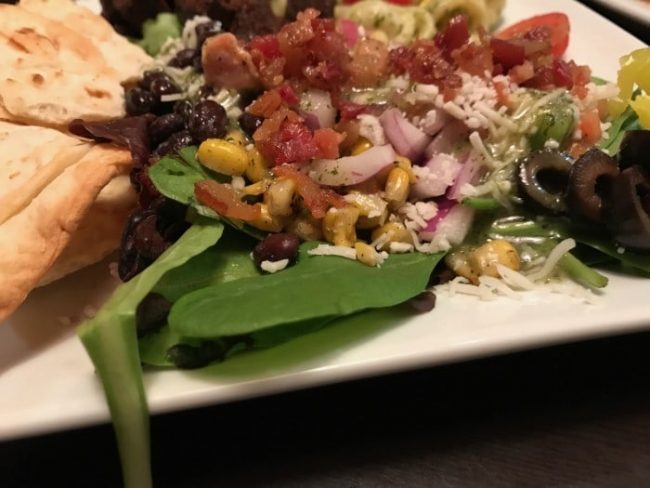 Our Second Salad Recipe:
Taco Explosion Salad
Ingredients:
chopped romaine lettuce and baby spinach
grape tomatoes
diced cucumbers
bell pepper strips
black beans
diced onions
roasted corn
pico de gallo
sliced olives
banana peppers
shredded cheese
crispy onions
chopped bacon
crispy pita chips
Cilantro Lime Vinaigrette Dressing
Ok, so MAYBE it was my second trip through the Garden Bar, and MAYBE I was already filling up, but I couldn't resist eating every single last bite! The ingredients were so fresh and delicious. They also have 8 different dressings made in-house every day!
My husband is not a salad bar kind of guy, and I actually had to talk him into getting the garden bar alongside his chips and Spinach Artichoke Dip instead of getting yet another burger (what he gets at many of the restaurants we frequent.) He always complains that salad bars don't have enough protein to satisfy him. But he was wrong! There were some great protein choices that were included in the Garden Bar (and you can always add even MORE protein choices to their Garden Bar at a small additional cost).
I don't think his salad looked as pretty as mine, but he assured me that it was even MORE delicious and satisfying than my salad was, even if it looked a little rough around the edges.
Third Salad Recipe:
Protein Boost Salad
Ingredients:
chopped romaine lettuce
grape tomatoes
shredded cheddar cheese
shredded six cheese blend
olive slices
chopped cucumbers
fresh carrot slices
sliced mushrooms
smoked ham chunks
bacon chunks
crumbled hard boiled egg
crispy onions
croutons
Italian Vinaigrette Dressing
His salad definitely satisfied that protein craving and got him some much needed veggies! You can make these salads at home with these great recipes, or just stop in to Ruby Tuesday and make it without all the crazy prep! I'd love to hear your salad recipe that you come up with when you check out the new Garden Bar at Ruby Tuesday!
Join So Connected today for exclusive offers, a free appetizer when you sign up, and a Free Garden Bar or Burger on your birthday! Ruby Tuesday is giving my readers a special offer!Click Here for Coupon to receive a Free Kids Meal with Purchase of a Garden Bar Entrée – give it a try, you'll get hooked!
They are also doing a giveaway for a $50 Ruby Tuesday Gift Card!
$50 Ruby Tuesday Gift Card Giveaway!