The big game is finally here! Whether you are a die hard team fan, a TV commercial fan, or just a fan of the food, Super Bowl LI Sunday is a day you just don't want to miss out on. Today I want to share with you one of our favorite game day foods, a little decor, and how to make sure you have everything you REALLY need on hand for the party. And no, I am not talking about extra chips and salsa, although extra chips and salsa never hurt anyone, am I right?
I was given samples and compensation to facilitate this post. All ideas and opinions are my own.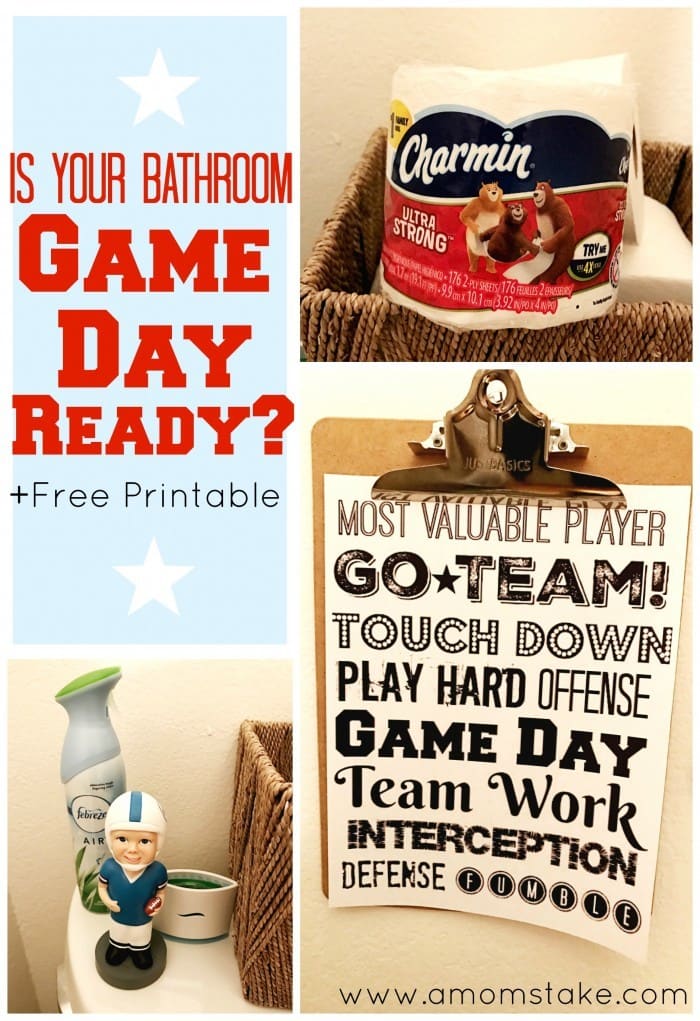 When I invite people over for a party there are three concerns I have. What are we going to eat? How are we going to decorate? And how am I going to get this house clean!? This year the food was a no brainer. We are making our delicious italian chicken sliders. You can catch the recipe here on the blog tomorrow. We always serve some kind of chips and dip, some sweets treats, and she soda and we are set. I love game day food.
When it comes to cleaning the house for a gathering I always make a list of jobs to be done and then I divide the chores among us. I took the bathroom because I wanted to make really make sure that it was ready for that halftime #bathroombreak. Did you know that the amount of water flushed on average during halftime is the equivalent of seven minutes of water flowing over Niagara Falls? The bathroom really is the MVP of the game.
This year I am making sure that my bathroom is fully stocked and ready with Charmin Ultra Strong Mega Roll toilet paper and Febreze. I want to keep everyone and every thing is feeling clean and smelling nice. Charmin Ultra Strong Toilet Paper cleans better with less paper. It is 4x stronger when wet than the leading bargain brand.
No one wants to leave or enter a stinky bathroom, that is where Febreze comes in. By keeping Febreze Air with Odorclear™ spray handy and/or using a Febreze SMALL SPACES I can keep the odor molecules from building up in the bathroom and creating a really stinky situation. They say that halftime bathroom breaks release more odor molecules in the air than there are blades of grass in every football field in America combined.
Now that my bathroom is fully stocked and ready for the game, it just needed a little sprucing. I whipped up this printable to hang behind my toilet. And I am sharing it here today. I printed mine in black and white to remain team neutral. But, you can choose between your favorite teams colors, to make a bold statement. (right click, save image, print.)
You can use this printable anywhere in the home, but I used it to cheer up my bathroom. everyone is bound to take a break in there at some point during the party!
As you prepare for the big game this year, you will stack your carts with snacks, food, and treats. Don't forget to stock up on the Charmin and Febreze as well, they can save you from a major (and stinky) party foul in the bathroom.
Are you ready for the game!?