This easy homemade Christmas gift is perfect to have the kids help you make. This cute gift is perfect for teaches, neighbors, grandparents, and friends. You can fill it with whatever you'd like, but we used a bar of soap. Here's how to make this cute and simple reindeer towel gift: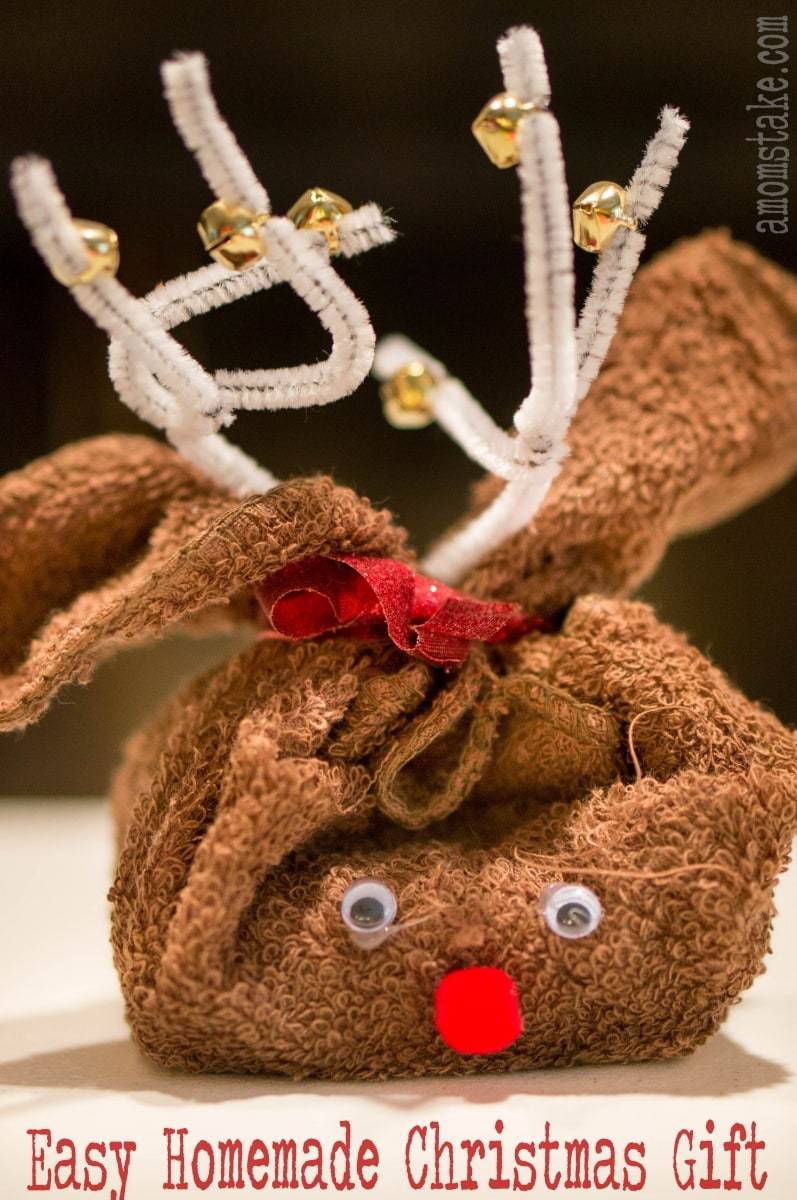 Supplies:
Brown wash cloth
White pipe cleaners
6 small bells
Red ribbon
Googly eyes
Red pom-pom ball
Bar of soap or alternate gift
Hot glue gun
You will make your reindeer towel by first folding your towel in half and then half again giving you a view of one quarter of your washcloth. Hot glue on two googly eyes and a red pom-pom nose about an inch from the inside folded corner of your towel. When you unfold your towel, they will be just off center with the nose closest to the center.
Assemble antlers by cutting one white pipe cleaner in half. Crease your second pipe cleaner in half and bend and shape the pipe cleaner to resemble antlers. Add your cut pieces a few inches down from each end of your folded pipe cleaner twisting on the pipe cleaner to secure it in place and then shaping and bending to form antlers. Add jingle bells to the ends of your pipe cleaners.
The last step is to fold your reindeer around your bar of soap or whatever else you may be gifting. Place the bar of soap at a 45-degree angle in the center of your upside-down washcloth. Fold up the washcloth grabbing the eyes and nose glued side first to cover the bar of soap. Next, take the alternate side bring it forward an over to the front. Finally, pull up the right and left side of the towel together at the same time forming ears for your reindeer. Secure with a piece of ribbon and tuck in the antlers.
Who would this easy homemade Christmas gift be perfect for?