If you're planning a family vacation to Kissimmee, Florida, one of your biggest decisions will be where to stay. There are a lot of options and types of accommodations in the area. One location that has everything your family could need is FantasyWorld Resort.
We stayed at FantasyWorld Resort on our recent family vacation in early October, 2020. Here, we'll share with you everything you need to know about FantasyWorld Resort as an option for your next trip to Kissimmee, Florida!
Make sure to also see our other post on how to visit Kissimmee Florida Vacation on a Budget!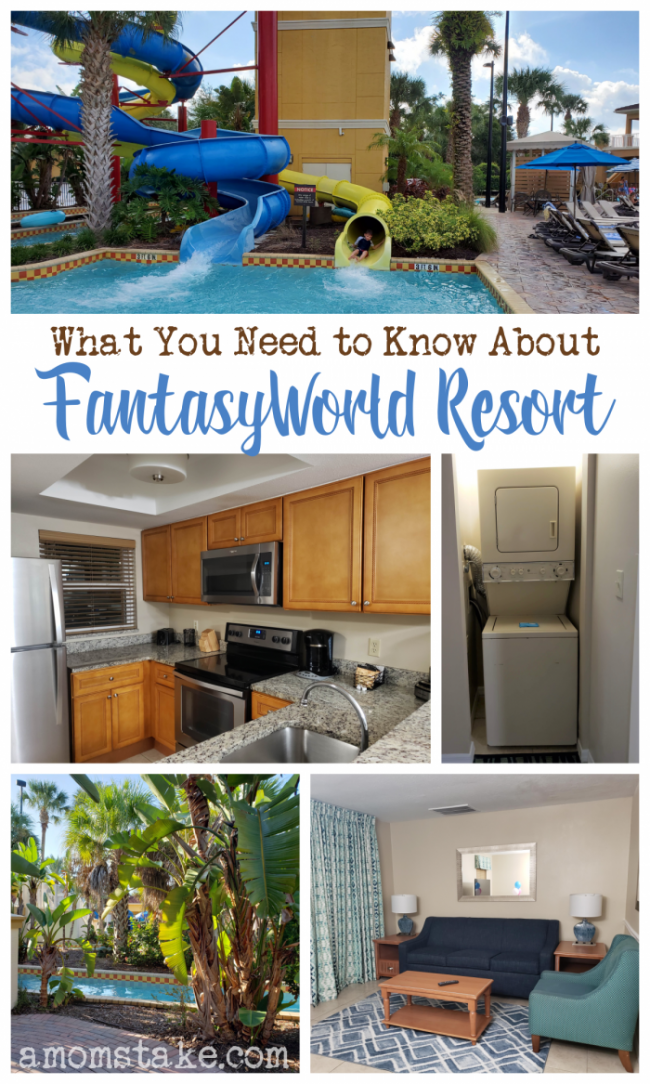 We received a complimentary stay at FantasyWorld Resort in exchange for this post. All opinions are our own.
Accommodations That
Feel Like Home
The most important thing to look for when planning your stay is a place where your family can be comfortable and have adequate space to spread out. Let's take a peek at what the accommodations are like at FantasyWorld Resort!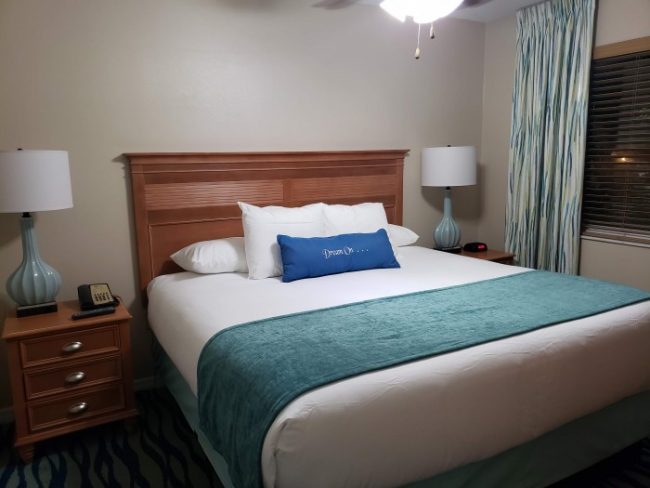 We always look for accommodations that have separate bedrooms from the living space so the kids can go to bed early and adults have privacy. The townhomes at FantasyWorld Resort have two separate, spacious bedrooms: a king bedroom as well as a second room with two twin bed.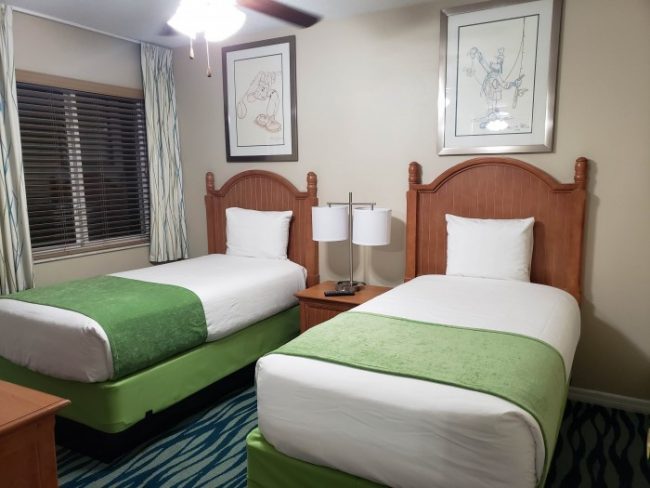 Each townhome can sleep up to six guests with the additional sleep space of the follow-out sofa in the family room giving every family member a space of their own. Each room and space had a TV available, as well.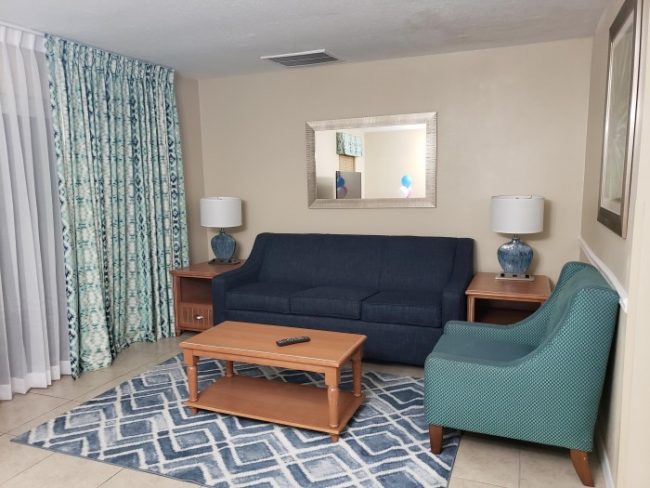 The family room what comfortable and stylish with enough space for our family to unwind after a day playing at the various attractions in Kissimmee. There was a large TV that swiveled to give a view for the couches or dining table.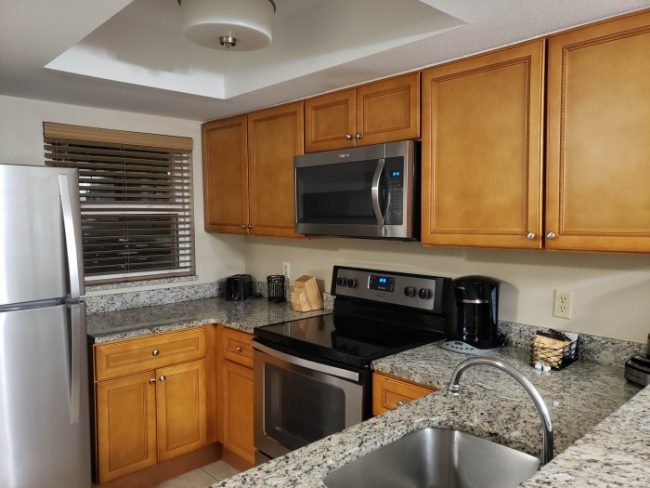 Another important factor for us is a kitchen space to help us save money! We'll often eat two meals at home and dine either lunch or dinner out while traveling, which saves us a lot of money! The kitchen at FantasyWorld Resort had everything we needed and even included dishwashing tablets, trash bags, and paper towels to ensure we were ready to cook.
With the eat-in dining room area as well as tall counter bar made prepping and passing meals to our kids easy. Speaking of breakfast, you can join FantasyWorld Resorts free rewards program and you'll receive bonuses during your stay including a Grab'n Go complimentary breakfast daily!
We stopped in a couple mornings for breakfast and they offered a rotation of pancakes, waffles, and French toast paired with apples, orange juice, and yogurt. They even included the utensils and condiments you might want. It was a convenient and easy way to bring back food to our room and eat together before heading out for the day.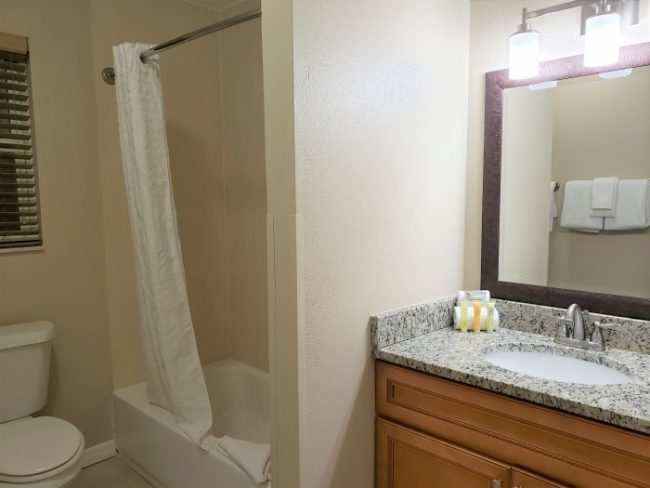 There were two separate bathrooms with showers that made cleaning up after the pool a breeze. I really appreciate that there was a downstairs full bathroom available right by the front door that meant dripping wet kids could shower without getting the floors wet all the way to the upstairs bathroom.
A washer dryer in the townhomes makes it so convenient for drying the pile of wet swimsuits or laundering clothes to allow you to pack less for your trip! With young kids, it's crucial to have a way to wash clothes for the inevitable messes that come with kids!
We washed a handful of loads during our stay and went home with all clean clothes that didn't leave me with a big mess after our trip.
Even outside the townhouse, FantasyWorld had thoughtfully considered your needs during your stay. Each townhouse has an attached screened in porch area that is perfect for enjoying the beautiful weather and resort scenery.
Additional Features:
Pets under 40lbs are welcome at FantasyWorld Resort!
Weekly housekeeping will keep your space fresh and tidy during longer stays.
Wireless internet in all the villas and pool areas to help you stay connected and make plans during your trip.
Business Center
On-Site Entertainment
at FantasyWorld Resort
When you're ready for a more relaxed day on your vacation, or you want to cram in even more fun on those busy days, there is lots to do right at FantasyWorld Resort!
Of course the highlight of our stay was playing at the pool! Even in October, the weather is still warm and humid in Florida leaving us all craving the cool water to play in.
The two water slides were a highlight for my 4 boys. They climbed the tower to go on them over and over. Each slide was a little bit different, but they liked them both. The yellow slide was fast and had mostly closed sections and the blue one had lots of open twists and turns.
We also spent tons of time looping around the lazy river. It was a good sized course with two places to exit and a midway spot you could turn back towards the exits at which helped us adults keep up with the kids that were lapping us as they made their way through the river!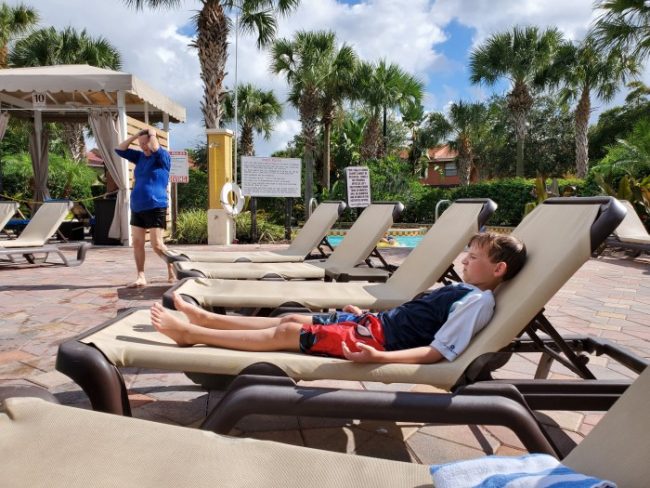 After lots of play at the pool, there was lots of available seating for relaxing and sunbathing. We also found an 8-person Foosball table that was so much fun!
If you love mini golf, you'll want to take advantage of the so cute miniature mini golf course. It's a full 18 hole course but each green is really small that made it so my young boys didn't lose interest before we were through. It's included with your stay and the equipment can be checked out in the lobby.
Additional On-Site Attractions:
Craft Cove
Water Games
Poolside Challenges
Trivia Games
Scavenger Hunt
Bingo
Movie Nights
Board Games
Playground
Batting Cages
Fitness Center
Check out sports equipment including ping pong paddles, tennis racquets, corn hole, shuffle board sets, and more.
Make the Most of
Holidays & Celebrations
FantasyWorld Resort is a great place to stay during the holidays and celebrations. During our stay we were able to explore their Halloween Haunted Houses that added to the fun of our stay!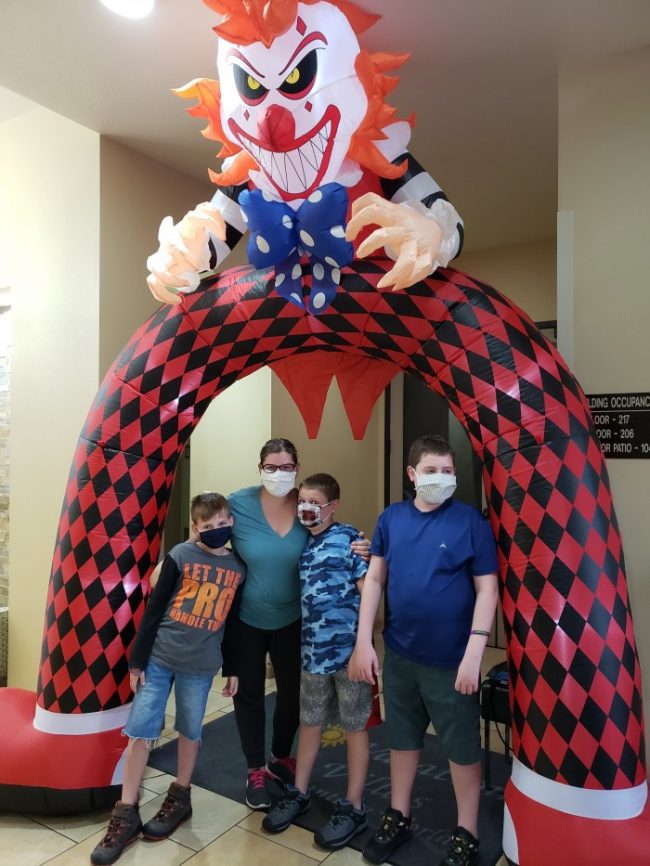 They offered two different haunted houses with one that was free for all guests and family-friendly with not-so-scary elements. They had some really fun decorations and it ended with a trick-or-treat bowl at the end of the display.
It was hard to capture pictures with the special spooky lighting, but the spooky haunted house had actors that will try to scare you and made it all more interactive. They kept getting my 10 and 12 year old boys, they thought that was fun, but it made them move through the haunted house as quick as they could!
We also got to celebrate two birthday's during our stay, and having our own space to celebrate was perfect! It was great to be able to buy a cake at the local grocery store and celebrate our son on his special day! Having a kitchen, dining room, and the space to party was perfect for celebrating!
Nearby Fun & Entertainment
You can schedule transportation from FantasyWorld Resort to several nearby parks, including: Walt Disney World, Universal Studios Orlando, and Sea World. Just schedule a day in advance and you won't have to worry about parking fees, directions, or the long walk from the parking lots.
See our 6 Day Kissimmee Travel Itinerary for ideas of how to make the most out of your vacation!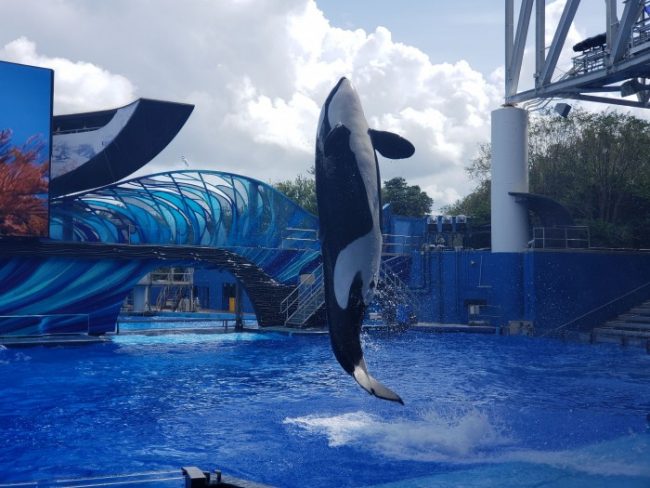 During our stay to FantasyWorld Resort in Kissimmee, Florida, we loved being so close to many of the attractions on our itinerary. We made time to visit Sea World and Discovery Cove as our main big parks during the trip.
A fun hidden gem that's just a mile from FantasyWorld is Fun Spot. We loved the nearly empty attractions that let us have an evening of fun without the crowds!
We by chance discovered an escape room that was literally just across the street from FantasyWorld Resort. It made for a perfect fun activity without all the travel and traffic of other activities.
No matter what you choose to do during your family vacation to Kissimmee, Florida, check out FantasyWorld Resort as a convenient, comfortable, place to stay. It had everything we needed and helped us make the most of our most recent vacation.
Turn to the Experience Kissimmee website to help you plan and prepare for your family vacation to Florida! They can help you find things to do and trip inspiration that will help you plan the perfect family trip. It's an invaluable resource for your trips planning.