The holidays are a magical time for children. All the wonder and joy. Not to mention the baked goodies and of course toys! Make the boys in your life bounce with excitement and happiness this year, with the perfect gift meant just for him. To help you get started with your holiday shopping list, we have put together some of this seasons most fabulous gift ideas for boys.
We received a variety of samples and/or compensation for this post. All opinions are our own.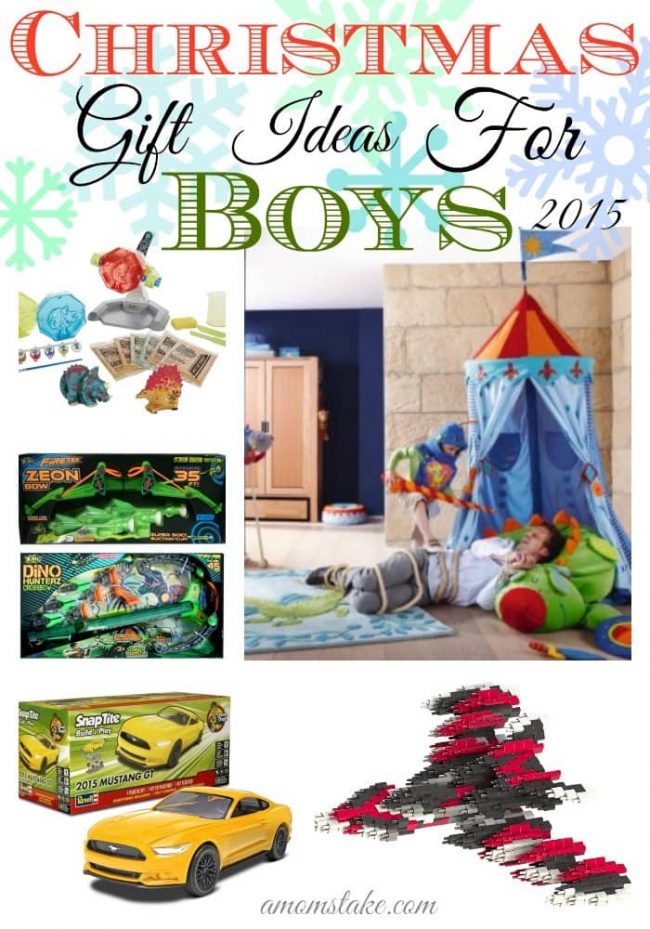 Creative Play
Build upon the areas they are interested or curious about with fun themed learning kits that will capture their interest by Thames & Kosmos. They offer creative learning kits like a Crystal Jewelry kit where you grow your own crystals or an Aircraft Engineer kit with building pieces to craft favorite vehicles of flight. Their different kits weave in educational themes that disguise learning as fun with engaging topics kits love from robots to space and everywhere in between. They also offer an assortment of board games. Visit Thames & Kosmos to find a perfect kit to engage your child in their interests!
Hours of fun and creating in one box. For the creative child who loves dinosaurs Roto-Motion Mixer Dino Lab is a winner. Create your own dinosaur in less than 15 minutes with RoseArt's Fast Cast Powder. After your dinosaur is done, customize and paint your dinosaur any way you would like. The kit includes 3 dinosaur molds, paints, 6 powder bags, 2 aging washes, and various tools to help you create the perfect dinosaur. Don't worry about stocking up with batteries either, because this toy doesn't need them. Unleash your dinosaur lover's creativity with Roto-Motion Mixer Dino Lab from RoseArt.
Play Time Together
The perfect blend of fun and learning is brought to you by Thinkfun. The new 2015 line features games like Compose Yourself and Code Master. Teach children a love of music by composing their own musical piece using Compose Yourself. Arrange musical cards in whatever order you like, plug it in online and have it played by an orchestra. If you like it enough, go ahead and print off your piece or send it in MP3 format. Code Master is a fun way for kids to learn basics of programming and coding, while playing a fun game. It's a fun adventure game that cultivates sequence reasoning and problem solving. Guide your avatar to collect all the crystals, all while learning coding concepts like loops and conditional branching. These games are fun for the kids or even the teachers in your life.
If there's one thing I've learned about boys is that they love to build. Perfect for boys of all ages, Brackitz kicks traditional blocks up a few notches. Whether your boy loves building action figures, robots, buildings, animals, etc, Brackitz allows your child to build all of their favorite things using colorful connectors and planks. Best of all, unlike most construction toys, Brackitz pieces allow your colorful creations to actually move! That's right, now your constructed Ferris wheel can spin, and your roller coaster can ride. Thanks to Brackitz, real-life math, art, architecture, and engineering have never been so fun.
Make tablet time interactive play together time with a nabi Big Tab HD 24″. It's the world's largest Android tablet and it's made for sharing! Now, you don't have to hide behind a tiny screen ignoring each other, share the Big Tab and play interactive games together as a team. This can encourage social interaction, communication, and even collaboration as you work together. The nabi Big Tab comes preloaded with multi-player games with favorites like Candy Land and air hockey. There is also hours and hours of watchable content, creativity tools, interactive storybooks, and more! Choose the 20″ model that just dropped in price to $299 or the Big Tab HD 24″ model which was recently lowered to $399! It will make the perfect family gift this year.
Let Them Build Something
Model kit building has been a favored hobby for decades. If you have tried to get kids interested, but found the kits too hard to put together with kids, Revell has found a way to revolutionize the love of model making. These new models, available at Michael's, can be ordered to the skill level of the builder. SnapTite Build & Play for ages 6-8 can be done in less than 30 minutes without glue, tools or paint. Skill level 3 is for ages 10-12 with many parts, customizable features and glue. With several difficulties in between, kids of all ages can experience the joy of building their first model. Start with super easy kits for younger builders and work up to more complex kits for older builders. Whatever the age and skill level, Revell has a model kit for you.
If your child loves to build and create, Pinblock is a great gift idea for them. Pinblock sets have one piece that can twist, turn, stack or lay flat. The design allows for non-stop 3D building fun. Each set comes with enough pins to create numerous creative ideas. Build a plane, building, wearable gadgets or whatever your creativity inspires. The pixel-like quality allows the builder to make and create many different designs with one kit. Start from scratch and let the creativity flow, or follow an enclosed manual to build a model. With each pin being the same, you never need to worry about having the right piece. Check out all the Pinblock sets.
For the builder and stop -animation lover in your family. OgoBILD makes fun sports toys and build-able character bits. OgoBILD also makes a great Build+Animate Animation Studio Kit. The Animation Studio Kit combines the OgoBILD's construction toy line with a webcam and stop-animation software from the makers of Wallace and Gromit. It brings the art of filmmaking to a level where kids can easily learn and create. Children get to build their characters, then use them in a stop-animation film produced by them. Nurture your little filmmaker and let their creativity flow. After your film is done, you can even publish it online at ogobild.com/shorts and watch what others have created with their OgoBILD Animation Studio Kit.
Educational Fun
Make learning engaging with the award-winning, critically acclaimed Basher Books series! Each nonfiction book presents a concept or idea in a way that is easy for kids to understand. The series highlights topics kids love to learn about and around topics focused on during the school curriculum including books on: Minerals, Astronomy, Presidents, US States, Dinosaurs, Extreme Physics, and many more topics! Basher Book Series takes the most complex topics and introduces a character per topic to simplify and make the topics memorable for easier comprehension. Visit Basher Books to see the full series of books.
Learning doesn't have to be dull, in fact for kids learning should be fun! Lakeshore Learning knows how to bring fun and education together with their clever products. Two of my favorite products for gifting this year are their Castle Blocks and Create-A-Story Paper Center. The Castle Blocks give kids hands-on fun building and creating their very own castles. The hardwood blocks come in 12 different shapes with medieval prints on every side so they can create a castle fit for a king. Kids love to create their own stories, and the Create-A-Story Paper Center will give them tons of room for storytelling while encouraging handwriting practice and room for adding their own illustrations. Visit Lakeshore Learning for fun educational toys for your boys this year. Plus, you can Save 20% with this coupon, just click the link to load the coupon (Expires 12/31/15)
Do you know a dinosaur lover? Thanks to National Geographic Tinted Dinosaur Laser Pegs 24 Models in 1 Kit, your child will love creating their favorite Dinosaur with laser pegs and tinted construction bricks. With 24 models to choose from, your child can create anything from a T-Rex to a Velociraptor. Plus, the finished product lights up! How cool is that? With each kit containing 27 laser pegs, and 191 construction bricks, the play possibilities are endless. Even better, National Geographic Tinted Dinosaur Laser Pegs help your child develop important skills such as creative reasoning, communication, teamwork, creativity, and model building.
Imaginative Fun
Give them the gear to tackle their own top secret missions with Spy Gear Toys. These fun themed toys let boys feel like a real spy with tech that lets them spy on the action. The Spy Gear Snake Cam has a flexible camera neck that can be bent around corners to take a peek at the scene without exposing their hiding spot. Add the Ultimate Night Vision glasses to see in pitch black for up to 50 feet! No spy mission is complete without communication! Take their detective work to the next level with Spy Gear Video Walkie Talkie set that does not require WiFi or 3G network to work! Just press a simple button to wirelessly communication with the other handset with video and audio for up to 160 feet. Check out Spy Gear Toys for all the coolest gear for the future missions they will create. Their toys are available at major retailers and on Amazon.
Let their imagination run while by transforming their world into their favorite themes. HABA has creative tools for play that create a unique world and play for your kids. Their Knight's Hanging Tent takes your indoors back to medieval days where they kids can become a knight in shining armor, battle to slay the dragon, and save the princess! HABA is well known for their high quality wood toys and blocks. Their product lines also include plush toys, games and textiles. No matter what area of imagination your child turns to, HABA has the toys to make it come to life!
Gaming is taking a whole new approach with the brand new Playmation toy by Disney Consumer Products and Hasbro. Now, the digital world of gaming is merging with real world physical play. It's like Disney's Infinity gaming series merging into an interactive game play where your child is the star of the game. Playmation uses a collection of toys and wearables and smart technology to let kids use their imagination to impact their game play experience. Set off on missions with their favorite Marvel Avengers characters leading the way. You can connect with the Playmation app to record your battle stats and take on missions to complete. You wear a unit that connects you to the play and can track your movements and then can add smart figures onto the power activator pod to bring villains or other heroes into play. Start with a Playmation starter kit that includes everything you need to get started with your first 25 missions.
With the latest episode of Star Wars hitting theaters this December, all the boys will be asking for the latest Star Wars action figures and toys! Head to Kohl's for a huge assortment of Star Wars clothing, bedding, gear and all the hottest toys! Start by adding Star Wars Anakin and Darth Vader Hero Mashers figures that let you mix and match their body parts for a unique hero/villain whenever they play. A lightsaber is key for Star Wars play. Or, pickup a 9″ talking Yoda plush that can repeat several popular Yoda phrases. Turn to Kohl's website or in-stores for more of the hottest Star Wars products this fall!
Active Toys
One of last year's top toys is being joined this year by two smaller, more mischevious counter parts: Zoomer Dino Jester & Chomplingz. Each dinosaur has tricks up their sleeves and games to play with your kids with unique personalities. You can record Jester's moves on the new controller feature and watch as he perfectly balances on his two wheels. He's also the jokeasaurus of the bunch and will strive to make you laugh! Kids will love Chomplingz Sound Warp Mode that transforms what he hears into a new unique sound. Then, switch him over to Guard Mode and he'll stand watch! Both Zoomer Dino Jester and Zoomer Chomplingz are perfect for boys ages 5+. Look for exclusive colors of Zoomer Dinos Jester and Chomplingz at different retailers this fall (including Target, Walmart, Kohl's, Toys R Us, and others) while holiday shopping and pick up your favorite style!
For the child in your life that loves to wrestle. Mix and match parts to build the next WWE superstar. These wrestler action figures from Mattel are made to come apart and be put together in various different combinations to build the ultimate wrestling champion. With endless ways to build, they're sure to stay busy. Once the ultimate fighting superstar has been constructed, put him in the ring builder to showcase his skills. The fighting ring has several options and styles to build from its included pieces. It can be put together in over 20 different ways to create the ultimate fighting experience for your fighter. Have your champion fighting in a different ring every time.
Boys will love the latest Power Rangers inspired toys. Pick-up Fisher Price's Imaginex Megazord that features light-up eyes, 7 total projectiles, 6 unique dics, and 2 rangers. He also comes with power pads that let the kids control the action. Megazord is 28″ tall giving your kids lots of room to play! When they're ready to start their own Power Ranger battles, arm them with a Dino Spike Battle Sword. This fun sword is for more than just sword play. It features a chomp action, lights and battle sound effects, and when you insert a Dino Charger the sword charges up with even more effects. Find both these and other Power Ranger toys at Toys "R" Us stores. Megazord is also available in Target stores and on Amazon.
The Dino Hunterz Crossbow and Firetek Zeon Bow by Zing encourages kids to create their own active fun indoors and out. Have your child Hunting the prehistoric creatures and sending them back into the Jurassic period. With an arrow shooting range of up to 45 feet, these arrows really fly. Each crossbow also comes with a special Dino-scope for supreme accuracy and three suction-cup arrows for hours of hunting and shooting fun. Or get your kids up off the couch with Firetek Zeon Bow. Whether your child likes target shooting or just watching the arrows fly, these are sure to induce hours of fun. It can launch one of its light-up arrows up to 35 feet. Each bow comes with 3 light up arrows that will stick to most flat surface targets. Grab a bow and bring on the fun!
A perfect gift for Christmas is a new bike! Radio Flyer offers an assortment of options perfect for under the tree this year, like their Classic 12″ Cruiser. The 12″ wheels are perfect for beginners and the bike includes removable training wheels to build their confidence as they learn to ride. Or, try their EZ-Rider Scooter will transition your child to a 2-wheel scooter with a steady steel frame and an extra-large front wheel. Find either of these two Radio Flyer bikes at Toys "R" Us this year! They retail for $99.99 and $49.99 respectively.
Style & Accessories for Boys
My son is constantly on the move. He loves to run and jump, walk and skip, hop and kick. He is extremely picky when it comes to shoes, but he loves his Keen Footwear. He is currently obsessed with his Kootenay Boots. The have a hook and loop closure making it easy for him to put on. They are casual enough for everyday wear, but he can also wear them with his dress clothes. They are waterproof and lined with faux shearing, so I never worry about his feet being cold, even in the snow. He is convinced they make him run faster, and every mom knows that makes them the best shoes ever. Keen has an amazing line of fall and winter shoes this season for boys and girls, perfect for Christmas!

Equip your child with a wireless bluetooth enabled headphones that can help them enjoy their entertainment, without the noise broadcasting throughout your home and car. Kidwavz headphones are perfect for pairing with your in-vehicle entertainment system, connecting to their iPod, or for use with any of their other tech gear. The headphones limit the volume to a max of 85db protecting their ears from overly loud volumes. They lower the overall bass and delivery crisper vocals to deliver a hearing experience perfect for kids. The Kidwavz headphones have a lightweight design and an adjustable headband that is perfectly sized for kids to wear from ages 3 to 14. Pick up a pair of Kidwavz headphones in your choice of colors from hot pink, toy blue, and simple black.
What will be on the top of your boys wishlist this year?