I received a Lush Decor credit for hosting this giveaway. All opinions are my own.
The central focus of a bedroom is the big comfy bed we set right in the center of the room. While our beds are the central focus, often they get the least attention when planning our decor. When we decorated our master bedroom, the very first thing the designer told us was that we needed texture. Not just a little bit of texture here or there, but lots of texture added in throughout the room. Especially on our bedspread.
This is something that Lush Decor absolutely excels in. They offer absolutely gorgeous comforter sets that have tons of texture. With all the different choices available, there is something perfect for everyone's design style. Their Rosina 3-piece set is bursting with texture. Doesn't it make the whole room just look like an expensive designer room? Best of all, their comforter sets are much cheaper than you would expect!
Another one of their unique comforts, the Giselle 3-piece set, really stands out to me. It has a golden chevron pattern on an ivory background that makes it unlike any comforter I've ever seen. It looks so fancy!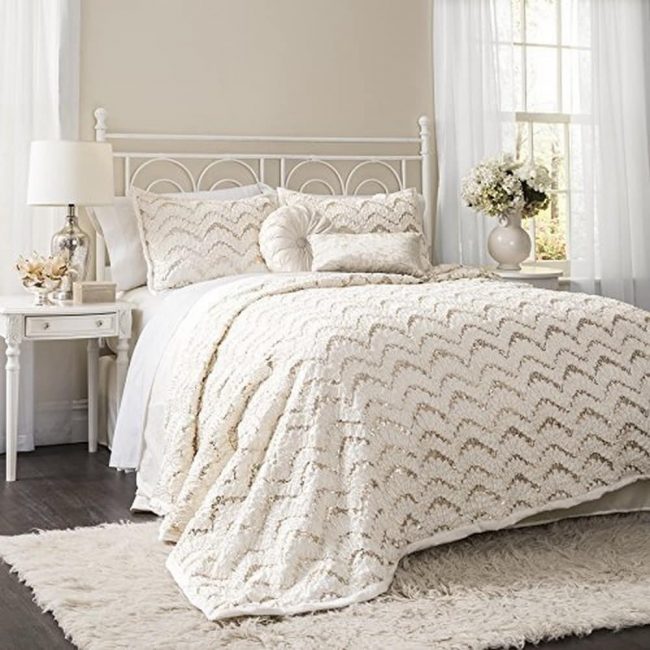 Their collections are not limited to just comforters. They also make beautiful, vibrant quilts. This Royal Empire set comes in three different color schemes to choose from. You can also browse their youth collections, shower curtains, throws and pillows and window treatments, too, to dress up your whole room!
You may recall my contributor Meagan shared her bedroom updates with a DIY Headboard and a gorgeous Lush Decor comforter that really makes her room pop against the wood headboard. It's amazing to me what a comforter with texture can do to make a room stand out and look like an expensive designer room on a budget.
Lush Decor is having a huge clearance sale on their product lines with all their bedding sets currently less than $200 each! It's the perfect time to take advantage of their sale prices and update the rooms in your home you've been waiting to restyle! Visit LushDecor.com to browse their selections and find the perfect comforter for your rooms!