I received a variety of Super Duper games discussed below in exchange for my honest review. Opinions are my own.
When I tell my young boys it's time to do homework, the grumbles, whines and complaints roll in. However, when I pull out a game that is completely educational based, all I hear is laughter and cheers and they challenge and help each other throughout the game. I absolutely believe that learning should be fun, and with Super Duper – learning is fun!
We had the opportunity to try out a few of their top 10 gift guide games! They were all lots of fun in their own way, but I wanted to show you a look at two of the games that we really enjoyed playing together as a family!
First, Word Joggers for Categories takes a spin on classic Bingo and gives you tons and tons of opportunities to learn in a variety of ways. It comes with 6 different themed boards including food, animals, home and others. You start with a game board and the applicable card deck. Then, choose from one of the themed ways to play the game. The cards will give you the option to play a classic bingo style game where a specific image is shown and you look for the match on the board to mark the space. For more of a challenge, their are classifications like "animals with fur" or "foods that belong in the refrigerator" that move beyond a basic game to teach your child to sort and classify different items by a category.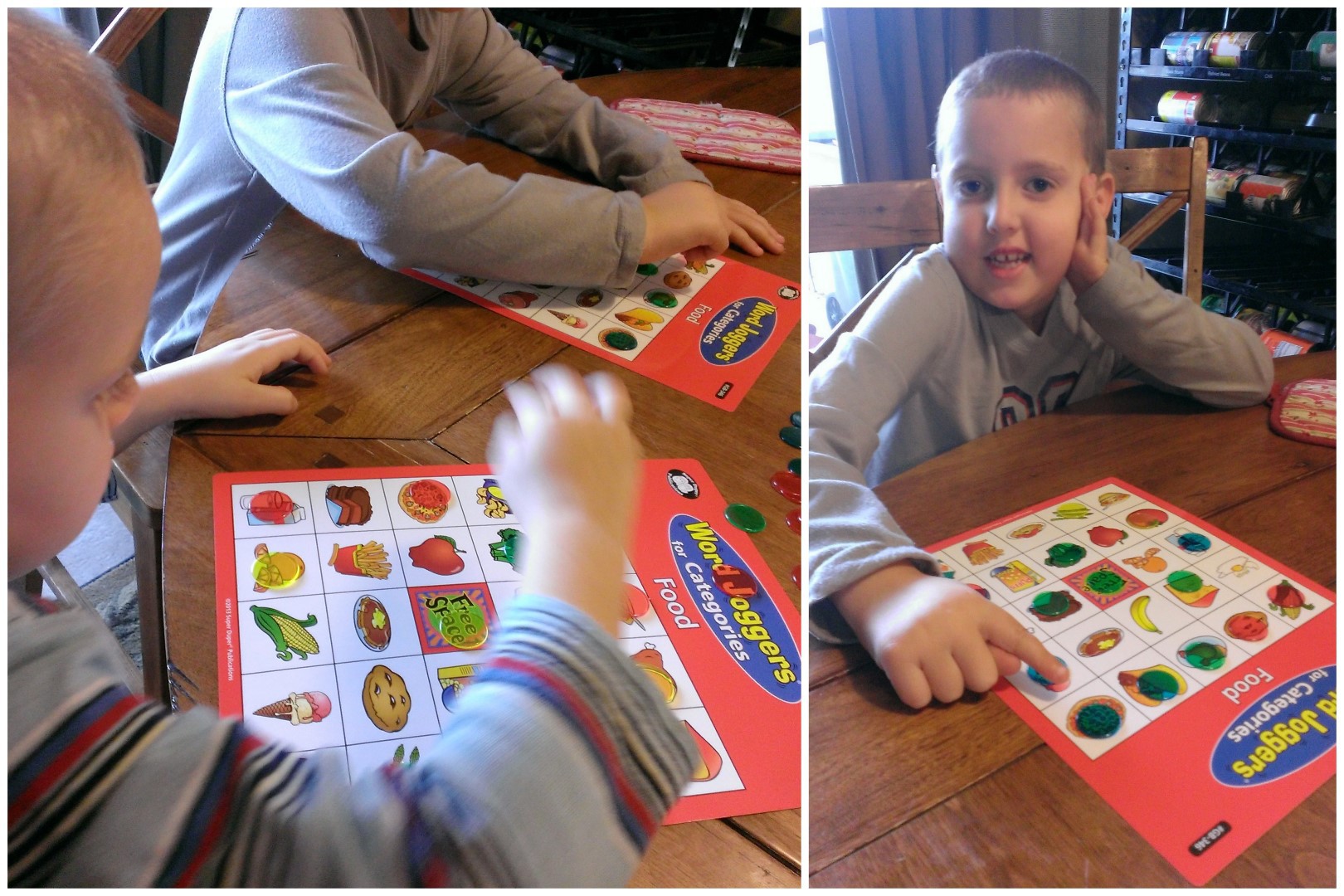 Finally, the last set of cards gives you a set of clues to challenge your children to find the one match on the board. For example, the clues for tomato included that it was red, soft, a fruit that is sometimes called a vegetable, and that it grows on a vine. Together, the clues help them eliminate the ones that aren't correct to find the right match. While there might be several red objects on the board, only one also matches the other clues. I loved the replay value and how the game can grow with your child. It includes enough game boards to play with some friends or in a small group setting in the classroom.
My boys very favorite game was Hopping Frogs Board Game. You compete to answer questions with all of the questions based on matching an initial, middle or ending sound. This game specifically targets P, B, T, D, K, G and F – the early developing sounds. I played this game with my 3, 5, and 7 year old boys and all of them could play along with their own level of sounds and cards. Since the one leading the game can select the card for each player, you can target a specific sound to target for each person to meet their skill level and keep it fun for everyone. When they get an answer right, they get to really get into the game by making one of the plastic frogs hop from the game board onto their individual lily pad. My boys got an absolute kick out of this! They loved making the frogs jump which made them excited to have another turn. We stuck to beginning sounds and even my 3 year old was able to answer many of the questions with a bit of prompting and help. I thought this game was a really great way to start helping my younger to recognize where the letter sounds come into play to help build word.
For more learning fun, I absolutely recommend you check out the Top 10 gift guide of learning games from Super Duper! It is the perfect way to give them a game that will teach them while having fun! We also tried out their MagneTalk Telling Time Game, Go For The Dough Board Game, Story Prediction games which were all great for learning fun as well. For a fun and unique stocking stuffer that also encourages learning, check out their Ticklin' Tongue Twister pencils!
You can even get a bonus 15% off any order at Super Duper using the coupon code: DAT5ECG9 valid now through December 20th. Plus, all orders over $20 ship free within the United States and Canada!