We bought our house before our first child was even born and one of our first projects was painting a kids space room in our spare bedroom. We knew before we got married that we wanted to start our family right away and along with the excitement to start our family came the fun of picking our really fun room themes for our extra bedrooms. We started hand painting a fun space mural in our spare bedroom as we thought it would work so well as a playroom and be gender neutral enough to work well for a boy or a girl even though it is a bit better of a fit for a girl. We are not in anyway artists but creating our kids space room was actually so much fun and pretty easy too. Here are some tips to help you create your own space themed room!
Ideas for Creating a Kids Space Room
Warm up the space with a Rug! We recently added in a beautiful Ink Swirl Cocoa rug from Mohawk Home to add a nice finishing touch to the room. I absolutely love the rug! It helps to protect their carpet as boys can be very messy and also adds in so much color and style, too. My boys have come up with all their own imaginative ways to play on the rug to make it a functional play rug even though it is more for style than something like a car rug. They've used the patterned swirls as mazes, roads, launch pads, "lava" to avoid stepping on, hopscotch and many more imaginative games. The rug is really soft and comfy and really gives finishes off the room. See the difference just adding in a rug made in this before/after picture!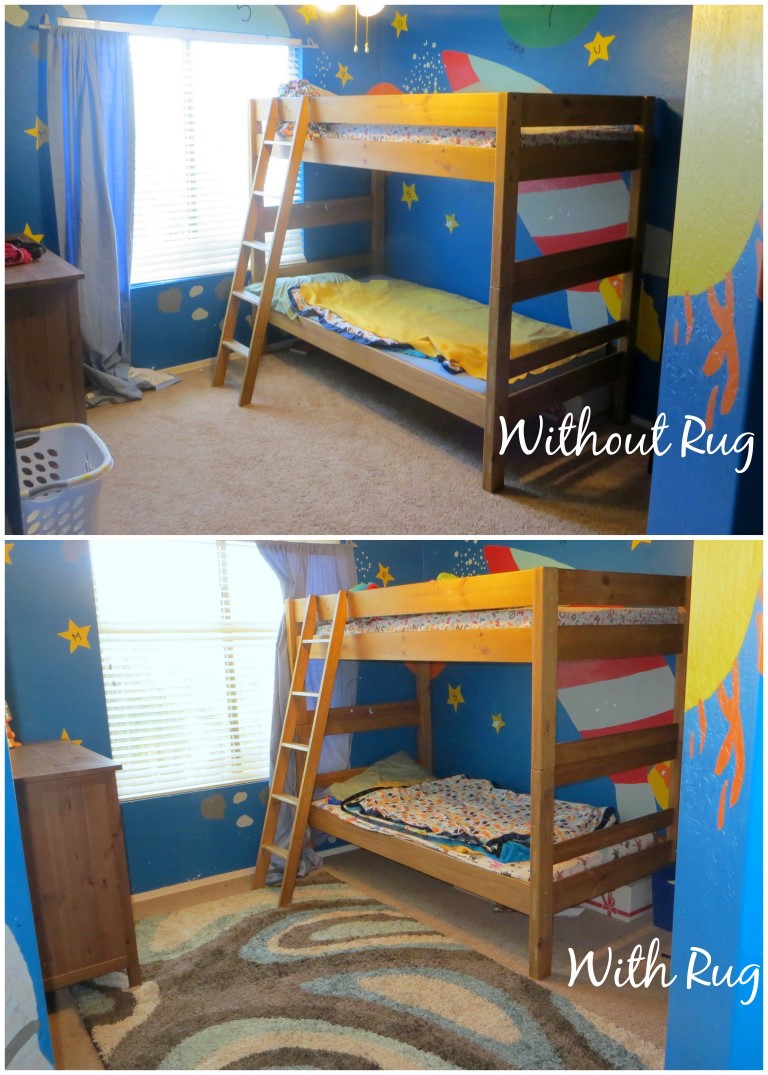 Decorate with Stars! Adhesive glow-in-the-dark stars are so much fun! The kids love them and they give off a tiny bit of light that can feel like a nightlight if your child is afraid of the dark. They are really easy to apply with either self-adhesive sticker style stars or with the larger plastic stars that can be tacked to the walls with a removable adhesive.
Get Creative with Paint! If you aren't too afraid to get messy and create a mural, you can really transform the room into an out of this world destination. The best part of a space themed room is you can give the room a whimsical and fun feel by not insisting that planets be perfectly round and size ratios be exact. Just have fun with your design and ideas. Plus, all the shapes for space are very basic and simple making them easy for even a beginner at painting to create.
Add in Colors – A space room theme lets you include lots of fun colors and not leave the room feeling mismatched our out of place. We stuck to bold primary colors throughout the room and love all the variety the different colors bring out.
Corral the "Space Junk" – Create areas to keep your kids toys up and off the floor to give your child more space to play. We use a hanging net to keep stuffed animals together which really fits with the room theme. We also use a cubby shelf with buckets to give us practical storage for toys, books and other room necessities.
We have been really happy with our new beautiful rug and absolutely love the texture, warmth, and fun it brings into our boys space bedroom. If you are looking for a way to finish off your own kids themed bedroom, check out Mohawk Home. Their selection of rugs that can be found at popular retailers including Lowe's, Target, Walmart, Home Depot, and many others. Some of their styles are even available on Amazon. The Ink Cocoa Swirl rug we selected can be found at Home Depot. We also added in a Mohawk Home Rug in the kids bathroom, too. Rugs work so well for warming up a space!
I received product samples and/or compensation in exchange for this post. The opinions expressed above are my own. Any claims should be verified on the sponsor's site. Our kids space room was created on our own prior to this post