InGenuity's latest pattern and infant gear combines in their Coco Cafe Collection of products. One of these great products in the new InGenuity Smart & Simple Playard! This playard combines the great feature of One Less Step™ that lets you quickly fold and go without removing bassinet and Just Right Height™ in an elevated changing table that easily pivots out of the way to bring you a modern playard that can do it all!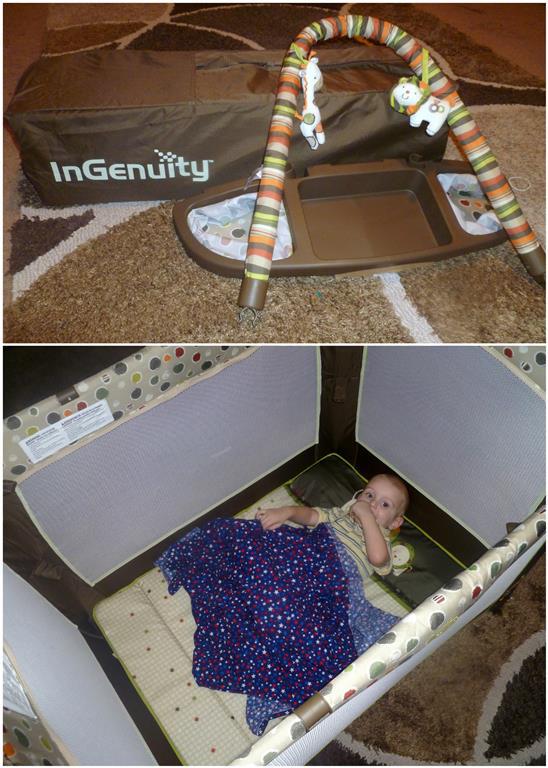 The InGenuity Smart & Simple Playard in Coco Cafe came with everything I would need to create a portable sleeping area for an infant or toddler. All of the essential pieces fit in the included storage bag that makes it easy to tote along the playard for travel use.
When the playard arrived I had a lot of fun getting it all set up and ready and we tested it first with my nearly 2 year old who does still use a playard when we travel. He still fits great in the playard when set up for a toddler and the playard was very safe and secure place for him to lay.
The majority of my use for playard will come when our newest addition arrives to give us a space for the baby until they are ready to move out of our room and into a their crib.
In the bassinet setting, the infant sleeps at a great height to be right next to my bed for easier middle of the night feedings and diaper changes. This Smart & Simple playard has a removable diaper changing station that can be added if needed and fold out of the way or removed completely.
The changing station sits above the playard making it at a great height for changing diapers. The set also comes with a removable organizer tray to be able to keep diapers, wipes, lotions, toys, pacifiers, and more handy and easy to find. Additionally, this playard came with a fabric toy bar with two cute plush hanging animals that coordinate with the set.
The bassinet felt very secure with the bars added below the mattress for security and a mesh hanging basket that zips right on to the playard providing extra stability. I loved how easily all the pieces snap right into place with the built in guides that show you right where to clip on the different pieces.
The playard is easy to collapse with One Less Step that lets you keep the bassinet in place when folding. I'm very happy with the look and high-quality of this playard and I know we will get TONS of use out of this playard! Plus, I really adore the neutral and not overly loud print of the Coco Cafe collection that still brings in color and fun without being over the top.
You can find the InGenuity Smart & Simple Playard in one of their great collection prints available at Target. The playard retails for $99.99.
Disclosure: I received an InGenuity Coco Cafe Smart & Simple Playard in exchange for my honest review. I was not compensated in any other manner. The opinions expressed above are my own and any claims should be verified on the sponsor's site.