This post was sponsored by Culligan Water as part of an Integrated Program for Influence Central and all opinions expressed in my post are my own.
I'll admit it – I LOVE spring-cleaning. There's something so satisfying about scrubbing away the winter grime and restoring your home to order. When it comes to cleaning, I'm a bit of a perfectionist. I can't stand things like streaks on mirrors, build up around my sink, handprints on my TV, and dirty windows. I feel like every time I try cleaning with store-bought cleaners, I don't get the results I want. That's why I'm completely in love with this Homemade Multi-Surface Cleaner. Use this cleaner to clean your windows, mirrors, shower/tub, sink, TV, etc. I think the results speak for itself!
Homemade Multi-Surface Cleaner
Items you'll need:
2 Spray bottles (you can use empty bottles of cleaner or buy squirt bottles from the dollar store)
2 Rags
Water (for best results, I love cleaning with filtered water)
White Vinegar
Lemon Juice
1T Dawn Dish Soap
Instructions:
1.Fill one squirt bottle 1/2 way full of water. Fill the other squirt bottle completely full of water. Like I mentioned above, ever since we got our Culligan Water reverse osmosis water filtration system, I prefer cleaning with filtered water. It's amazing how much less build-up and fewer watermarks appear when I'm cleaning with filtered water vs. hard water. Filtered water also helps provide more of a streak-free shine.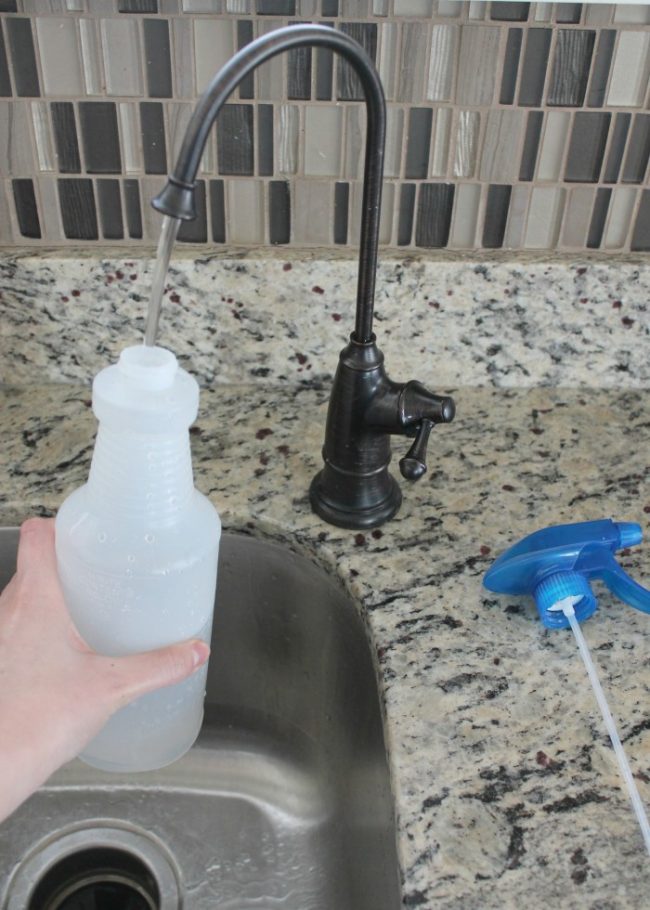 2. In the squirt bottle halfway full of water, pour white vinegar into the bottle until it's 3/4 of the way full. Add 1T Dawn Dish Soap, and lemon juice until the spray bottle is full. Mix ingredients together. The picture below shows the outside of my window before applying the homemade multi-surface cleaner.
3. Spray entire surface with your homemade multi-surface cleaner and allow solution to sit for 5 minutes.
4. After solution has sat, use one of your rags and scrub the solution-covered surface.
5. Using your spray bottle full of water, dampen entire surface.
6. Clean and wipe dry with your other rag (make sure this rag is dry).
The results are flawless. I'm telling you, cleaning with filtered water from my Culligan Water Filtration System makes my life so much easier. Not only do surfaces look cleaner, but they also stay cleaner for longer. Not having to worry about water spots all over my sink is heavenly. I've also noticed that I don't have to scrub the tray below the water dispenser on my fridge as frequently.
In my previous post about our new Culligan Water Filtration System, 5 Benefits of a Home Water Filtration System I spoke about advantages I had already noticed after the first few days of installation: better drinking water, less water build-up, and cuts down on bottled water. Now that a few months have passed, I've noticed many more benefits thanks to Culligan Water.
For starters, my ice cubes are clearer. Before having my Culligan Water Filtration System installed, every time the ice would melt in my cup, there were floaties galore; gross I know. Now with clearer ice cubes, not only does my water taste better, but it also looks more appealing. Throughout the day, I find myself filling up my water bottle with filtered water, because it really does taste like bottled water. I've been drinking a lot more water over the last few weeks. Let's just say that Culligan Water helps me have a "good water day" every day.
Another benefit I've noticed is that my table and counters stay cleaner. One of my children has a gift for spilling. As in she spills at least one cup of water during every meal. However, now that we drink filtered water, I don't have to worry about water spots covering our kitchen surfaces. The benefits are endless.
If you've been contemplating getting a water filtration system in your home, do it! Culligan Water is extremely accommodating and their customer service is exceptional. The people that installed my system were kind, educated, and quick. Plus, because Culligan Water is the leader in innovative water solutions for both businesses and homes, you know Culligan Water is a brand that your family can trust.
How do you think filtered water would benefit your life?