This post brought to you by KRAFT Natural Shredded Cheese and Safeway. All opinions are 100% mine.
I love simple yet flavorful meals that can be made in just 30 minutes. This Grilled Bruschetta Chicken recipe is especially nice because all the heat stays outdoors when you cook up this chicken on the grill making it a perfect summertime recipe.
Grilled Bruschetta Chicken Recipe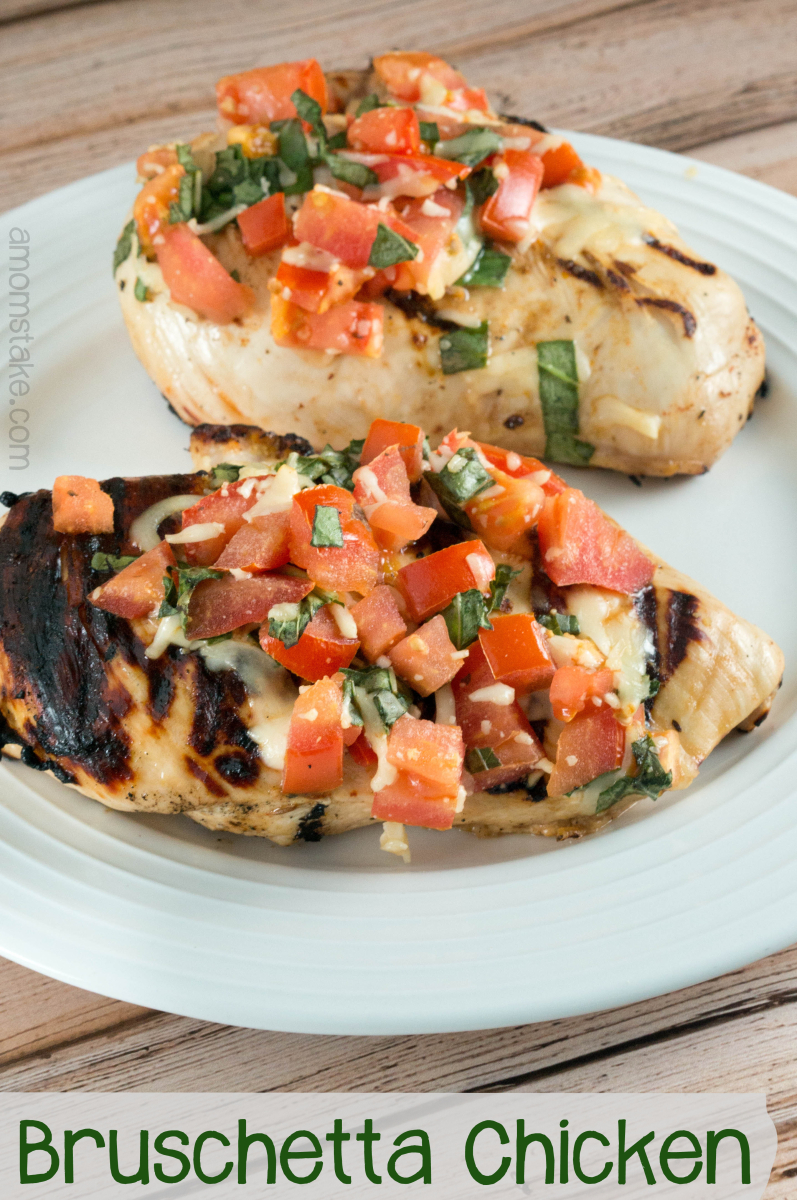 Ingredients:
4 small boneless skinless chicken breasts (1 lb)
1/4 cup KRAFT Sun Dried Tomato Vinaigrette Dressing, divided
1 tomato, finely chopped
1/2 cup KRAFT Shredded Low-Moisture Part-Skim Mozzarella Cheese
1/4 cup chopped fresh basil
Directions:
HEAT grill to medium heat.
PLACE chicken in large resealable plastic bag. Add 2 Tbsp. dressing; seal bag. Turn bag over several times to coat chicken with dressing. Refrigerate 10 min. Remove chicken from bag; discard bag and dressing.
COVER half the grill grate with sheet of heavy-duty foil. Place chicken on uncovered side of grill grate; grill 6 min. Meanwhile, combine remaining dressing, tomatoes, cheese and basil.
TURN chicken over; place on foil. Top with tomato mixture. Grill 8 min. or until chicken is done (165°F).
For more recipes, visit kraftrecipes.com.
KRAFT Stand-Up Pouches
KRAFT just introduced a new package design in a stand-up pouch! The new packaging offers the same product you already trust and still 2 cups of cheese, just in a new package design that makes it easier to scoop, pour, and store your cheese!
I absolutely love the new design. It just makes sense to have the cheese pouch stand up instead of falling over and spilling the cheese right out of the package. I'm pretty careful with my cheese, but if my kids ever see the bag of cheese near by or if they're helping in the kitchen, they always place the pouch down right on its end, only to have it fall and spill some of the cheese. This new design totally fixes that problem, meaning less spills and less mess!
The new KRAFT cheese pouches can be found at Safeway Just For You stores right where you always look for your shredded cheese, making them super easy to find!