I never thought I was a make-it-yourself jam kind of girl. It just looked like way too much work and I can buy a jar of perfectly good jam for about $3. However, a friend turned me onto a Strawberry Freezer Jam recipe that is the BEST jam I've ever had, and now my family will eat nothing else.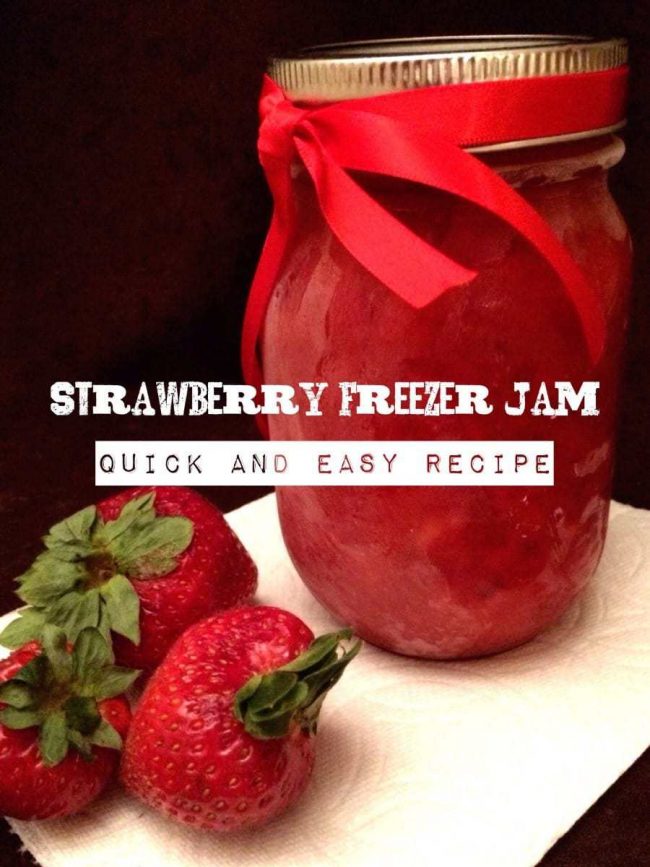 This Freezer Jam recipe is great on PBJ sandwiches, on top of waffles, inside crepes, as an ice cream topping, drizzled over greek yogurt, or spread on toast. I may or may not have caught my husband and children on various occasions simply spooning it directly into their mouths…
The recipe is located on the Ball RealFruit Instant Pectin. (Make sure you buy instant, you don't need to cook it.)
Strawberry Freezer Jam Recipe
Ingredients:
1 2/3 cup mashed strawberries
2/3 cup granulated sugar
Directions:
Wash, hull and mash your strawberries. (You can use a food processor, but we like our jam chunky and my kids don't even think it's a chore to mash the strawberries with a potato masher so it's a win-win for me!!)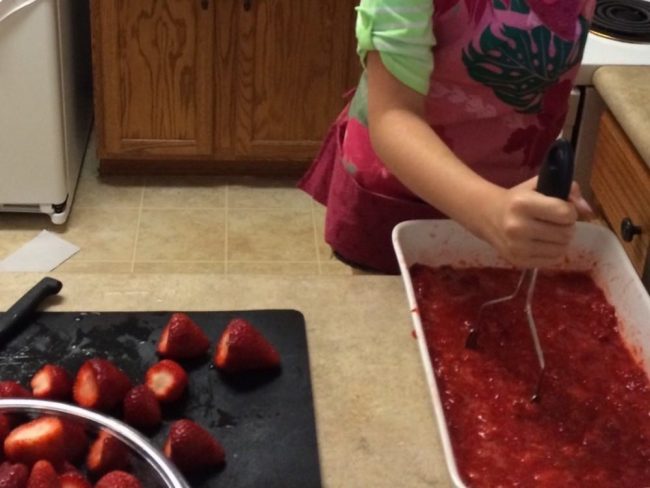 Mix Sugar and Pectin in a separate bowl.
Add mashed strawberries and mix for 3 minutes.
Ladle jam into clean freezer jars (glass or plastic) and let stand for 30 minutes. Leave a 1/2″ headspace for food expansion in the freezer.
Keep in the refrigerator for 3 weeks or in the freezer for up to a year (We've left ours in the refrigerator longer and it was still fantastic, but those are the specifications given on the pectin container).
Also, do not exceed 6 8oz mason jars (3x recipe) per batch or it may have trouble setting.
No cooking! No water bath! No pressure cooker! It is one of the easiest Freezer Jam recipes ever! I've since tried a few different freezer jam recipes and this one is by far the easiest and most delicious!
We usually wait for a good strawberry sale and load up, but there have been times where I've run out and needed to use frozen strawberries. It turned out great, I just didn't like paying the price for frozen strawberries and you have to wait to completely thaw the strawberries before you make the recipe.
Head over next to see our DIY Lunchables (aka Sandwiches you freeze so they're ready for school lunches!) they're perfect for using this Strawberry Freezer Jam recipe!
What else do you love to top with Strawberry Freezer Jam?