It is pretty unbelievable, but my husband cannot stand potatoes. A scrumptious baked potato with butter sour cream, bacon, cheese and fresh herbs….my mouth is watering just thinking about it! But him? He will have nothing to do with it!
Every single recipe I have tried to win over his love for team potato has been a failure…until I made him some drool worthy Potatoes Au Gratin. I have never made a recipe so delicious before. Yeah, I talk recipes up all the time about how good the are, and it's true! Those are some really tasty recipes. But this one…this fella right here takes the cake!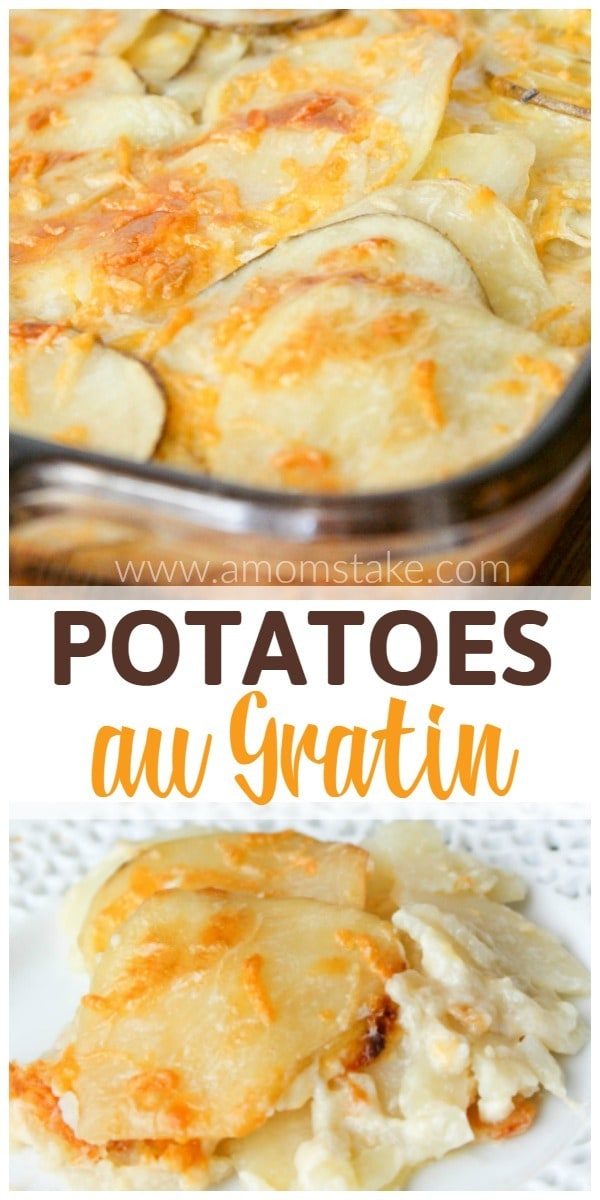 Easy Potatoes Au Gratin
The cook time is a little long but way worth it! The prep is easy enough and the flavor is so lip smacking good that the wait is no big deal in the grand scheme of things. Even my husband of all people would agree.
The onion flavor really shines through, which I love in any potato dish. The sauce is so creamy and cheesy it coats the soft delicious potato slices making every bite completely scrumptious!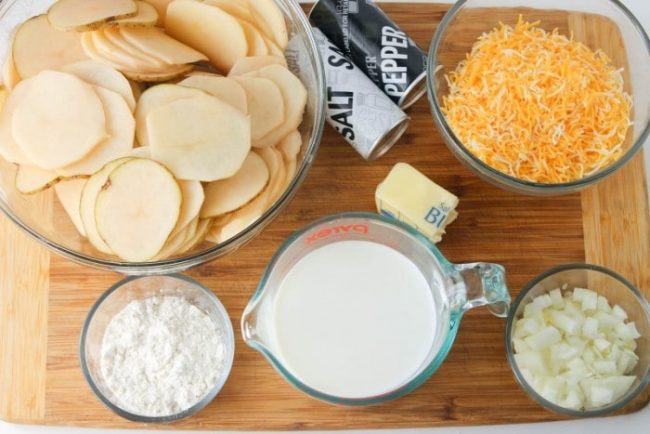 This recipe only requires a few basic ingredients. Sliced potatoes, cheese, onion, milk, butter, flour, and some salt and pepper.
Start by making a roux with the flour, butter, and milk. Combine and heat the flour and butter over medium heat. Let it bubble for about a minute before slowly pouring in the milk, whisking as you go. Once all the milk has been combined, dump in the cheese and onion.
I know some people don't like onion because of the harsh flavor and texture of it, but if you're one of these people I can promise you you won't even notice it's there. It gets so soft you can't feel it but the flavor is still there in a gentle delicious way, so don't worry.
As far as the cheese goes, feel free to mix it up with your favorite cheeses! It will turn out great as long as you use a cheese that melts.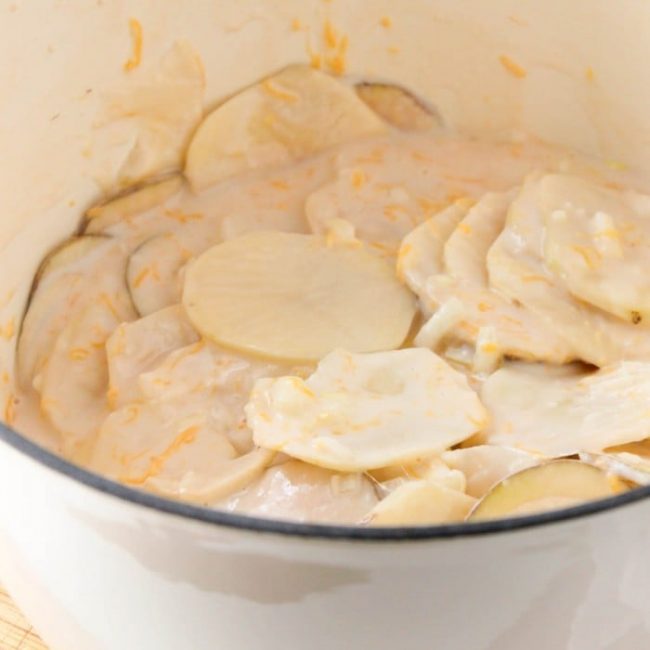 Stir in the sliced potatoes.
You could peel all of the potatoes, but I like the little bit of texture added by leaving at least one of the potatoes unpeeled. You could also leave all of them unpeeled! It's just whatever floats your boat. You're the one eating it so tailor it to your taste.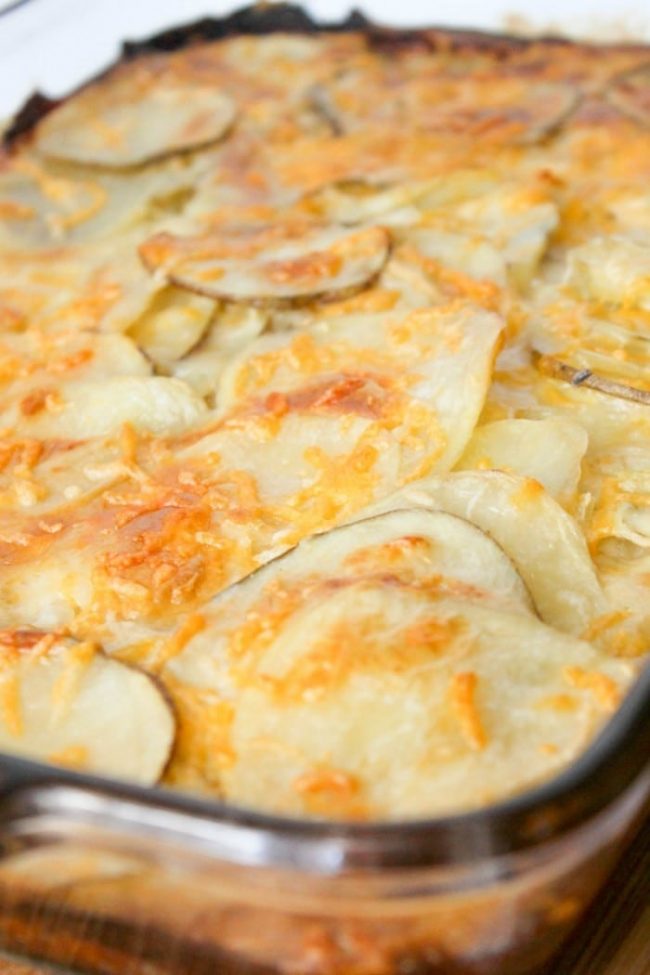 Pour the mixture into a greased 9×13 casserole dish, and bake at 350 covered for 1 hour. Uncover, and bake for 30-40 minutes more. In the last ten minutes sprinkle on a little extra cheese if you'd like!
I personally like a little extra cheese on just about anything so I'm not one to pass up the opportunity here.
Potatoes au Gratin Recipe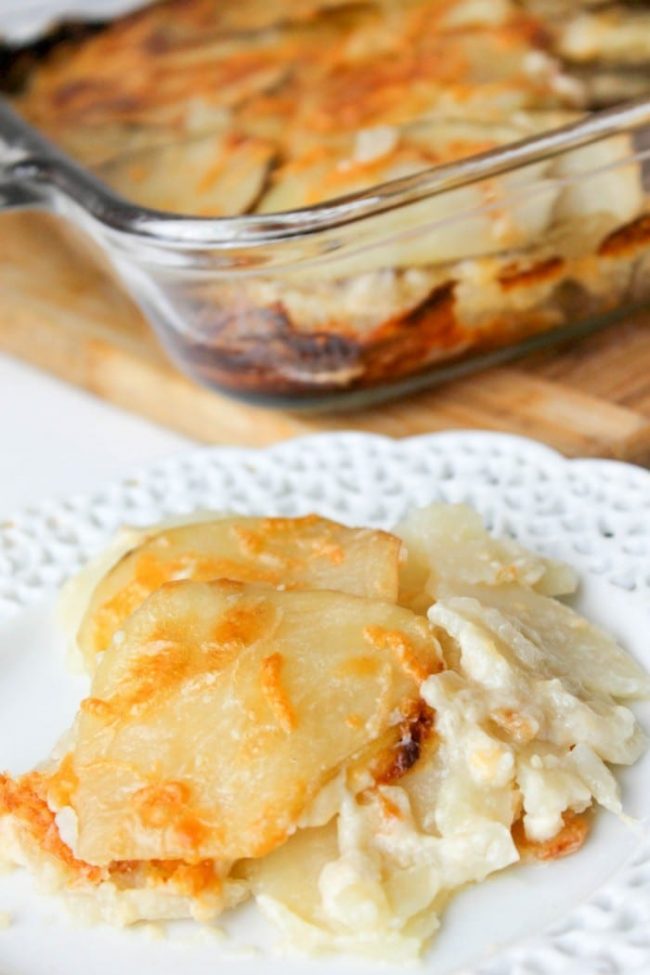 Easy Potatoes Au Gratin
Ingredients:
3 tablespoons butter
3 tablespoons all-purpose flour
1-1/2 teaspoons salt
⅛ teaspoon pepper
2 cups milk
1 cup shredded cheddar (or other) cheese
5 cups thinly sliced peeled potatoes (about 5 or 6 medium)
½ cup chopped onion
Directions:
Preheat oven to 350°.
In a dutch oven or other heavy bottomed pot, melt butter over low heat. Stir in flour, salt and pepper until smooth.
Gradually add milk, whisking as you go. Bring to a boil, then reduce heat.
Stir in cheese and diced onion.
Add potatoes and transfer to a greased 9x13 baking dish.
Cover and bake 1 hour.
Uncover, and bake an additional 30-40 minutes or until the potatoes are tender. Sprinkle a little extra cheese on in the last 10 minutes if desired.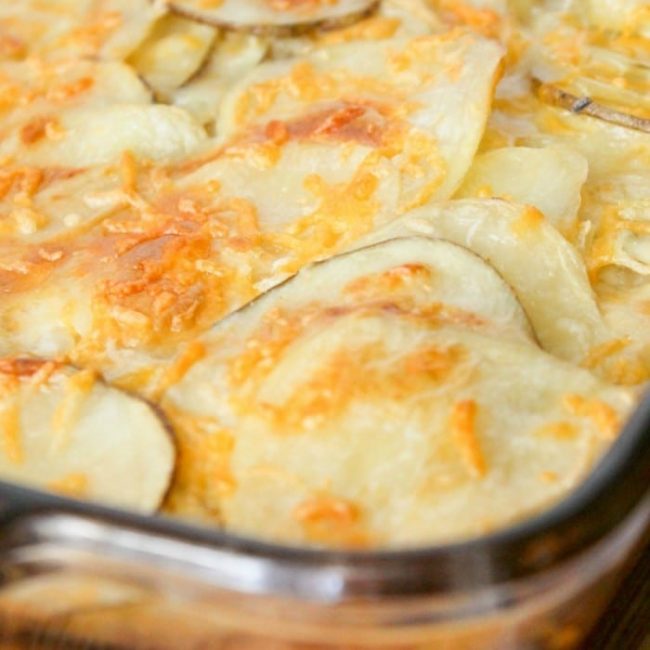 What's your favorite potato recipe?