This shop is part of a social shopper marketing insight campaign with Pollinate Media Group™ and Kleenex but all my opinions are my own. #pmedia #KleenexTarget http://cmp.ly/3/8vNxcO
As winter rolls in, so do the coughs and sniffles. It's an inevitable part of this season that very likely someone in your household will come down with a bug. We've been so lucky to avoid getting sick all through the early months of the school year, but I know our luck can't last forever.
When we do get sick, the first thing to change in our home is our meals. Out goes our regular menu like Extreme Nachos or Chicken Salads. Instead, we want something that is filling, but not so heavy. Our family's favorite soup is a Potato Soup! It's creamy, warm, and tasty perfect for sore throats and upset stomachs when not much else will sit. When the kids are sick, they love it when we dress up the soup like a snowman and serve it to them! It always brightens their day and makes them smile!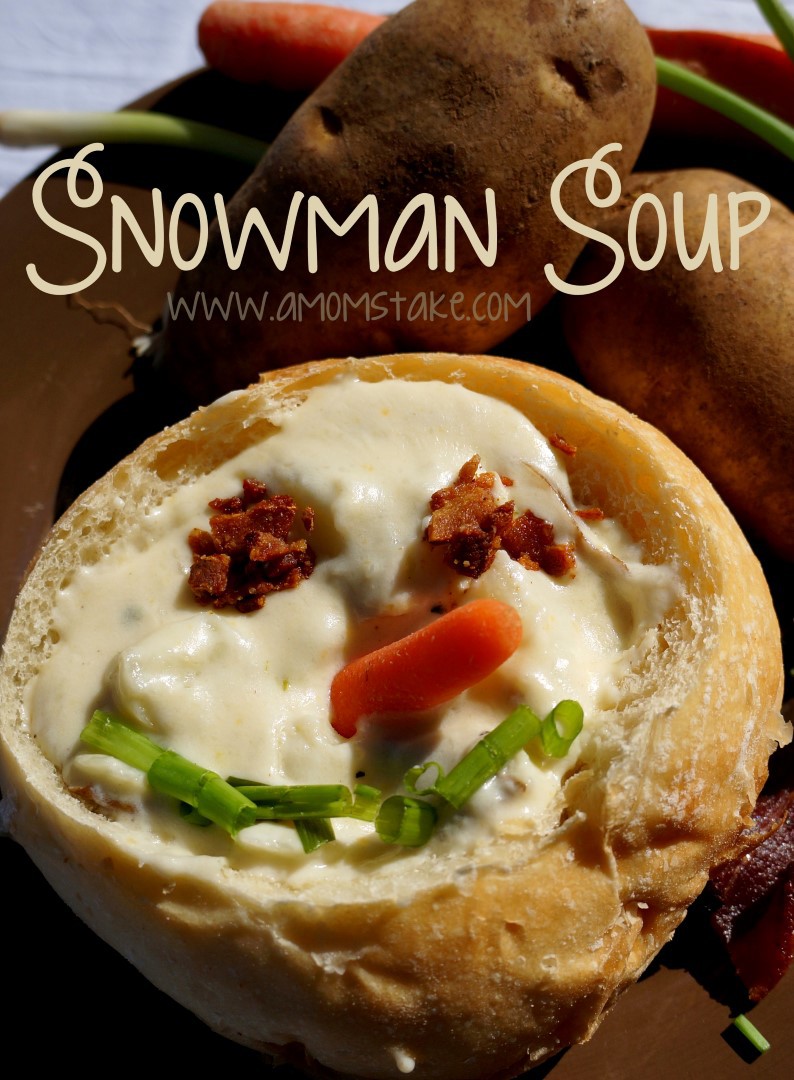 This creamy baked potato soup is definitely one of my comfort foods and this recipe is one that is worth every second invested in it. It takes a little bit of prep, but once you're prep work is done, the recipe comes together really easily. Best of all, you can make the soup ahead of time and freeze it for a quick meal when everyone in the house is sick and no one wants to cook.
First fry up some bacon. You'll save aside the grease to cook your soup with and you'll want that crisp bacon to top your soup. Then, prep your vegetables by washing, peeling, and cubing your potatoes and dicing your green onions. Mince up about three cloves of garlic. Now, you're ready to start cooking! Add your bacon grease, potatoes, green onions, and garlic to your stockpot or frying pan. Fry them up together for 5-7 minutes.
Add in your liquids: water, milk and whipping cream. Bring to a boil and then allow to simmer for 10-15 minutes. You will then add in the remaining ingredients, continue to cook for another 15 minutes, and you're soup will be ready! You can dress up your soup to look like a snowman by adding crumbled bacon pieces for eyes, a baby carrot for a nose, and a smile made from diced green onions!
Creamy Baked Potato Soup Recipe
Creamy Baked Potato Soup
A rich and creamy baked potato soup recipe that can be frozen for an easy freezer meal!
Author:
Janel at A Mom's Take
Ingredients:
6 Large Russet Potatoes (Washed, Peeled and cubed)
6 Slices Peppered Bacon (Fried, Drained and crumbled – Reserve bacon grease)
1 Tablespoon Minced Garlic
6 Green Onions Chopped (Reserve ⅛ cup for garnish)
1 Cup Shredded Cheddar Cheese
1 Teaspoon Salt
1 Teaspoon Black Pepper
2 Cups Heavy Whipping Cream
1 Cup Milk (reserve ¼ cup)
2 Cups Water
¼ Cup Flour
Directions:
Pour reserved bacon grease into large stock pan.
Cook potato, green onion and minced garlic in bacon grease for 5-7 minutes, reduce heat and add in water, milk and whipping cream.
Bring to a boil and reduce heat simmering on medium heat for 10-15 minutes stirring occasionally.
Add in salt, pepper and ¾ cup shredded cheese (reserve ¼ cup of cheese for garnish).
In small bowl mix reserved milk and flour until well blended. Pour into soup and stir well.
Cook for another 15 minutes on medium heat stirring occasionally.
Remove from heat and serve with a garnish of bacon, green onion, cheese or croutons as desired.
Freezer directions – If you want to freeze this soup, just cook the soup as normal. You can make a double batch and enjoy half the soup for dinner and freeze the rest. Allow the soup to cool completely and store it in a gallon sized freezer bag. Double bag your soup, making sure you get all the air out of the bags to avoid any freezer burn. When you are ready to make the soup, thaw it overnight (in a bowl to avoid leaks) or in the microwave. Add you thawed soup to a stockpot or crockpot to reheat and serve.
This yummy soup fills up and warms our bellies and then it's time to cuddle on the couch as we all take naps. Our sick day essentials are a filling, light meal like this soup, lots and lots of rest, and cuddling on the couch with a big box of Kleenex by our side.
Before cold and flu season hits, we stock up our medicine cabinet with some of the basic supplies we know we will need. We grab packs of cough crops, cold/flu medicine, and LOTS of tissues! I always go through tons of Kleenex when I'm sick. Their tissues with lotion in them are a total life saver when you're stuck wiping or blowing your nose every couple of minutes.
How do you prepare for Cold/Flu season?