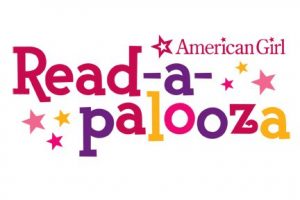 This summer American Girl is celebrating and encouraging reading through Read-a-palooza! From May 1st-September 3rd, girls ages 8-12 can participate in this summer reading program which encourages literacy. To participate, girls can visit americangirl.com/reading.
They can download fun bookmarks, take interactive quizzes, and do reading challenges. There is even information on starting their very own book club! And if you're lucky enough to live near an American Girl retail store, there will be free reading events offered all summer long! Participating helps keep girls' reading skills sharp while they're out of school.
In conjunction with Read-a-palooza, American Girl is partnering with Save the Children's U.S. Literacy Program. From May 1-September 3, 2012, $1 for every book purchased through American Girl will go to Save the Children (up to $100,000!). Save the Children fights to raise literacy in impoverished communities by giving schools and teachers reading materials, as well as providing basic education. What a great cause that you can be a part of with American Girl!
American Girl encourages girls to dream, to grow, to aspire, to create, and to imagine! Their books are adorable and teach our girls to be their best. Be sure to pick up (or order) your American Girl books today to promote reading and support Save the Children's U.S. Literacy Program! Be a part of American Girl's Read-a-palooza this summer!
Disclosure: I received a sampling of American Girl books in exchange for this post. I was not compensated in any other manner. The opinions expressed above are my own and any claims should be verified on the sponsor's site.