Childproofing doesn't have to be difficult. There are little changes you can make, that can make all the difference in protecting your little ones from harm. Today, we're going to share 6 simple safety changes that will take only a couple of minutes each but will give you the peace of mind of a safer environment for your little one. If you have a toddler, you know just how fast they can get into trouble. Just take the time to tackle these simple changes this week, in will take less than 30 minutes!
This post is sponsored by Tide. All opinions are my own.
A Change is Coming to Laundry Safety
You can easily improve the safety of your laundry products by keeping them up high – out of reach and out of sight of your young children. But P&G is helping to make our laundry rooms even safer with an innovative new package design.
P&G is improving on their current child deterrent tubs with by introducing new, child-resistant Child-Guard lids to keep little ones away from Tide PODS and Gain Flings. The new packaging offers an even stronger layer of protection.
To open the tub, you'll squeeze both sides of the lid, then twist at the same time. It's not complicated for adults, but will be a challenge for small hands and keep them out to keep them safe.
This isn't the first time Tide has found ways to help keep families safe. The first-ever child-resistant bag was introduced by P&G with the Child-Guard zipper last spring, and before that they'd added a bitter substance to the outer film of the pac and strengthened the pac to delay the detergents from getting out.
The new Child-Guard tubs will be on some store shelves in August and widely available by the end of the year! You can learn more about how safety is a top priority for P&G at www.tide.com/safety.
6 Additional Safety Changes You Can do in Minutes
1. Anchor TVs and Furniture – Bookshelves, dressers, TVs, entertainment centers or anything else that your toddler might climb on or pull at should be anchored to the wall. A lot of furniture includes the straps, but even if not they're inexpensive and really easy to add. Dressers and TVs are especially prone to topple, if not secured.
2. Lock the Exit Doors – Your little one will learn how to turn door handles quickly. They are eager to explore, and many dangers are outside beyond your supervision. A simple clip lock can keep them safely indoors until the family is ready to leave. It installs with just a couple of screws right into the door jam, and swings out of the way when not needed.
3. Outlet Covers – Curious little hands will try to stick things into power outlets. It's a super easy change to add outlet covers around the home. A great trick, if you plug something in like your vacuum or a fan, just clip the outlet cover right onto the top of the plug and you won't lose it for replacing in the outlet when you've finished your task.
4. Shorten Blind Cords – Wind up your blind cords with a safety kit. Or, you can push the little pull toggle up the string and tie it again much higher up the cord. Then, just cut the cord below your new knot. Your blind cords will no longer be a problem when your blinds are close. When you open your blinds, then can tie your now longer cord up high and out of reach so it's not a danger.
5. Protect Electronic Cords – With all of our electronics come lots of cords. You can corral your electronics to a surge protector and then use a safety box to cover all those plugs and keep your toddlers hands out of danger. As a bonus, it means unplugging your tech won't become a game.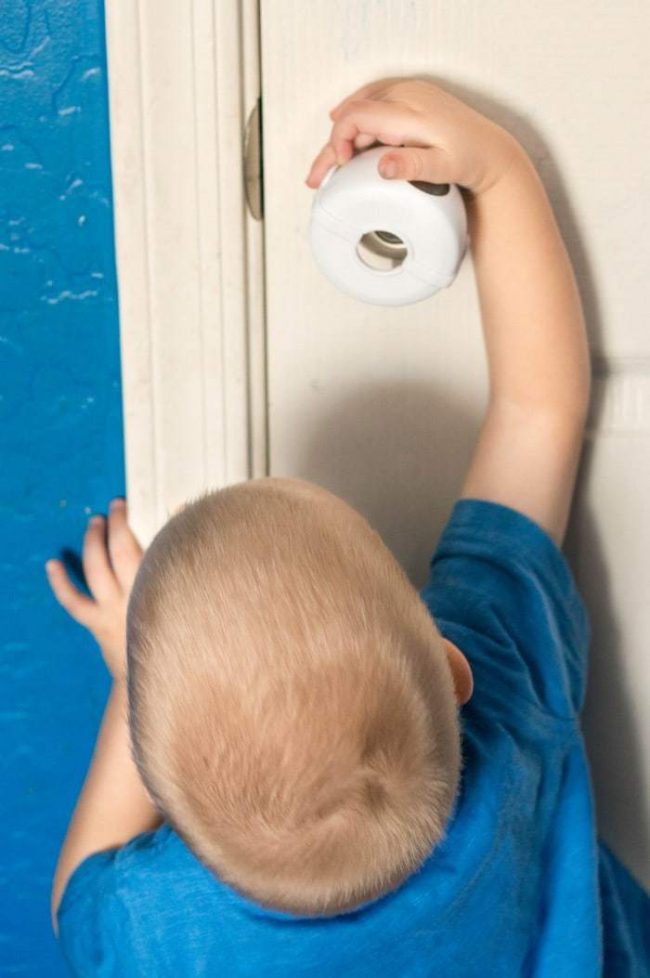 6. Cover Door Knobs – To keep your little one out of areas you don't want them to play, add a door knob cover and you'll quickly and easily block off areas of your home. We even add them to closet doors and bathroom doors, too.
What other simple changes have you done to improve safety around your home?