I am an official ambassador for RoseArt. RoseArt provided me with products for the purpose of this post, as well as compensation for my time. As always, all opinions expressed in this post are mine.
We are HUGE crafters at our house. With four kids and a preschool, there is always glue, glitter, paint, chalk, scissors, etc. around the house along with a rather large mess. I love crafts for kids, for my kids to be creative, express themselves, and explore with different craft mediums. My girls have gotten a little past the preschool art projects, and we've found 5 fantastic crafts that they have LOVED, that are a step above your basic arts & crafts.
5 Must Do Crafts for Kids
1. Chalk Murals – Block backyard fences are nothing more than empty canvases to be decorated. With simple sidewalk chalk, my kids have spent hours creating masterpieces after masterpieces. The sky's the limit! (or the backyard fence of hundreds of blocks!) When they are ready to create again, just wash the chalk off and start all over again.
2. Nature Art – Crumpling up a piece of paper over and over gives the fabric feel to the background. Then your kids can add whatever leaves, twigs, weeds that they want to create their masterpiece. Here, my kids made a treasure map for their cousins to find a reward. A mix of markers and leaves let them to the X that marks the spot!
3. Canvas Bags – A craft simply made with a canvas bag, doilies, a sponge-brush and paint. Tape down the doilies in whatever design they like, and remember that a tiny bit of paint goes a long way. Mix up the colors and the parts of the doilies that you paint to create your own masterpiece that they can show off everywhere.
4. Glitter Rainbow Fish – We love to mix mediums in our crafts. For our glitter rainbow fish, we printed out a black and white design off the internet onto cardstock. We painted them with watercolors, and once they were dry, added glitter glue to make the fish really sparkle. What a unique school of fish we created!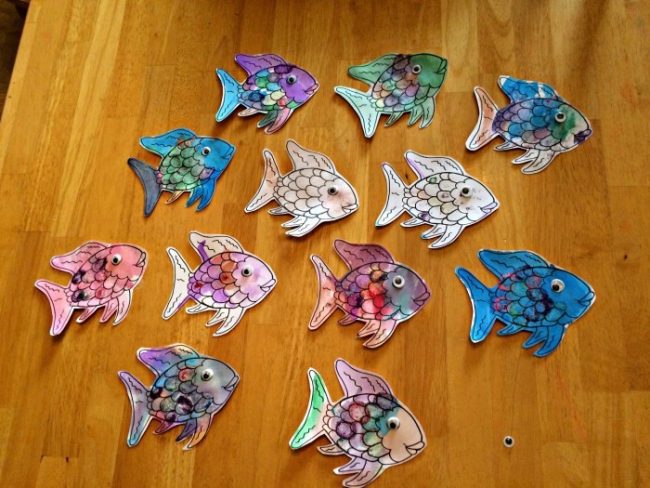 5. Spin & Sparkle Pets – Our family's favorite craft yet! My girls have fallen in love with this product! And I love that it is something they are capable of doing by themselves. The pets are easy to make, the girls can customize them however they want, and they can play with the toys afterwards!
The Spin And Sparkle Pet Set allows such great creative expression, and they can do the crafts on their own!
All they do is add water and the magic caste powder into the mold and spin the handle for a couple minutes to create the pet form (no batteries needed).
After 2 minutes, your pet is formed, and you have to let it dry. Once the pet is completely dry (about 20 minutes), you can create, customize, and decorate however you would like with paints, glitter glazes and heart gems.
The kit even comes with a pop up world to play with your pets afterwards!
Not only do they get to create, but they can also play with their craft afterwards! RoseArt has a variety of pets to add to your collection. Your kids can collect all 11 pets!
Hours of crafting fun and endless creativity! You can find these great pets from RoseArt! This set would be a perfect holiday gift, and I love that the set is new again with each additional kit!
These five crafts have kept my kids engaged for hours! I love the free creative expression that they have with all of them, especially the Spin & Sparkle Pets. We're having so much fun with them!