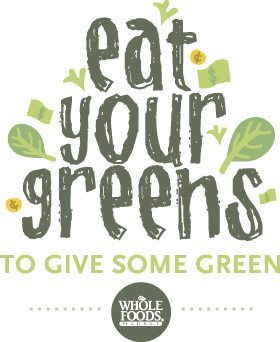 Whole Foods Market is running a great promotional effort to help bring salad bars to local schools through the Whole Kids Foundation! This upcoming Sunday, September 9th, Whole Foods Market will donate $1 for every pound of food purchased through their salad and hot food bars. Participating stores include their Southern Pacific region stores including Southern California, Hawaii, Arizona, and Las Vegas.
With my youngest starting school for the first time I'm quickly realizing how hard it can be to keep lunches healthy! It is so much easier to grab a bag of pre-packaged chips, cookies, or granola bars to throw in the lunch box but I know my son needs variety and vegetables too. I've been trying to find creative ways to make vegetables fun and easy to add to his lunchbox. I picked up some small containers perfect for adding a dipping sauce to his lunchbox to make carrots or celery a fun addition to lunch! We usually pack a lunch for my son, but he occasionally gets to have hot lunches and I was glad to see their lunch menu often includes a vegetable side! He had his first hot lunch last week and was excited to tell me all the foods that were included on his tray which included carrots that day. This great promotion through Whole Foods Market is an easy way to help your local school get started! Check out this infographic for a great overview of all the details!
The Whole Kids Foundation has a mission to improve children's nutrition and wellness with the goal of ending the childhood obesity epidemic. They often partner with local organizations, schools, and educators to make an impact on the society to bring healthier choices to our children. This promotion is also in partnership with the Let's Move Salad Bars to School program that has already been able to grant salad bars to over 1,400 schools and 700,000 children! According to both research and experience, "school children significantly increase their consumption of fruits and vegetables when given a variety of choices in a school fruit and vegetable salad bar." Eating a variety of fruits and vegetables provides children with a range of important vitamins and nutrients needed for a healthy lifestyle.
You can follow along with the Whole Foods Markets Scottsdale, Arizona Fan Page or through your local Whole Foods Market Facebook Fan Page for more information! Or, just stop by your local Whole Foods Market on September 9th to participate and help make a difference!
Disclaimer: This is a sponsored post for Whole Foods Market.