As moms, we find ourselves constantly pulled in every direction. When we try to find a minute alone, we're usually followed. Nothing in our lives seems to be just ours anymore. We seek for quiet moments, when all the kids are busy, to sneak off to our closet to eat that candy bar we hid earlier, in peace, without sharing.
As parents though, it is important to have a place to go to decompress. It's equally important to make sure we have a place to be just us. Either by ourselves or with our spouse. It's ok for us to have a space off-limits to the mess and noise of our children. That's why creating a master bedroom oasis can be beneficial to your sanity, your patience and even your relationship.
How to create a master bedroom oasis
Put a lock on the door– I don't know about your house, but at my house, my kids don't know how to knock. Also, when I'm not home, they like to sneak in and take off with my stuff. They also come in to watch my T.V and will destroy my room. I come home to my pillows and blankets all over the place. If you have the same issue, simply put a door lock on your door. Your room should be yours and they should respect your space and privacy.
Clear out clutter– Your room should be a place you can go to relax and unwind. It's hard to feel at peace amid chaos. Take time to do away with the clutter that can accumulate. My motto is a place for everything and everything in its place. If it doesn't have a home and I haven't been able to find it one, I get rid of it. Try out bins, buckets and side tables with doors and drawers to hide things in.
Stash your snacks- If you have kids in the home, you know how hard it is to keep your favorite snacks around. They eat them if they are out in the general population. Aside from creative ways to hide them like in vegetable bags and tampon boxes, you should be able to have your own snacks. Get a little mini-fridge to keep in your room to keep your favorite things out of their reach. Find a bin or drawer and place a few of your favorite snacks or candies. You will have them when you want them and it's less likely you'll have to share.
No pictures of kids– We love our kids don't get me wrong. It is ok to not have to see their smiling faces first thing when we wake up and during intimate moments with our spouses though. We need a little space from them to have our own life. Try instead to have pictures of you and your spouse in your room. Do a fun photoshoot and make a few body art photos. A black and white close up of a shoulder, an eye or a smile. Just some classy, artsy photos to remind yourselves of what you love about each other.
Comfy bed– Nothing says rest and relaxation better than being in your clean, quiet, haven and crawling into your nice, soft, warm bed. The perfect end to whatever type of day you've had. You spend a big portion of your life in bed. Hopefully around 8 hours or so a night. If you're not sleeping well, it has a major impact on all areas of your life. Your patience gets hard to keep, your body can get achy and you can even start getting sick more often.
To help make sure you're getting the best sleep that you can make sure you have the right mattress. Mattress shopping can be time-consuming and stressful though. That's why Live and Sleep has made buying the right mattress simple.
Live and Sleep is a mail-order, memory foam mattress. It's non-toxic and eco-friendly. It comes in a compact box right to your front door. There's no mattress salesman trying to push the latest big thing on you or endless rows of mattresses that all look the same. They have a few different mattress types and firmnesses to choose from including firm, medium-firm, and medium balanced.
With free 2 day shipping, you can have your new mattress in no time. Be sure to unpack your Live and Sleep mattress in the room it's going to be in. It will not be as easy to move once it's out of the box. Carefully cut or tear the outer layer of plastic off of the rolled-up, boxed mattress.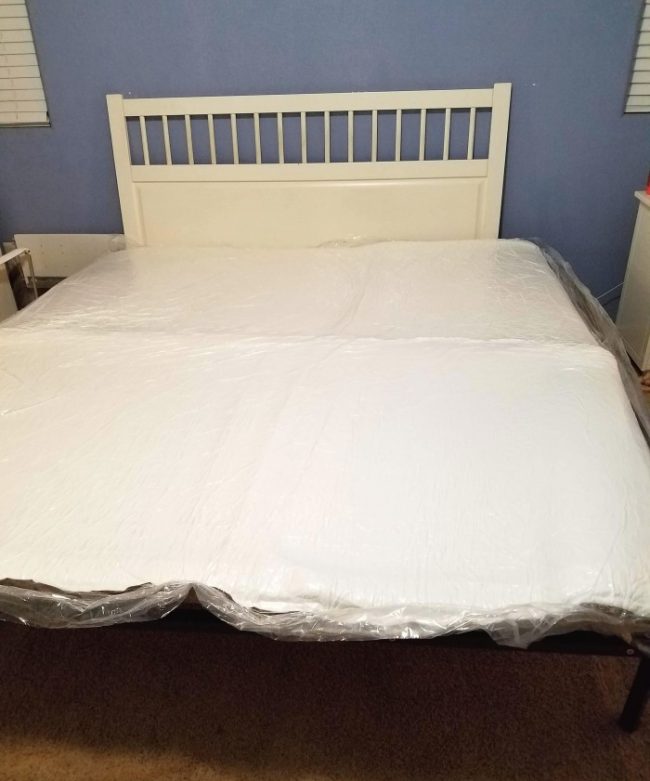 Once the outer layer of plastic is off, you can unfold and unroll the mattress. Lay it out flat on the bed frame or wherever it is going to be. Then, carefully cut or tear the next layer of plastic off of the mattress. As soon as you take the plastic wrap off, your mattress will begin fluffing up and expanding. It may take up to a day or so for it to completely fill out, but it will be ready to enjoy within an hour or so.
Your new Live and Sleep Memory foam mattress comes with a 100-day money-back guarantee. If you don't enjoy the comfortable, good night's sleep, you just have to return it. Live and Sleep also offers a 20-year warranty. You can't ask for more reassurance than that.
Start enjoying your master bedroom. Take time to make it your own secret, relaxing, get away from life, area. Decorate it to suit you. Put up pictures that are relaxing and specific to you and your partner. Quit letting the kids run rampant in it. Clear the chaos and find a mattress that will have you sleeping like a baby. Create the bedroom oasis that you need and deserve.