Do you have boys? If you do, then you know how absolutely terribly, disgusting boys bathrooms can be. Especially when they're little, but our grown men can even be bad. My family lived in a small 4 bed / 2 bath home up until a few months ago. All 5 boys shared one tiny bathroom. It was scary. I've learned a few tricks to help keep a boys bathroom clean. These couple of simple tricks can make a world of difference in the boys bathroom, though it won't ensure a spotless room.
This post is sponsored by American Standard, who has provided me with product. All reviews and opinions are my own.

Tricks to Help Keep a Boys Bathroom Clean
1. That Bathroom Rug – Pull the bathroom rug as far away from the toilet as possible. Trust me. You'll still want to comfortably reach it from the shower or tub, but try to keep it at least a foot away. The closer your rug, the more that will land there – and rugs collect smells terribly.
2. Keep the Soap Close – Plant that bottle of soap right next to the edge of the sink and within the reach. When it's placed father back, which tends to look more presentable at first glance, you'll have trails of soap and splatter the whole path to the sink. Or, your kids will pick it up and pull it closer, which means it will be placed most likely on the edge of the counter. Having it close and right on the edge of the sink will also help encourage your kids to use it!
3. Your Shower Curtain – It's nice to have a pretty shower curtain that's closed and covering what toys and soaps may be hidden behind. But in the boys bathroom, pull that curtain to the far other side away from the toilet bowl. If it's too close it will get swiped with dirty hands and germs.
4. Keep a Clock in the Bathroom – Give them a time limit. Or make it a competition. Encourage them to spend as little extra, unnecessary, time in the bathroom as possible. Their best record time doesn't count if they left out the toothpaste or didn't wash their hands. My boys will goof around in the bathroom if I don't give them a time limit. Just tell them they have 5 minutes to brush their teeth, go to the bathroom, and tidy up after themselves. Having the clock will let them be accountable for their time spent.
5. Just One Roll – In most of my bathrooms, I keep extra toilet paper right by the toilet. As easy to reach when in a bind as possible. In my boys bathroom, though, those extra rolls must, absolutely must, be hidden away. I store them at the back of the under sink cabinet. When they just have the one roll, they treat it better. At least at my house. Before I was finding full rolls in the toilet, sunken, or ripped up shreds all over the bathroom. Stick to just one roll in their sights.
6. Clean Often – There is no getting around this one. You'll want to clean a boys bathroom a couple of times a week. It's much easier to do a couple of quick clean-ups through the week and stay on top of the splashes of pee that missed then combating a stinking bathroom that's sat a week or two.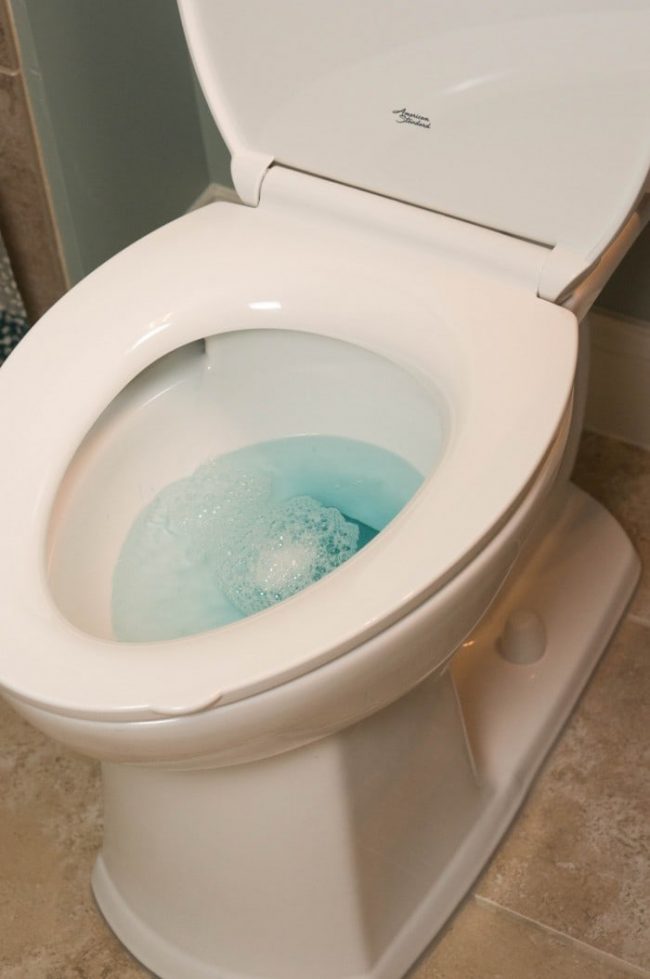 7. Invest in a Self-Cleaning Toilet! I'm certain it must have been a mom of boys who came up with the idea of a self-cleaning toilet. American Standard's new ActiClean toilet is completely genius! No more elbow deep in the toilet bowl scrubbing off the grime and build up. You can quickly tidy up the bathroom and around the toilet, then hit the built-in quick clean or deep clean wash button and let the toilet do all the dirty work.
A couple of weeks ago, we shared our cleaning shortcuts to quickly clean our home, including our new favorite cleaning secret, our ActiClean Self-Cleaning Toilet by American Standard. After a couple of weeks using this amazing toilet, we're convinced – every parent, and especially moms of boys, needs this toilet!
Seriously, this toilet is so cool. It has a cleaning cartridge that can be replaced, as needed. Then, just choose a quick or a deep cleaning cycle. The solution will dispense into the toilet with a flush and then soak for a bit, and flush out with a clean rinse of water.
Here's a quick demo:
If wasn't wasn't cool enough, American Standard knows the WORST spot of the toilet to clean if you have boys.
It's surprisingly not inside the bowl, though that can be bad. It's those darn screws where the toilet seat attaches.
The ActiClean Self-Cleaning Toilet offers the solution. Just pop off the toilet seat off completely and cleaning is so much easier, and more effective. I'm in love with this feature!
The seat is super comfy, too, with a curved seat that really makes the bathroom trip more cozy. And the inner rim of the toilet bowl is a single, smooth line so no hidden grooves to need to scrub. American Standard thought of everything. And if you have boys, you need this toilet. Like yesterday.
Connect with American Standard on Facebook, Instagram @American_Standard, Twitter @AMStandard and on their Pinterest and YouTube channel!