We have a funny master bedroom in our home. It is really large, which is nice, but a good section of the space in this funny sitting room/office area. We have been in our home for 3 years now and it has been many things, but mostly a laundry sorting- junk collecting room.
I received a Landee Vinyl Decals in exchange for this post. All opinions are my own.
I really wanted to get it cleaned out and make it a space for my sewing machine and craft stuff. Our room is all white and I wanted to change it up a little, but I didn't want to paint. We will be moving in a year and painting was too much! I decided on these really cute vinyl plus sign decals from Landee on Etsy. You may have seen the post about my little girls room here. Me and my husband painted that striped wall together when I was about 35 weeks pregnant. Let's just say we don't really have great memories of that project!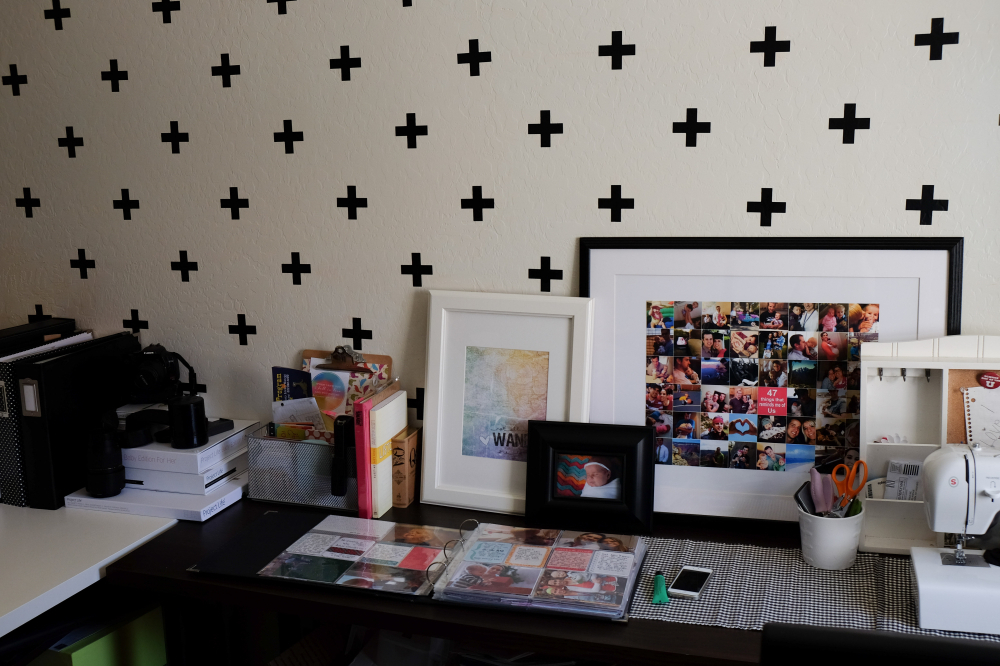 When I approached my husband about helping me apply the
Plus Sign Vinyl
I wanted, we both exchanged hesitant looks. He was obviously remembering that cursed striped wall too! Lucky for me he agreed. When our vinyl got here we quickly googled tips for applying everything nice and straight and found NOTHING. We were on our own.
I don't want this to happen to you! These decals went up so fast and so easy. We started the project at 11pm thinking we would be pulling an all nighter (hence the darker pictures) but the whole project was done, start to finish, in less than 2 hours! Here is how we did it.
Supplies needed:
measuring tape
pencil
chalk line
Cleaning Supplies
Directions:
Mark the Wall: We started out by deciding how far apart we wanted our shapes. Actually, we did this before we ordered the vinyl. Double and triple check your measurements to make sure you have enough decals and don't have to order more (not that I speak from experience ha ha). Use your measuring tape to mark your grid lines across the top, bottom, and sides of your walls.
Use The Chalk Line: Using a chalk line, you can find these at any home improvement store, mark off a grid on the whole wall. This takes some patience, but makes the next part fly by!
Clean Spots: I knew I wanted my plus signs staggered. To ensure I didn't mess up placement I went ahead and wiped clean the line intersections where I needed to place the decals. This makes sure that the vinyl goes onto a clean surface as well.
Apply Decals: Now go ahead and apply your decals in the spaces you cleared. Because the grid lines were still on the wall I could also make sure my plus signs were straight. This went SO much faster than I thought it would!
Tidy Up: Go ahead and clean all the remaining chalk off the wall!
This is such a fun and easy way to really give any room or space a facelift! Think plus signs, polka dots, stars, triangles, flowers, you name it! Put them wherever you want: kids rooms, living rooms, kitchens, bathrooms, they would all be fantastic! This is such a great solution for renters because these decals are easily removed without any damage. What are you waiting for? Don't be scared! All you need are decals, head over to Landee on Etsy and pick some up!
What room would you makeover? What shape would you use?