I am a Step2 Test Drive Blogger. I received a product in exchange for my review and opinion. No other compensation was provided.
We had the opportunity to test out the new Thomas the Tank Engine™ Up & Down Roller Coaster™ by Step2. My son's birthday was earlier this month and the Thomas Coaster was an absolutely perfect gift for his 3rd birthday! We used to have the Step2 Extreme Coaster but because it was so big and our yard so very tiny, it was hard to store and we had to pass it along. My boys are constantly telling me that they want another coaster, though. The Thomas Coaster was the perfect compromise! The ramp easily comes apart so it can be stored away and it's not so heavy or large as the extreme coaster but it still is a blast for the kids to ride on! The Up & Down Roller Coasters are meant for a younger age group, which makes it perfect for my two middle children.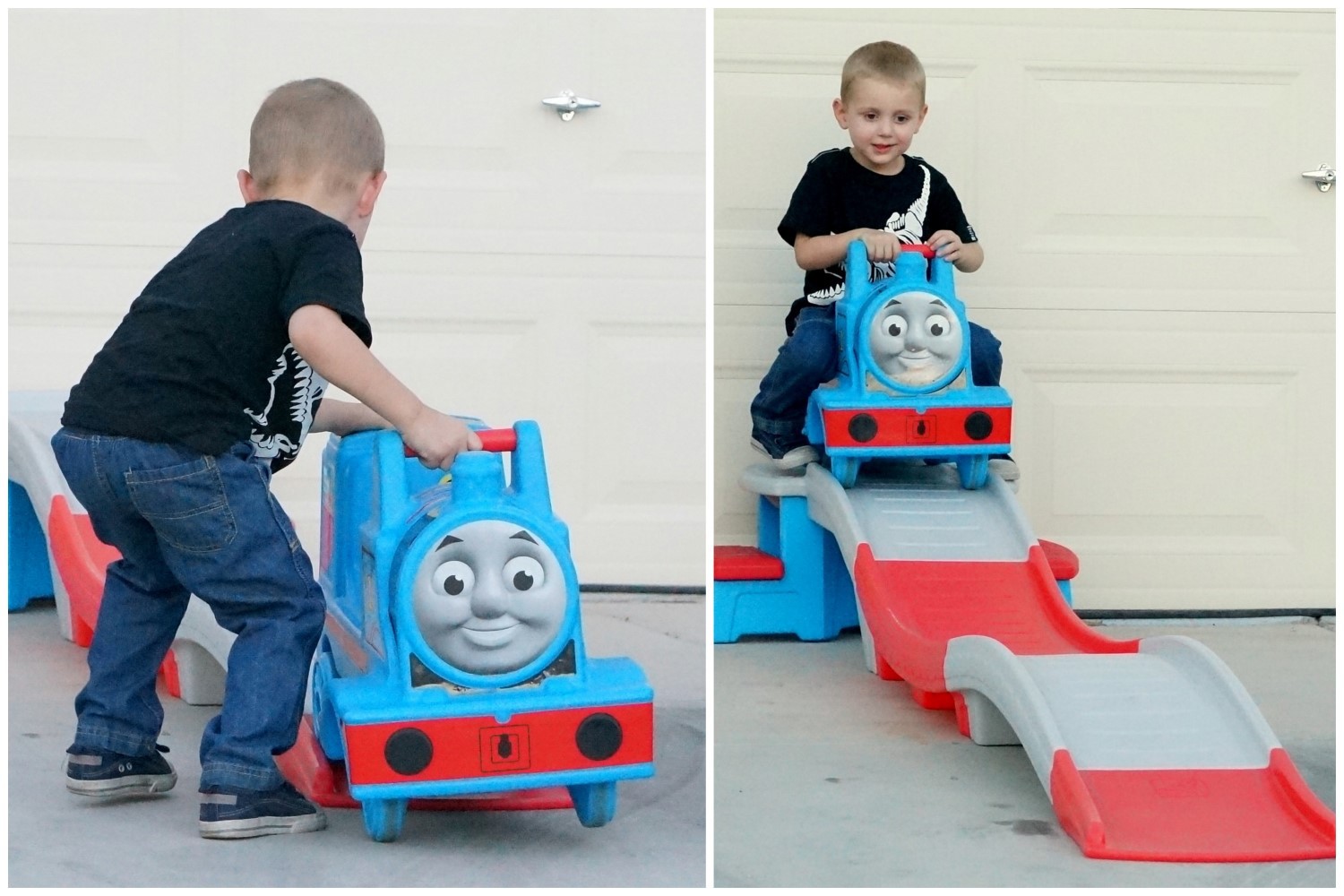 I really love that my boys can put the Thomas train car back up onto the top of the coaster by themselves. I worried that it would be hard for them and that I would end up doing a lot of up and down work just for their few second ride. But, since they are able to push the train car up themselves, I not only get to relax but they get in the exercise to help wear them out for a great nap later in the day!
Check out my 3 year old playing with his
Thomas the Tank Engine™ Up & Down Roller Coaster™
It is important to note that the instruction manual says:
"Intended for family domestic outdoor use by children from ages 2 to 5 years old. Indoor use recommended only if environment is free of obstacles & obstructions. Shoes must be worn during use."
I initially thought we would use the coaster mainly indoors, and we have used it in our long hallway that has the space, but it's really good to note that it is recommended and intended to be an outdoor product.
My boys have played on their coaster nearly every day since it arrived. They have a blast playing on it! The picture above my 3 year old is cruising down the ramp. He likes to have his feet out to the side, but the Thomas train car does have a place to put your feet on board over the front wheel well.
After they ride the train car down the track, they often take off using the car like their "bike" riding it around our culdesac. I think it's great that they can use this toy in more than one way for extended play. Sometimes, they'll use the ramp as their own "mountain" as they act out their creative play scenarios they are always coming up with.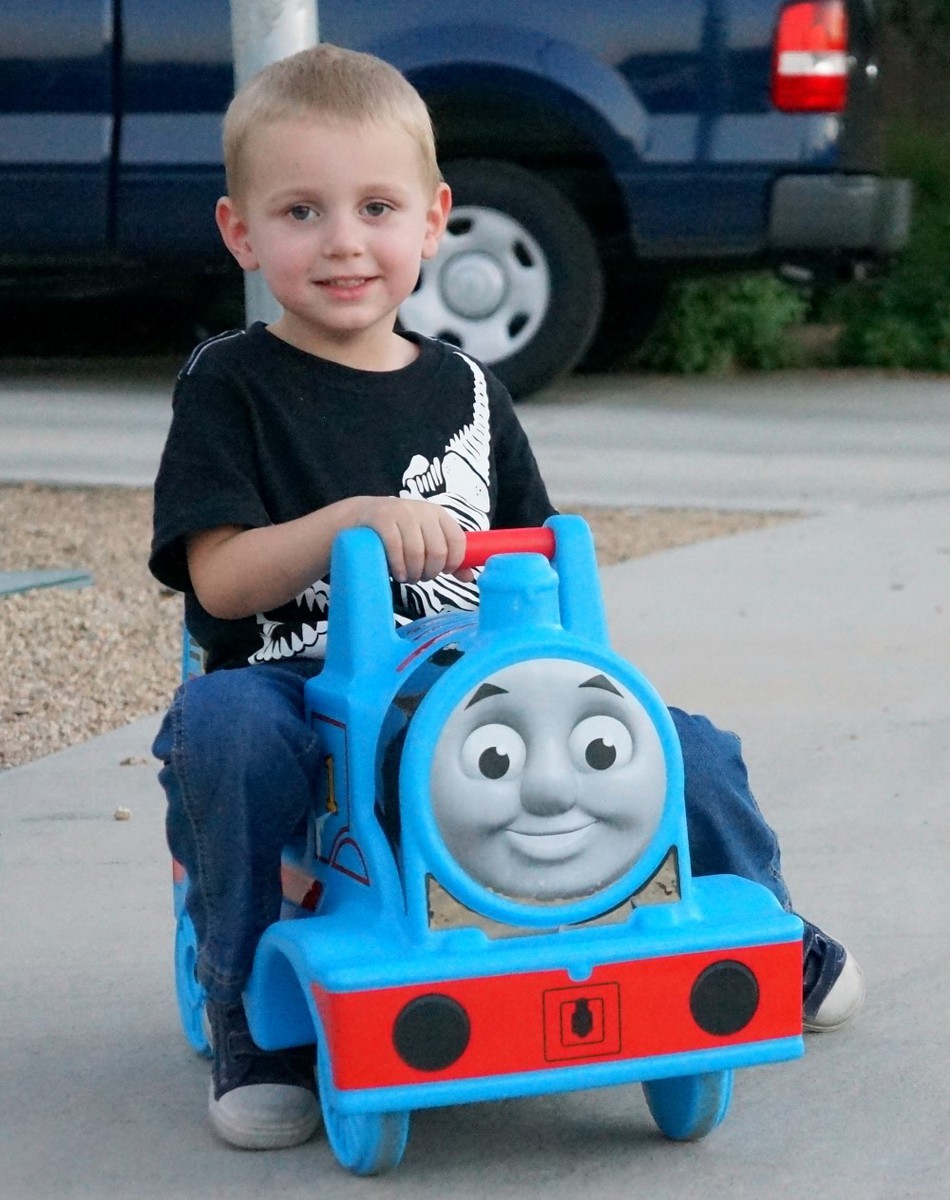 Overall, I think that this coaster is absolutely adorable! My kids aren't huge Thomas fans, but they know him and instantly recognized him. They think it's really cool to have a train that is just like from the show! I wondered at first if they would slip out to the side, but they actually don't slide or wobble sideways at all and we haven't had any safety issues. The coaster is really well made and high quality.
The only negative I could find is that the individual pieces of the coaster aren't screwed together, so if you try to pick up the coaster to move it, the parts sometimes slide apart. It is SO simple to put together, though, and that also means you can store the coaster much easier by just pulling apart a few of the sections of the ramp. This toy is really best for ages 2-5 as the train car isn't all that big for an older child and younger children would need help and assistance using the coaster and riding in the train car.
The Thomas the Tank Engine™ Up & Down Roller Coaster™ is available on Amazon for under $100!