Class parties and group events mean tons of snacks are needed for St. Patrick's Day.
One of our favorites is this fun and tasty St. Patrick's Day Snack Mix with all of your favorite things like cereal, dipped pretzels, popcorn and chocolates!
This is a great treat for a party, get together, or even just for themed snacks to make St. Patty's day more fun!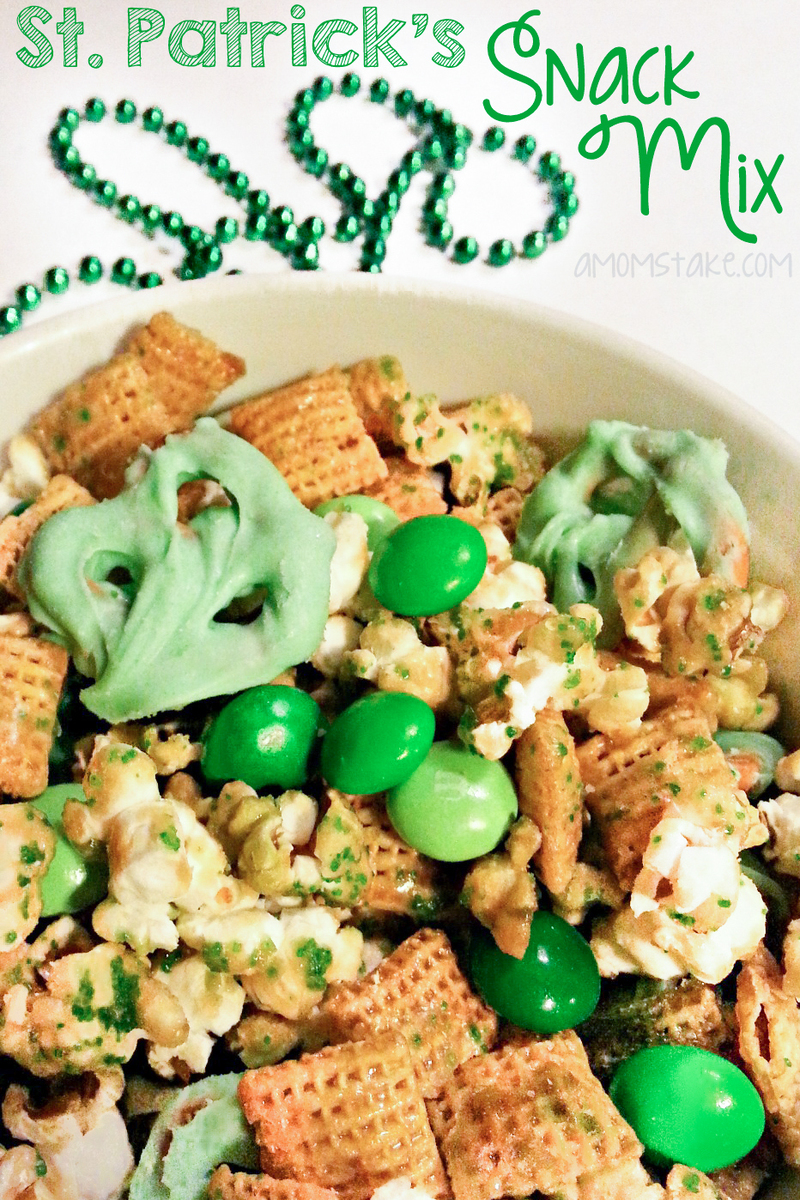 St. Patrick's Day Snack Mix
To make your snack mix, you'll start by melting butter and brown sugar together in medium saucepan.
Bring this mixture to a boil, while stirring occasionally, for 7 minutes.
After your 7 minutes, remove your sugar/butter mixture from the heat. You've just made homemade caramel to top your popcorn.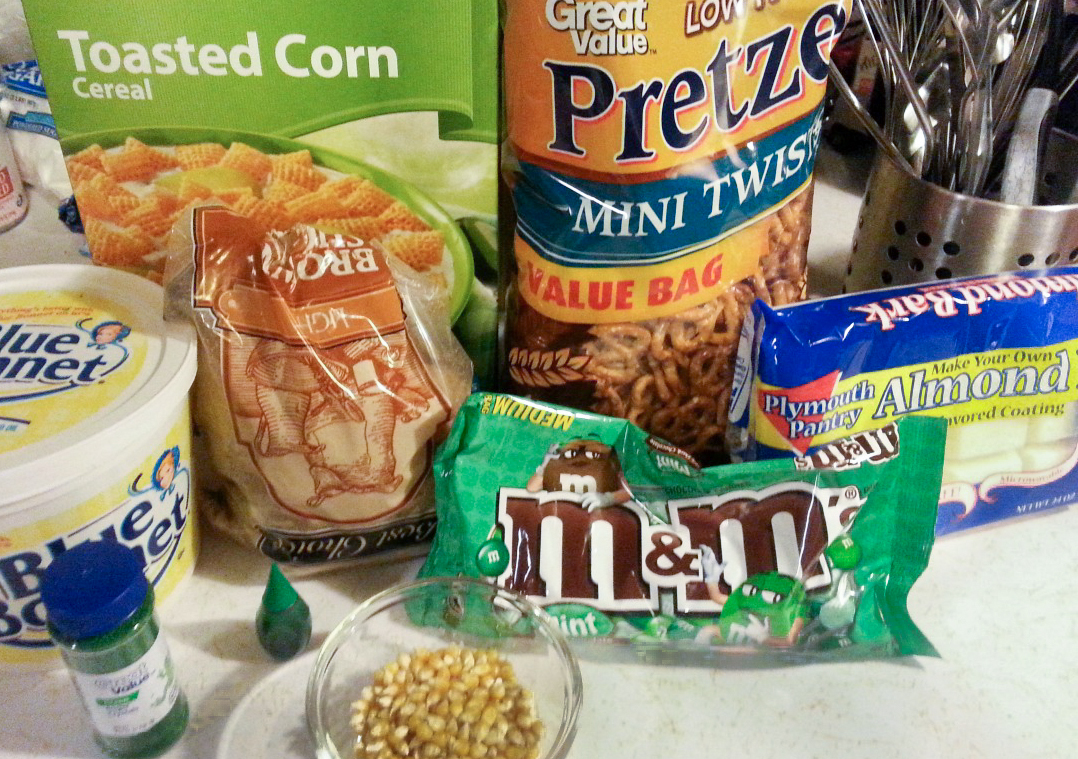 Lay out your popcorn and cereal on a baking sheet and drizzle the caramel over top.
Next, bake your popcorn/cereal mix.
While your popcorn cools, melt almond bark until melted. Add in food coloring, if desired.
Dip your pretzels into your melted bark and set them on wax paper to cool and harden.
When your pretzels are ready, just toss together your popcorn/cereal mix, pretzels, M&M's and any other goodies you want to include.
Printable St. Patrick's Day Snack Mix Recipe

Click to print/save this recipe!
St. Patrick's Day Snack Mix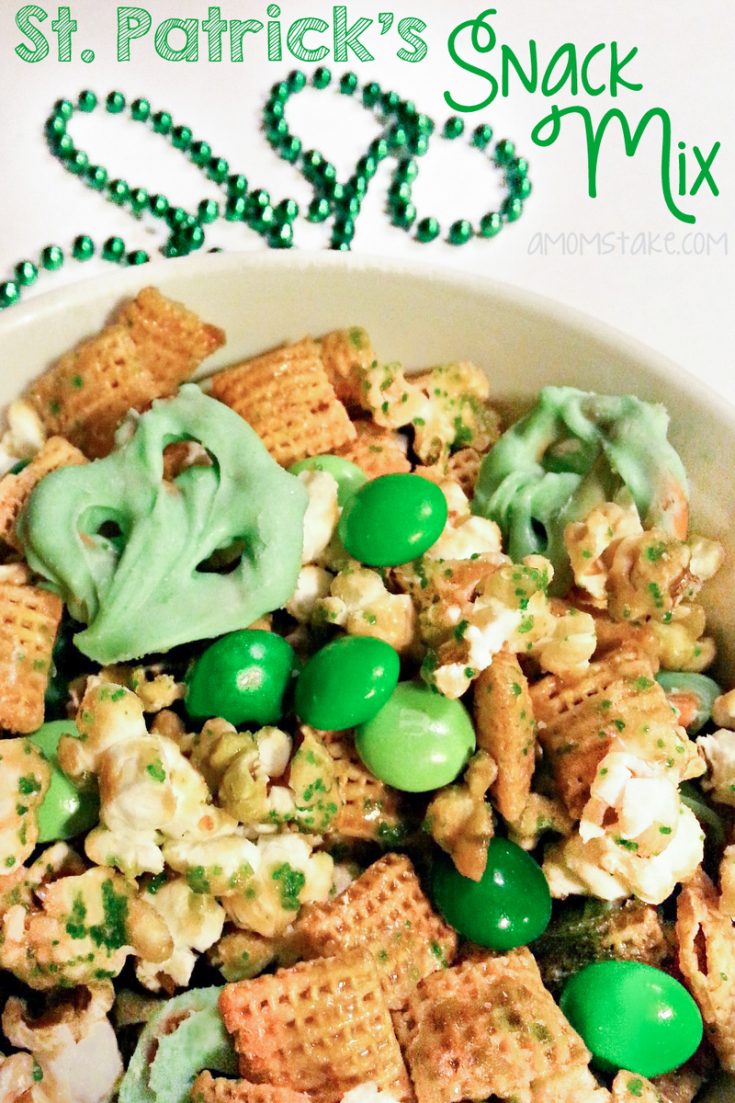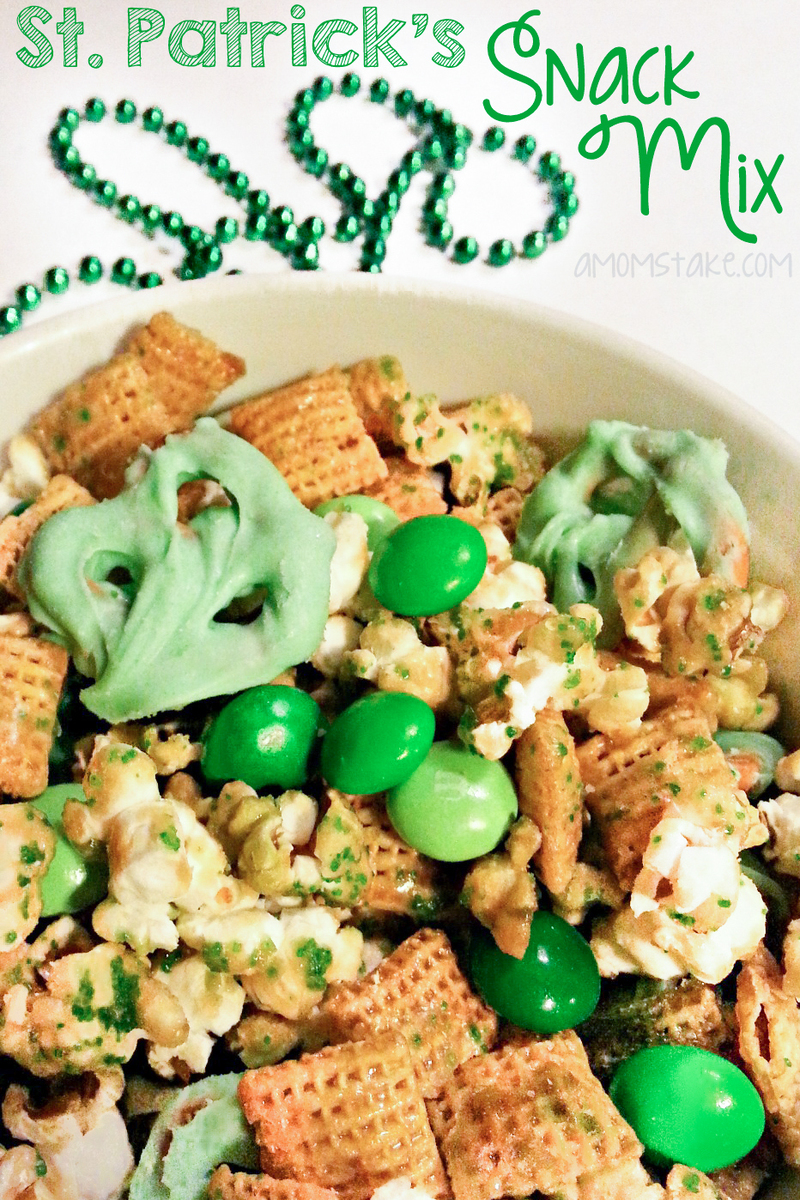 Fun and festive snack mix for St. Patrick's day!
Ingredients
4 Cups Popped Popcorn
3 Cups Toasted Corn Cereal
1 1/4 Cup Brown Sugar
¾ Cup Margarine or Butter
Green Sugar Sprinkles
2 Cups Mini Pretzels
4 Blocks Almond Bark
2-3 Drops Green Food Coloring
1 Cup Green M&M's or Mint Chocolate M&M's (we liked the mint & chocolate flavor mixed in but you can easily order green M&M's or purchase at your local Candy Store in bulk)
Instructions
In medium heavy bottomed saucepan, melt butter/margarine and brown sugar together.
Bring to a boil and allow this to cook stirring occasionally for 7 minutes
Remove from heat.
Place waxed paper on baking sheet and spread popped corn and cereal over in even layer.
Pour caramel over popped corn and cereal stirring with a wooden spoon to ensure all pieces are coated lightly.
Place in oven at 400 degrees for 10 minutes
Remove from oven and allow them to cool. Gently break apart any clumps that have formed.
In a microwave safe bowl, place 4 squares almond bark.
Microwave on medium heat in 30 second increments until it has melted.
Stir in 2-3 drops green food coloring. Do not use an excess as the added moisture can cause problems in the bark hardening properly after pretzels are dipped.
Using skewers or forks, dip each pretzel into melted almond bark coating well.
Place dipped pretzels on wax paper to dry and set.
Once pretzels have set mix together with popcorn, cereal, and M&M's.
This is a great party mix for your kid 's class parties, to have out if you are hosting an in home event or to bag up in cute cellophane bags or even decorative tins to give out to friends and family on St. Patrick's Day!
For more fun, create a themed spin on our milkshake recipe!
Do you have any great St. Patty's day themed snacks you like to serve?