I am a Similac ambassador and received compensation for this post.
Similac has been providing optimal nutritional support for mothers to their infants for nearly 90 years. The brand was first created on a ship in the 1920s by Dr. Alfred Bosworth. Similac is a science-based company that extensively researches and studies within their field to understand how to best support infant nutrition and feeding for moms and babies.
Just take a peek at all the advancements Similac has made as a leader in the infant nutrition space over the years. From being the first to introduce iron into formula and branching out with specialized formulas for specific needs, they've been ahead of the game.
1925: Similac introduces its first milk-based infant formula
1951: Similac introduces concentrated liquid infant formula in the U.S., the first infant formula available in a form other than powder in the U.S.
1959: Similac introduces the first iron-fortified formula in the U.S.
1978: Similac introduces the first iron-fortified formula for premature and low-birth-weight infants
1994: Similac introduces the first formula in the U.S. specially designed for premature babies after hospital discharge
2006: Similac introduces the first certified USDA organic infant formula by a major formula brand
2008: Similac introduces the first formula that included a blend of prebiotics, nucleotides and carotenoids found in breast milk
2013: Similac introduces its first formula with partially broken-down protein for easy digestion in babies with feeding issues
2013: Similac introduces the first infant formula designed for breastfeeding moms who choose to supplement
For them, it's not just about formula, either. Similac goes out of their way to provide breastfeeding education for mothers and health care professionals – ensuring moms have the support and information to make the best choice for their family.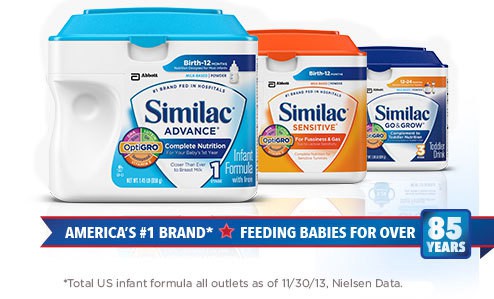 Whether you breastfeed, formula feed, or supplement, we can all be grateful for these advancements that provide the nutrients for infants that do depend on formula for their growth. It's wonderful that advancements have given us a formula we can trust on when it is needed to care for those infants! Similac has used innovation in their products to cater to feeding needs from specialty NICU formulas to their SimplePac containers that feature a one-hand grip and scoop for cleaner bottle preparation and more.
Similac StrongMoms Free Membership
Join Similac in their StrongMoms free membership! The membership includes up to $329 in membership rewards including partners offers, FREE infant formula, coupons, samples and savings! It also includes a free photo book from the Shutterfly® Storytelling™ Collection (a $35 value). Along with these great offers, you'll get weekly emails with tips on your baby's development at each stage.
Similac will help you all along the way with an easy-to-follow guide to breastfeeding, supplementing, and formula feeding in The Art of Feeding guide. You'll also have access to FeedingExpert where you can ask registered nurses and dietitians as well as lactation consultants any of your questions. Finally, keep track of your new daily schedule with the free Baby Journal App that can track your baby's eating and sleeping habits along with diaper changes and more!
There's no reason to hesitate, you'll get all these awesome perks completely free.
I joined their free program when I was pregnant with my first and with my boys since then, too. It's a wonderful resource and can save you a ton of money, too. Even though I personally have breastfed my babies full time, I have valued having access to these resources and keeping formula on hand as well for those times when it just might be needed. I absolutely value Similac for their commitment to supporting women and caring for infants.
Similac partnered with bloggers such as me for its Similac StrongMoms Ambassador Program. As part of this program, I received compensation for my time. Similac believes that consumers and bloggers are free to form their own opinions and share them in their own words. Similac's polices align with WOMMA Ethics Code, Federal Trade Commission (FTC) guidelines and social media engagement recommendations.