Absolutely no compensation or review samples were received for this post. This is the set we selected and bought without any influence from the manufacturers. Affiliate links are used below. The opinions here are completely my own.
The night before we were to leave on our long summer road trip, I started my last load of laundry I needed to finish before our trip. I made a big effort to be sure all our laundry was done and away before we left on our trip. I threw in the last load and walked off with the lid left up as I looked for any random articles of clothing that would need to be added to the load. I didn't find any other clothes and got distracted along the way and completely forgot to shut the lid of the washer to start our load. My husband and I turned on a movie and cuddled in bed. Then, he went off to bed and I hopped on my computer to finish a few last projects for my blog. My computer was almost dead so I decided to head out to the family room and plug in my laptop so it would be fully charged in the morning for our trip.
When I walked out of our bedroom and into our kitchen I was in shock! There was water everywhere! All the way out of our laundry room, down the hall, into the kitchen, and even reached as far as our front door. The water was at least 4-5" through the hallway and the water spilled into the carpeted bedrooms. Something had gone wrong with our old washing machine and the water never stopped filling with the lid open. My dad came over to help and the three of us worked for hours to map, sweep, scoop, and soak up into all the water. We used our carpet cleaner to suck up as much water as we could from our carpeting in the kids' bedrooms and where it went onto the carpet in our family room.
It was such an unfortunately situation and such a horror scene to come out of our bedroom to see. I felt extremely fortunate that I walked out of my bedroom that night to find the scene. I can't even begin to imagine what an absolute disaster our home would have been if we slept through the night with the water pouring in. The 3-4 hours of water that we had to deal with was horrible enough, another 8 hours would have completely ruined everything in our home.
This inevitably set us on a path to seek out a new washer and dryer set. I shared earlier this month how to pick a washer & dryer set with tips and advice to show you want to look for. If you're in the market, be sure to visit that post as there is lots of great insight to help. I'm excited to share with you the set we settled on, we have bee really, really happy with the set we bought.
LG Washer & Dryer Review
This is a picture taken the evening our washer and dryer set arrived, just getting our first load into both the washer and the dryer and checking it out. The picture was really dark, so there's a lot of grain to it. There was so much to love from the first moment our new washer & dryer set was installed. We picked out the LG Electronics 4.5 cu. ft. High-Efficiency Top Loader washer in white (Model #WT4870CW) and the matching dryer, LG Electronics 7.3 cu. ft. Electric Dryer in White (Model #DLE4870W).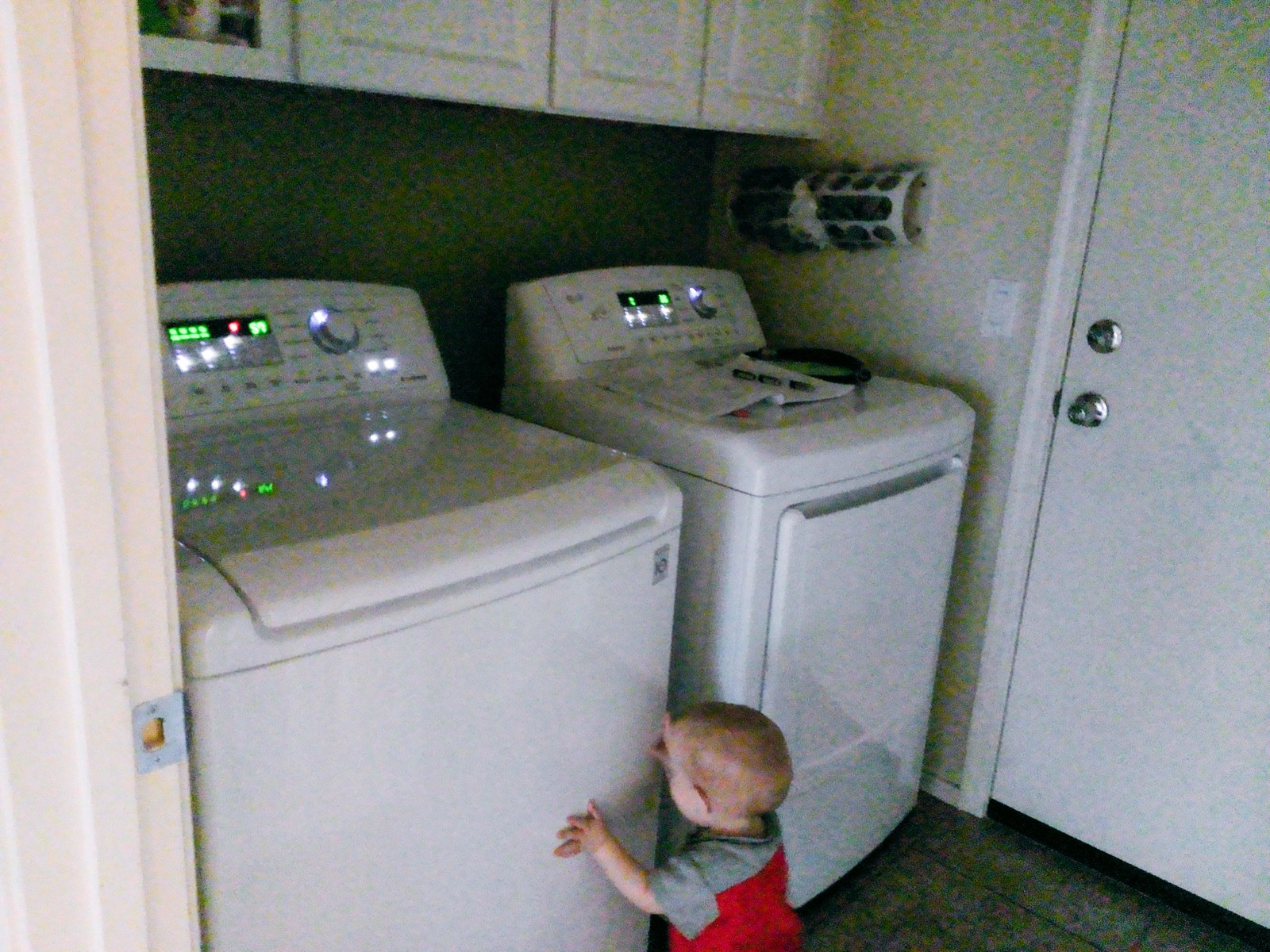 First, and possibly most importantly in this household with four little boys, is the huge load capacity! It can hold a ton of clothes, so much more than our previous washer that was just 8 years old. It literally holds at least twice the clothes as our previous washer and saves us so much time playing the laundry game. I love the huge load capacity!
Another change that I have loved over our previous is how little water the washing machine uses! Our water bill has only gone down this past month of use, I really appreciate the savings! The reduction of water I think has come from two main reasons – less total water used to wash the clothes and less loads to need to be washed with the larger capacity. I'm not certain, but I believe that one huge full load uses less than the equivalent two loads used previously by quite a bit.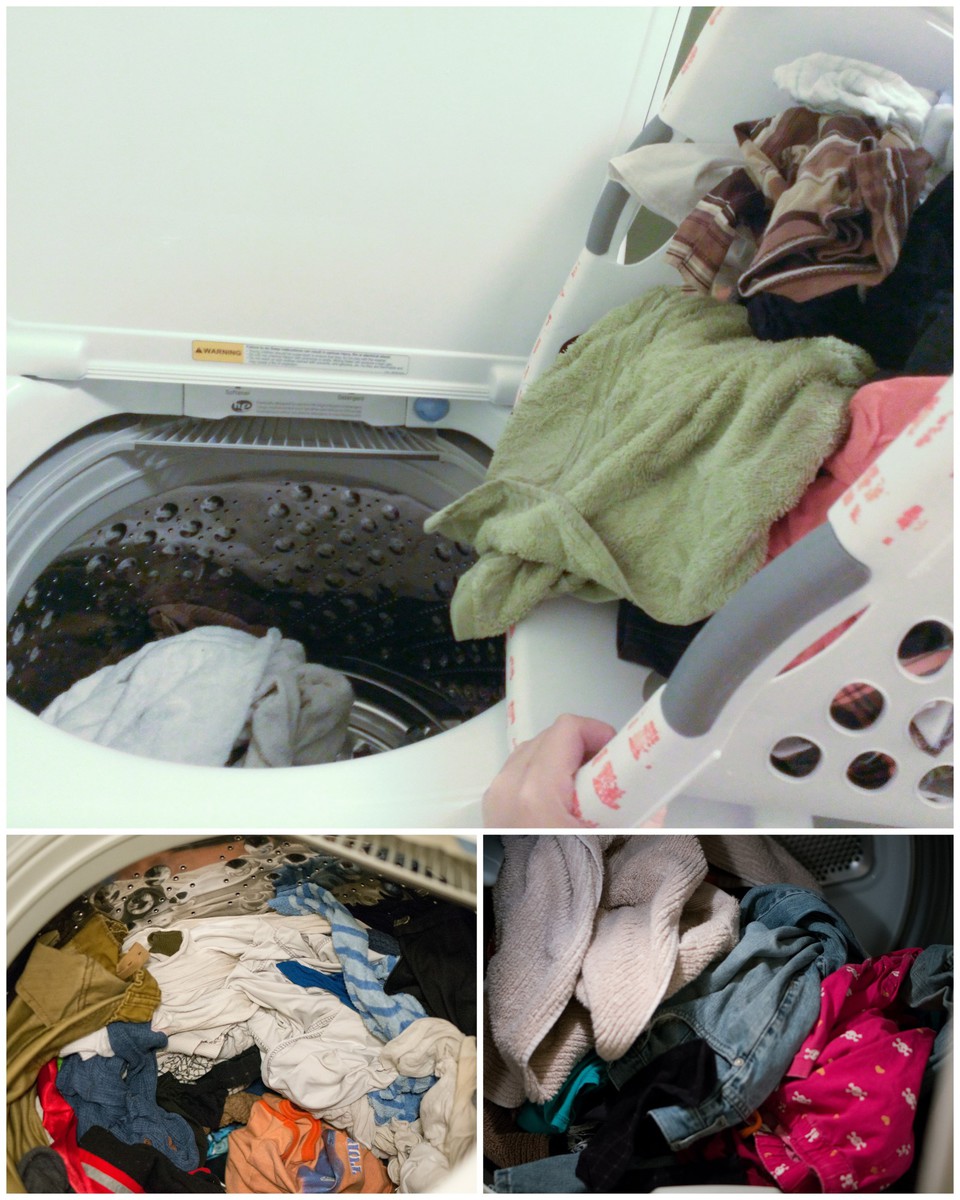 Another favorite feature is the display panel with super easy to select options. I set up a custom program so for the majority of my loads, I just hit the custom button, and then "play" and my load wash begins. When the load begins, the washing machine locks and has to be paused should you need to add any clothing, which is an appreciated safety feature. I have added extras a couple of times, and it's not a big deal to pause the wash load, though it does take 20-30 seconds to stop the water from filling and unlock the lid.
Right along with the display panel is the option to adjust the spin cycle. I almost always choose extra high spin cycle and my clothes come out barely damp which helps my clothes dry very efficiently even with a really full dryer. A high spin cycle is also really nice if you like to line dry your clothing.
Our washer has lots of other upgrades and nice features that have improved over the last 8 years, like an easy to remove lint trap that is much easier to remove and clean that our previous washer and a soap dispenser that I have loved using for adding our detergent. The soap is dispensed with the water so it mixes as the water loads, much better than just tossing the soap on top of the clothes.
There are a few other reason why we choose the LG model we selected. LG is the #1 consumer rated brand and has great reviews. It offers a high 1,100 RPM, in reference to the max spin speed, which most other washers in the competitive price range are a much lower RPMs. And finally, the washer has a delayed start time which is really helpful for us with utilities that are cheaper based on time of day use.
You may ask, why have I not said much about my dryer and this review is almost entirely on our washing machine. One of the things I learned on my search for a perfect pair, is that the washing machine really "makes or breaks" the pair. Most dryers are pretty comparable and about the same, it's the washer that really has all the features and differences. We are really happy with both our washer and our dryer and how well they compliment each other and perform.
This is a really great washer & dryer pair, we have been very happy with our purchase. There are a few similar models available by LG including one with a Steam option that is typically about $200 higher, a feature we didn't feel we needed, and a set with the front display panel at the front of the machines, something we didn't like with little ones that like to mess with buttons. Before you head shopping for a new washer and dryer, come see my top tips on How to Pick a Washer & Dryer!
What is your favorite thing about your washer and dryer?