I received a party gift pack from The National Mango Board in order to host a home party. All opinions are my own.
The Jungle Book recently was released on Blu-ray for the first time! In celebration of this classic movie, we got to throw a Jungle Book themed party! Of course, a party isn't a party without lots of goodies!
Having easy drink choices was important. I wanted to help all the guests have something quick and easy they could grab to drink. To jazz up the drinks, I tied Capri Suns with twine for a little jungle flair. I also wrapped water bottles with animal print burlap which completely changed the look of the bottles.
I used the side of a cardboard box to create a more rough and jungle feeling platter. Topped with a piece of parchment paper and jungle print burlap they platters turned out really cute! One of the platters was for my "Jungle vines" and the other for crackers. Both easy to serve, grab, and enjoy!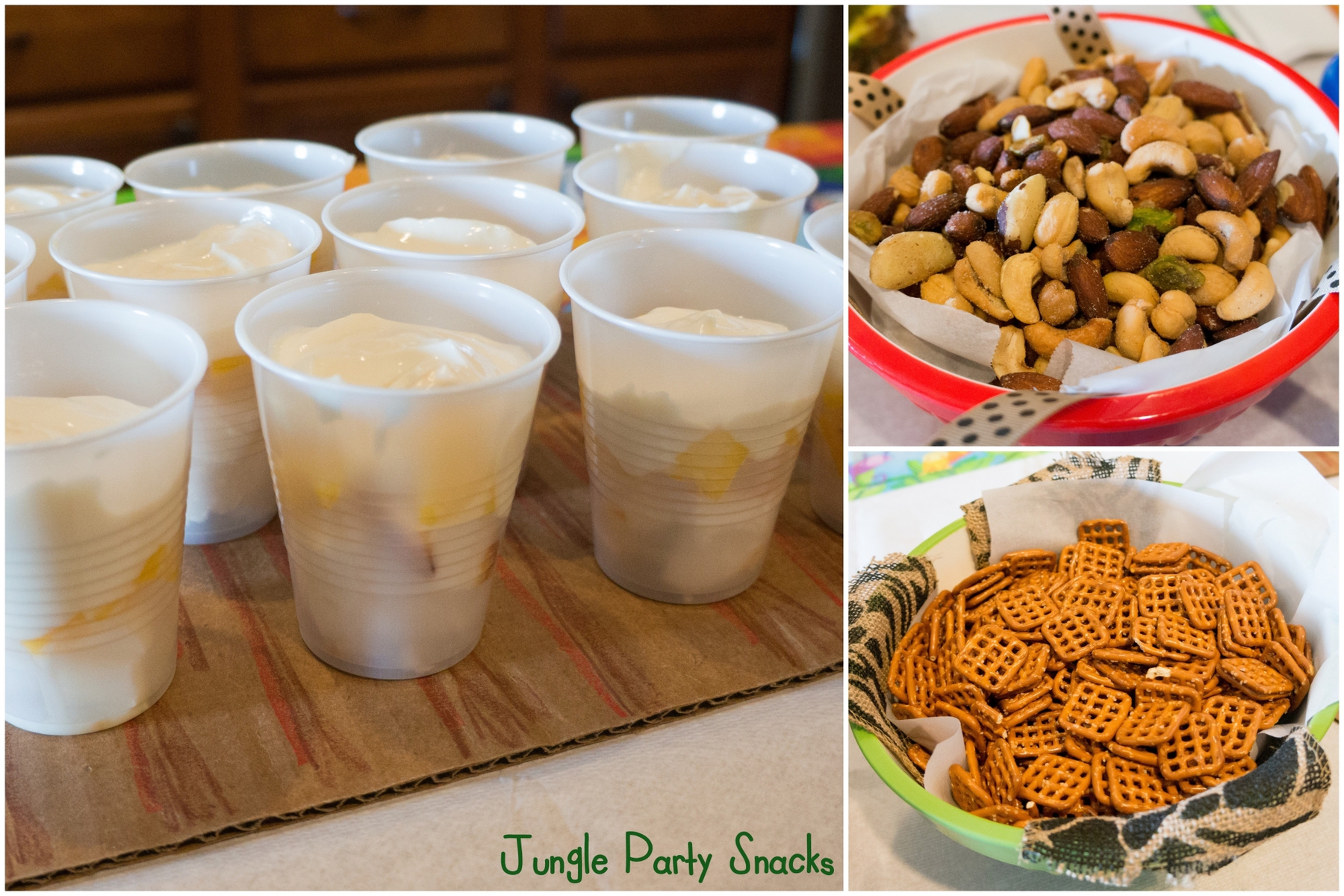 Mangoes are naturally sweet and nutritious which makes them a perfect choice for making kid friendly treats for our party. I wanted quick and easy snacks to prepare and have ready for the party. I served a bowl of mixed nuts and pretzels decorated with some parchment paper and jungle printed burlap which made the decorating so easy. I also whipped up mini Jungle Shortcake in a Jar treats. It's so easy to make! Just mix greek yogurt and honey. Then, rip up bits of angel food cake layered at the bottom of your cup, next diced bites of Mangoes, finally, top it with your yogurt honey mix and serve!
By far the highlight of the party treats was the fruit kebabs station! the guests could make a kebab with their very favorites! With choices of mangoes, strawberries, grapes and pineapple. The kids liked making patterns, or filling their sticks with their favorites. The Fruit Kebabs were a huge hit!
After everyone grabbed a bowl of goodies, we settled in to watch The Jungle Book!
We have a big projector screen in my home and two big comfy bean bag chairs for the kids to pile on with couches for the adults. Everyone was comfy and had lots of room to replace, kick back, and enjoy the film. With such a big screen, it was important to have blu-ray quality for a clear and beautiful grain-free picture!
Disney's The Jungle Book Diamond Edition release brings this classic favorite to Blu-ray for the first time. Pairing Mangos to create a Jungle Themed party just made sense!
Did you know that Mangos are available year round and that the color doesn't dictate how down the Mango is. A ripe mango will give slightly. If your mango is still firm, give it a few days to ripen on the counter before enjoying. If you "like" the Mango Board on Facebook, you can enter to win a Jungle Jetsetter Giveaway with a Funjet Vacations family getaway to Punta Cana up for grabs! This giveaway ends tomorrow, so head over now to enter! 4