This post is sponsored by Lulu Jr. I received a sample and compensation for my time. All opinions are my own.
My 8 year old son loves to read! It always surprises me when he grabs a book and will sit and read for hours on end until he's finished a book – and then start it over again from the beginning! I learned quickly with him that the best way to inspire a love of reading was to stock up on books that he loved. We started with the Fly Guy series and moved on to Big Nate and to Captain Underpants with a few other favorites sprinkled in. One thing that remained consistent was he loved stories that were funny and had interesting characters. He also loves reading books in comic book style.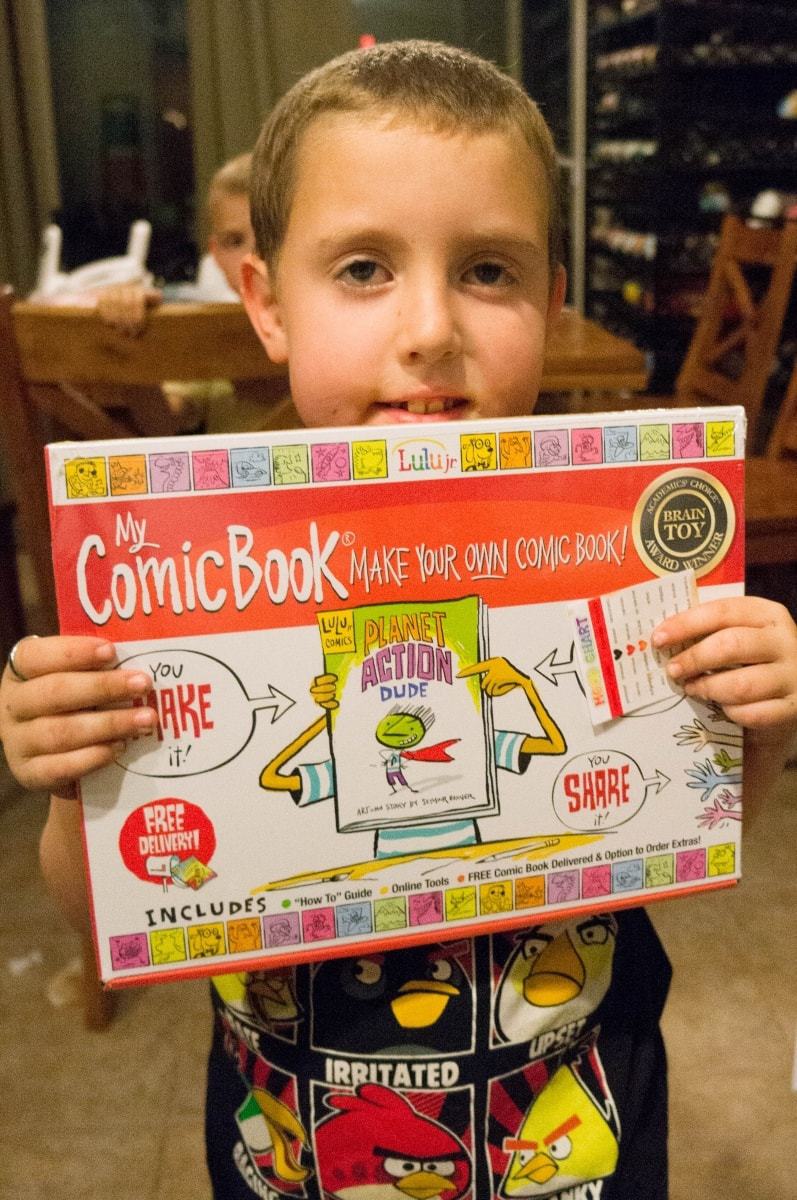 When Lulu Jr asked if I'd like to check out one of their My Comic Book sets where you can make your very own comic book I knew my son would be over the moon excited. What I didn't know was how awesome the kit would be! It includes all the supplies you need to start making your own comic book with blank pages, a pencil, sharpener, eraser, and markers. But the best part of all was the included comic book instructions! They designed the how-to guide to be a comic book itself, so my son cracked the book right open and started reading! It grabbed his attention immediately.
Here are some of the things we have learned about how to make a comic book:
Characters Matter – Your whole story in a comic book revolves around your characters. You can make your characters as silly or serious as you want. That was easy to learn just from our experiences with my son's favorite book characters. They really are the heart of the story. My son brought home one of his stories he worked on at school the other day and it was funny to see he had named his character "abcdefghijklmnopqrstuvwxyz".
Adding Humor is Essential – Nothing draws you into a comic more than a bit of wit. My husband and his family all have a witty sense of humor, and it's carrying onto my son. He's already learned how to be clever in some of the things he says. As an example, on another school assignment he was asked to make a personal constitution. For number 4 he put, "hmm…" and then for number 5 he wrote in "thing of something for number 4". I love his unique sense of humor which always makes his papers and his stories interesting to read. That really matters in comic books too to keep the reader interested.
Boxes and Panels – To give your comic book the right look and feel, add boxes or panels to tell your story and easily transition the reader from one point in the story to the next without needing to add a lot of words. That's the beauty of a comic strip, no big explanations are needed to move the story along, add in a "meanwhile" or "later" and you're good to go!
Descriptive Words – Another key to a great comic strip is using strong words to describe what is happening. It really brings the characters, setting, and story to life.
Finishing Details – When you've made your first comic book, it's time to show it off! You can frame it if it's on a single page or hole punch your first comic book and stick it in a three ring binder or presentation notebook. The key here is to show off their work and let them see you're proud of what they've created. Then, hand them over some more paper and let them continue the story by working on part 2 or come up with a whole new storyline.
My son had already created two other comic books before our kit arrived, so I knew he'd be ready for the task, even if he still could add a lot more in terms of details to his art work and taking time with his writing – his ideas are there and it's so precious to be able to have those recorded. Now that his strip is ready, we can stick it in the prepaid envelope included with the My Comic Book set and ship it in to have a complimentary printed book made up with his drawings. If you have a child that is hesitant to draw, you can also redeem your free book certificate online using their online tool. Let them start by drafting out their comic book on paper and then work together to turn it into a digital book and get it printed.
Lulu Jr's book making kits make a wonderful Christmas gift! They encourage creativity and learning while having a lot of fun. They have three book making kits available: My Comic Book, My Awesome Book, and Illustory. Then, when their books are done, you can order as many additional copies you'd like which would be a wonderful present for the grandparents or to save a copy for yourself and have one for your child.