The holidays are the very best time of the year! There is just something incredibly magical about the holiday season. What I've noticed is that the more we hold on to traditions and keep the season magical and special, the more memorable and fun the end of the year is for my whole family. With Christmas just over a month away, it's time to start preparing our homes and families for all the festivities. Today, we're sharing our favorite products and absolute essentials for the perfect holiday season!
We received a variety of samples and/or compensation in exchange for this post. Affiliate links are used below. All opinions are our own.
Essentials for a Perfect Holiday Season
1. Read Christmas Books as a Family
One of our holiday traditions is setting out a bucket of festive titles right in our family room. We love snuggling on the couch when the weather is cold outside and reading a Christmas story together. HarperCollins Children's Books has introduced a bunch of fun new titles in time for the holidays. Add a new seasonal story to your collection each year to kick start the festivities.
Fun holiday titles to start with:
2. Get Matching Christmas Jammies
There's nothing quite like matching pajamas handed out Christmas Eve. It really adds to the excitement and magic of Christmas morning. This year, your family can find cute coordinating pajamas for the whole family in Burt's Bees Baby holiday collection. There are six amazing prints to choose from to mix-and-match styles for your whole crew. Go for classic stripes, festive fair isle, or a buffalo plaid to coordinate.
Featured above, from left to right:
3. Use Holiday Lighting to Set the Mood
Transform your space to set the stage for your festivities with Philips Hue White and Color Ambiance Starter Kit. It includes 4 A19 bulbs that make it easy to start customizing your space. It's easy to switch lighting with color scenes or sync the lights to music to let the lights party with the beat changing colors and intensity. With the Philips Hue Starter Kit you'll have options – set the lights to dim in the morning as you ease awake, to bright lights during the day to focus, and then switch to colorful mood lighting to match the holidays in the evening.
Get started with smart holiday lighting:
4. Try Nativity Costumes to Recreate the First Christmas
My very favorite Christmas tradition is retelling the first Christmas story. Every year on Christmas Eve we will all take a role in part of the nativity story skit. Get into your role with the Christmas costumes, and at Oriental Trading Co that are affordable and so cute! There are nativity costumes for everyone in the skit including Mary, Joseph, the Wise Men, and even the Angel. They even have the stable animals to finish off the scene and great props to enhance the show.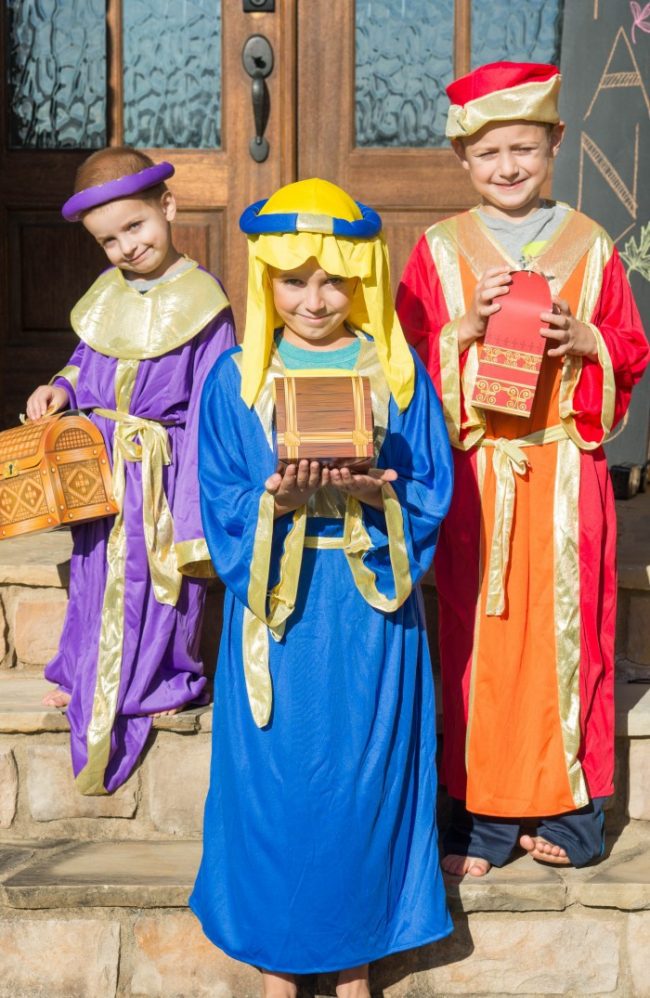 The Essential Nativity Costumes:
5. Ready for the Hustle & Bustle
Thirty-One gifts will help you tackle anything this season throws your way. The perfectly sized Medium Utility Tote and Stand Tall Insert are back only for November and in the cutest holiday prints! Fill one with all your wrapping supplies, bows and ribbons, scissors and tape so you can wrap on the fly. They're amazingly priced for just $10 each as a customer special! Then, add a new accessory to your style for the holidays like this playful scarf or midway hobo in the perfect hue for winter!
Organization for the Holidays:
Prepared for Holiday Parties:
6. Be Stylish & Festive in a Cute Christmas Top
The cutest styles for fall are only a few clicks away at Comfy and Chic Boutique! They have super cute tunics, tops, dresses, and accessories with always free shipping. They have the cutest line of new holiday graphic tees like The Merry Christmas Tee I'm wearing here. The tops fit great and are very comfortable with a long length for great overall coverage. While you're there, pop over to see some of my favorite tops from the Comfy and Chic Boutique line.
Cute Tops for Fall
7. Shop Gift Baskets for Friends & Co-Workers
It doesn't have to be difficult to find a gift for your friends, co-workers, and loved ones. There's a new gift basket company that makes it fun to gift again with their customized gift baskets! You'll start by selecting a theme and then choosing a basket and what goodies to include inside. It was really fun going through the steps and feeling like you're a part of the process picking out the perfect items for the recipient. The Design It Yourself Gift Baskets arrived beautifully packaged and look so pretty for the holidays. They really are such a sweet and thoughtful gift.
Our favorite gift baskets:
8. Wear Festive Socks
Cozy socks are the perfect addition to the holidays and work great as gifts. The festive holiday styles by Gold Toe even have a gift tag making them easy to add to stockings or gift packages. They have so many cute styles for the season like the super soft Snowflake Border & Flat Knit Crew Fashion Socks set. This set of grey and white socks are darling and perfect for winter. Pick up a dress sock with a fun holiday print like the Reindeer Flat Knit Crew Fashion Sock set to add a secret hint of winter into your work day. My favorite pair is the Premium Cotton Argyle Casual Crew Sock in a beautiful crimson, green, and tan argyle print that feels so festive but is subtle and fashionable.
Shop Gold Toe Holiday Socks:
9. Start a New Holiday Tradition & Experience
The kids will have a blast creating a special friend to share the holidays with, and it will be a memorable experience to mark the holidays. Build-a-Bear has an adorable line of friends from their Holiday collection that include reindeer friends, holiday bears, winter puppies, even a Santa plush! Then customize your experience by adding a holiday sound or scent and clothing and accessories to finish off the special friend. There are darling capes, dresses, sweaters and tops, plus shoes and accessories to choose from. Head to your local Build-a-Bear to start your family experience!
Our Favorite Holiday Friends:
10. Host an Ugly Christmas Sweater Party
Make a statement at your holiday parties and gatherings with the cute and stand-out styles by Shinesty. With Ugly Christmas Sweater parties being all the rage, you can get ready for the fun or set up your own holiday party and find the perfect sweater to sport. Or find the perfect holiday print dress to make a statement with bold prints or subtle patterns. Then cozy up inside a onesie pajamas in a festive print for the season to stay warm when it's cold outside.
Festive Holiday Wear:
11. Personalize the Holidays
The holidays call for lots of good food and of course, sweet candy treats. This holiday season could be extra festive with some personalized candy from myM&M's. What's more festive than a bowl of M&M's each printed with a little holiday cheer in red and green? Even better, you could personalize some M&M's to put in your child's stocking with their name on it! Not only did Santa put them on the nice list, he even made candy just for them. With so many candy gifts from myM&M's, you could grab a fun candy dispenser to put out for the guests. Whatever your family is doing for the holidays, personalized M&M's will make it that much sweeter.
Shop Sweets and Treats:
12. Get an Early Start on Goals & Resolutions
Don't wait until the new year to start establishing good habits. The free Habitz app is an incredible tool that is fun for families where parents set up a variety of rewards to motivate and encourage kids to set a goal, stick to it, and start building habits now that can last a lifetime. Kids can easily track their progress through their goals and even learn about the why behind a healthy lifestyle. The Habitz app even includes 7-minute designed-for-kids workouts kids can try that are always changing to keep them engaged and interested. Download the free Habitz app on your iOS devices to give your family a healthy, productive, and happy school break.
Download the Habitz app for iOS devices:
13. Play in the Snow as a Family
Snow days just got a whole lot more fun with the creative and fun snow tubes by BigMouth Inc. They come in the cutest designs patterned after a polar bear, yeti, snowman, and other winter favorites! The large 4-foot snow tubes are designed for ages 8+ just inflate with air and you're ready for the hills. Plus, the snow tubes are easy to compact down and store away once spring hits. The snow tubes are made with a heavy gauge PVC vinyl and welded seams and include handles to support you on the slopes and when carrying the tube. The whole family will have a blast on their easy-to-spot inflatable snow tubes!
Choose Your Favorite Snow Tube:
14. Travel for the Holidays While Staying Connected
The holidays is an wonderful time to visit with family, friends, and loved ones but that can mean a struggle to stay connected and navigate where you are headed. Vision Global WiFi makes it a cinch to connect your smartphone and devices to the internet wherever you may be headed this winter. You can view upfront pricing before your trip and reserve a WiFi device that will ship right to your location within the US. Then, enjoy your WiFi connection while you travel. Then, it's easy to ship back the WiFi connectivity device on your return with the included return label. With the help of Vision Global WiFi you'll be able to search the web to find restaurants and attractions information while you're out and about, use your favorite apps including social media, and access navigation tools to help you get to your destination. I used Vision Global WiFi on my recent trip to Eastern Europe and the coverage was fantastic and I loved that I could skip any expensive roaming fees from my cell phone carrier. All three of us on the trip could easily connect to the WiFi, no matter where we were which was crucial for our road trip through 5 different countries.
Connect to WiFi While Traveling:
Need more gift ideas and inspiration?
See our Holiday Gift Guide landing page for more great gifts for everyone on your list!
Make the most of your holiday season by starting the festivities early to keep the magic of the holidays alive as long as possible. Which of these holiday essentials will you adopt this year? Do you have a favorite tradition to add?