This is a sponsored conversation written by me on behalf of Omni Hotels & Resorts. The opinions and text are all mine.
Omni Hotels & Resorts are introducing a new kids menu, as part of the Omni Original culinary series: Culinary Kids. The Omni Originals series features themed food and beverages that showcase regional culinary talent and timely food trends and this year's new picks for kids are doing just that! The exciting new menu includes 16 fun new menu options for children 12 and younger with choices for breakfast, all day, and yummy sweets, too.
Today we're going to share with you one of their brand new breakfast recipes, that would be perfect for getting your family excited for your next family vacation to an Omni Hotels & Resorts property! Try out this recipe, then head into an Omni Hotels & Resorts property to see how their version compares or to try out one of their other fun new Culinary Kids menu offerings!
How to Make Breakfast Banana Skewers
Banana Skewer Ingredients:
1 banana, cut in half
2 tablespoons Fruity Pebbles Cereal
2 tablespoons honey yogurt
2 tablespoons Nutella or chocolate sauce
2 tablespoons caramel sauce
2 Bamboo skewers
My boys and I had so much fun making Omni Hotels & Resorts Banana Skewers Culinary Kids breakfast recipe. It was so easy to make, with less than 5 minutes prep, and is a perfect breakfast option for any day of the week.
I started cutting the bananas in half right in the peel. From there, my boys did the rest of the work, with a little help on my part telling them each step of the process. My 4 year old needed help with the skewers, but my 8, 10, and 12 year old boys wanted to do all the steps on their own.
First, you'll run a bamboo skewer through the center of your banana from the cut middle to the tip.
After that, we brushed on a thin layer of yogurt to the outside of each banana skewer. We dipped our bananas in the yogurt, then used a butter knife to spread the yogurt coating evenly and make sure we didn't have too much yogurt on the bananas.
After that, it was time to put the banana skewers in a shallow bowl of Fruity Pebbles! This was their very favorite step. The rolled a little, but mostly just scooped up the Fruity Pebbles and sprinkled them all over the banana.
We pulled out Nutella to serve with the Banana Skewers, my boys favorite topping, and extra Fruity Pebbles and all that was left to do was enjoy!
These Banana Skewers definitely made for a fun, and filling, breakfast that my kids are already asking for again!
Common Questions About Making Banana Skewers:
Q: Can I freeze Banana Skewers?
A: Yes, you can freeze banana skewers!
Bananas, yogurts, and even the fruity pebble outer shell will all freeze great. Keep in mind, bananas may discolor some while in the freezer, but will still taste fresh and delicious! Freezing your breakfast banana skewers can easily transform them into a healthy summertime dessert! Freeze in a lidded freezer-safe dish with the skewers spaced apart. After frozen, you can transfer the banana skewers to a freezer bag.
Q: What cereal do you use when making Banana Skewers?
A: Fruity Pebbles is our first choice when making Banana Skewers.
We love using Fruity Pebbles because they are colorful, small which makes them easier to pack onto the bananas, and pack a lot of flavor! However, you could mix and match and try other cereal varieties to make your own custom Banana Skewers! Try Fruit Loops, Cinnamon Toast Crunch, or Cheerios for some variety, or youw own favorite cereal.
You can also try a variety of other outer coatings such as granola, oatmeal, chocolate chips, graham cracker crumbs, or crushed cookie crumbles!
Q: What dipping sides are best with Banana Skewers?
A: Try dipping your Banana Skewers in chocolate sauce, Nutella, or Caramel sauce!
For more fun variety, try dipping your Banana Skewers in peanut butter, your favorite jam or jelly, whipped topping, greek yogurt, or honey.
Easy Banana Skewers Recipe
Yield: 4 Banana Skewers
Banana Skewers Breakfast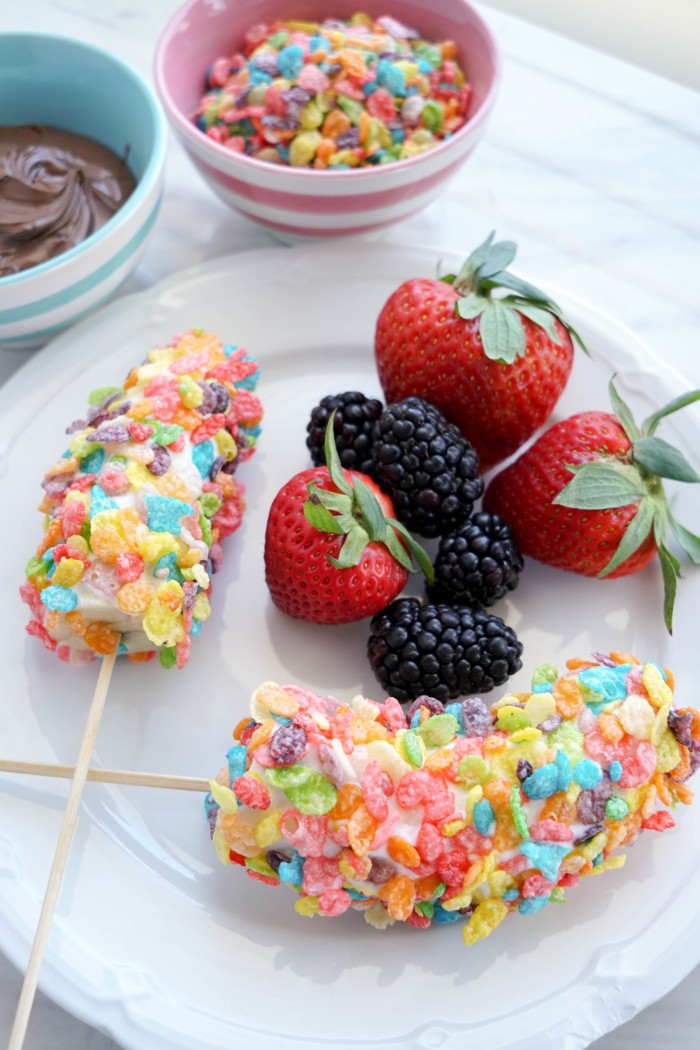 Fruity Pebbles Banana Skewers -- an easy breakfast recipe kids can make! Just 5 easy ingredients and less than 5 mins prep!! So fun and a healthy, freezeable breakfast option great for on-the-go!
Ingredients
2 banana, cut in half
2 tablespoons Fruity Pebbles Cereal
2 tablespoons honey yogurt
2 tablespoons Nutella or chocolate sauce
2 tablespoons caramel sauce
2 Bamboo skewers, cut in half (or 4 short skewers)
Instructions
Run bamboo skewers through center of banana.
Brush each skewered banana with a little of the yogurt. Roll in fruity pebbles.
Serve with sauces and extra fruity pebbles.
Culinary Kids New Menu Options
This fun Banana Skewers recipe is ONE of the new breakfast options as part of Omni Hotels & Resorts Omni Originals offerings. After creating this fun recipe together as a family, I then asked my boys which of the new menu recipes they'd pick. The favorite in our house is the Jenga option! French toast sticks with all the fun dipping sauces to go with it.
They all sound so fun, though, and I'm certain the Fruity Pebbles Breakfast Skewers we made will be a go-to favorite for my kids until we can get in to try one of the other choices and add a new favorite to our mornings.
Other new favorites as part of the Culinary Kids Breakfast Menu Includes:
Rainbow Açaí Bowl: Açaí base, seasonal fruit, granola, local honey
Little Farmers Market Plate: Scrambled eggs, cheddar, choice of bacon, sausage or chicken sausage
Jenga: French toast sticks, maple syrup, chocolate sauce, strawberries
Pancake Parfait Tacos: Pancakes, yogurt, strawberries, granola, apples, local honey
Southwest Breakfast Tacos: Tortillas, scrambled eggs, bacon, cheddar, black beans, sour cream, lettuce, pico de gallo
You'll also find 10 other recipes available the rest of the day with fun choices like The All American Build a Burger or Chinese Takeout menu options!
Which of these fun Culinary Kids menu items would your kids choose? Visit Omni Resorts & Hotels Omni Originals landing page to learn more about the Culinary Kids menu and to find a resort near your family vacation destinations!