If you're looking for a cool way to get your child ready for Easter, give them a great Easter themed lunch this year that will really blow them away. They're simple, fun, and can help get your child ready for Spring and the holiday to come.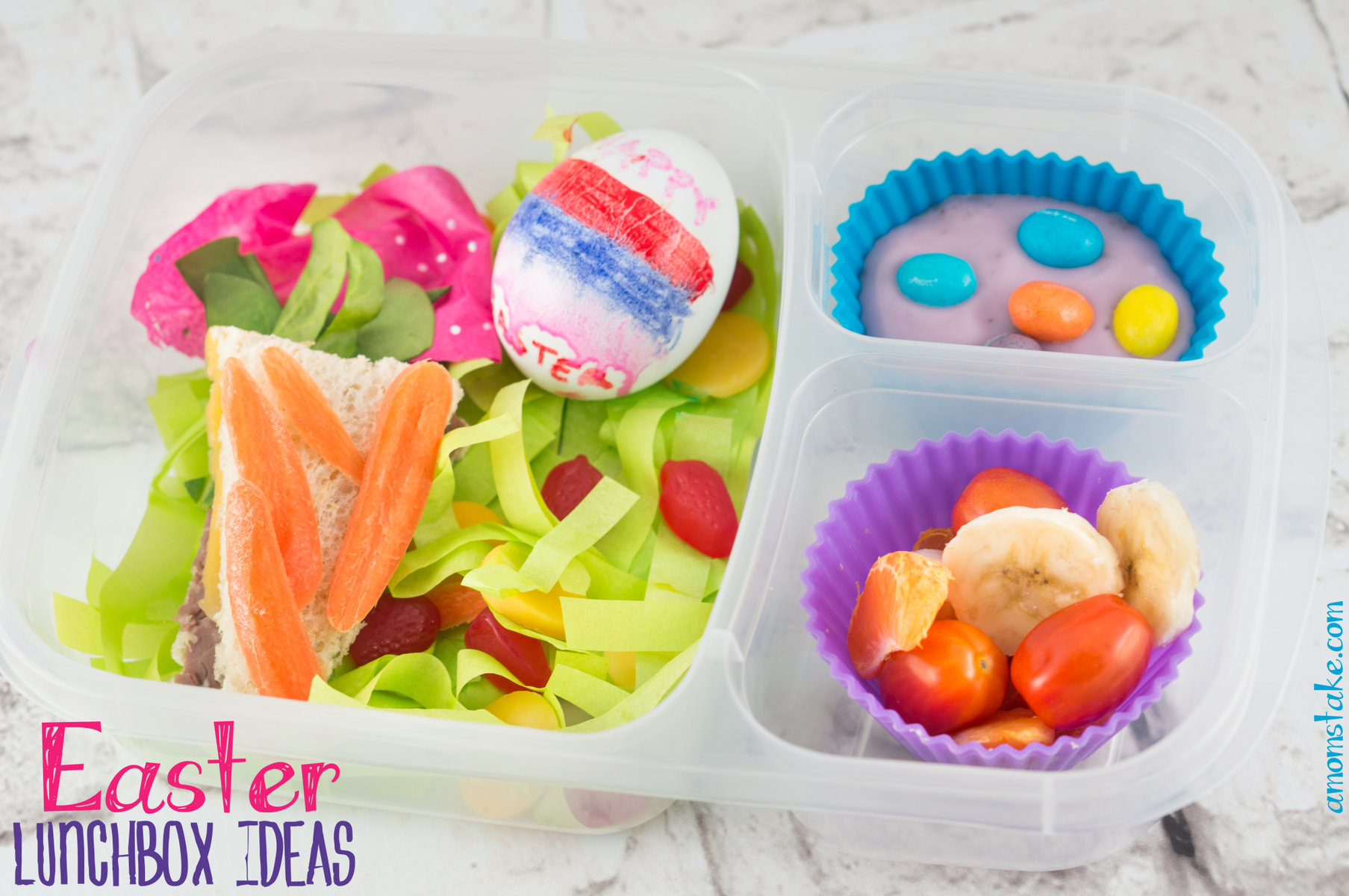 Easter Grass
– Fill your lunchbox with Easter grass or make your own by cutting green tissue paper into thin strips. You can use any fun colored grass or tissue paper. This will add a ton of color to the lunchbox and make it look more fun.
Carrot Sandwich – Make a carrot by cutting a sandwich into a simple long triangle shape. Place your favorite meat and cheese inside. Thinly slice baby carrots and lay them on top of your sandwich to give it the orange color of a carrot. Add spinach leaves or green leaf lettuce out the top of the sandwich.
Yogurt Surprise – Pick a colorful yogurt like blueberry or orange cream and fill it into a silicone cupcake liner. Sprinkle jelly beans onto the yogurt. Keep in mind, the jelly beans will "melt" a little into the yogurt so you can store the jelly beans separate from the yogurt until time to serve and let your little ones sprinkle the jelly beans. This will look like a field of hidden Easter eggs!
Fruit in Eggs – Place strawberries, grapes, and orange pieces inside little plastic eggs. This is a great and healthy alternative to candy and totally unexpected, which will help surprise your child as they open the eggs to see the fruit inside. Place them all in one container together to make it colorful.
Colored Hard Boiled Eggs – Hard boil eggs as you normally would. When it's mostly cool, color on the egg shell with crayons. The wax of the crayons will melt slightly from the warmth of the egg and make a cool tie dye effect. You can wait for the egg to cool completely to color without the bleeding look.
More Easter Lunch Box Ideas:
Egg or Flower Cheese – Cut pieces of cheese into tiny flowers by slicing thin pieces off of a block. Place it on a bed of spinach to make it look like a field of pretty yellow flowers. If you use a large piece of cheese, you can use a cookie cutter to cut it into an egg shape. Decorate it with cream cheese to give it more appeal and place it on a large flatbed cracker.
Chocolate Bunny Desserts – Nothing says "Easter" more for a child than chocolate bunnies. Place a few smaller chocolate bunnies, still in their colorful wrappings, in the box. To make it really stand out, place the bunnies on a bed of fake Easter basket grass.
What are your Easter Lunch Box Ideas?