I recently was called as a primary music leader, in charge of coming up with fun activities and ways for the kids at my church to learn the different songs for the year. I came across some awesome blogs that uses rhythm and keeping those little hands busy and active for teaching the music.
I knew I wanted to get some egg shakers for the kids to make music with, but I didn't want to spend a ton of money on them, so I set out to make cheap and easy music egg shakers using plastic Easter eggs. They were a cinch to put together and I made 3 dozen for about $6!
See an updated post on How to Make Egg Shakers on my Singing Time Blog – plus more tips and resources for using egg shakers in singing time!
This post contains some affiliate links.
Easy DIY Easter Egg Shakers
You'll Need:
Directions:
Fill your plastic Easter eggs with something that will make noise. You could use dry beans, rice, wheat, popcorn seeds, beads, or whatever else you can think of. Most plastic Easter eggs have small holes on the ends, so keep that in mind when considering your filler, as rice may occasionally sneak out the little holes.
I decided on popcorn seeds because they're cheap and don't create terribly loud music shakers I wanted a sorta soft sound as I have 20-25 kids in primary each week which is a lot of potential noise to be created.
Fill one side of the plastic Easter eggs about halfway full. You'll want to leave room for the fillings to be able to move around and make noise.
Once your eggs are filled and ready, close them back up tightly making sure they are closed all the way around.
Now, you can tape them closed and seal the seam to keep them from popping open during music time. You can use electrical or duck tape. I found this fun rainbow colored duck tape that matched the six colors of my eggs really nicely, so I went with duck tape.
If you're using duck tape, you'll want to cut the tape down the middle width wise to create two skinnier strips of tape out of the normal width. Start a small cut in the tape, then pull upward sharply and it will rip down the line of tape to save your scissors from the messy tape residue.
Now, cut your tape the other direction creating pieces about 4-5″ long – enough to wrap all the way around the egg in one piece.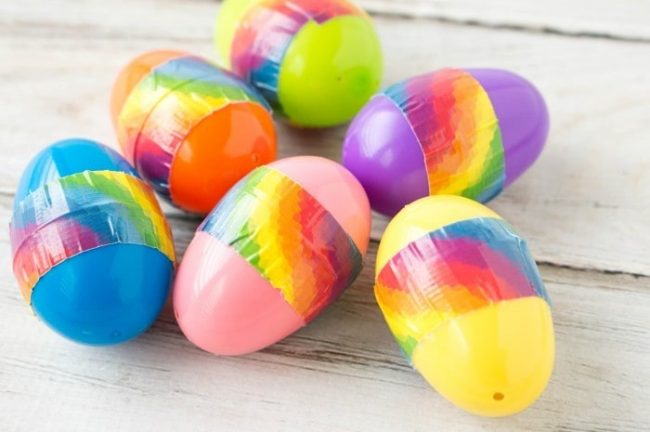 Press the tape down around the seam, then smooth it up and outward towards the rounding of the egg as needed so that it is flush with the egg to make your new music shakers more secure.
You should be able to make a dozen in about 5 minutes!
I also always warn the kiddos that if they're messing around with their music shakers, or any other props I hand out, their teacher will take it away and I may not be able to bring them back out again. It works like a charm!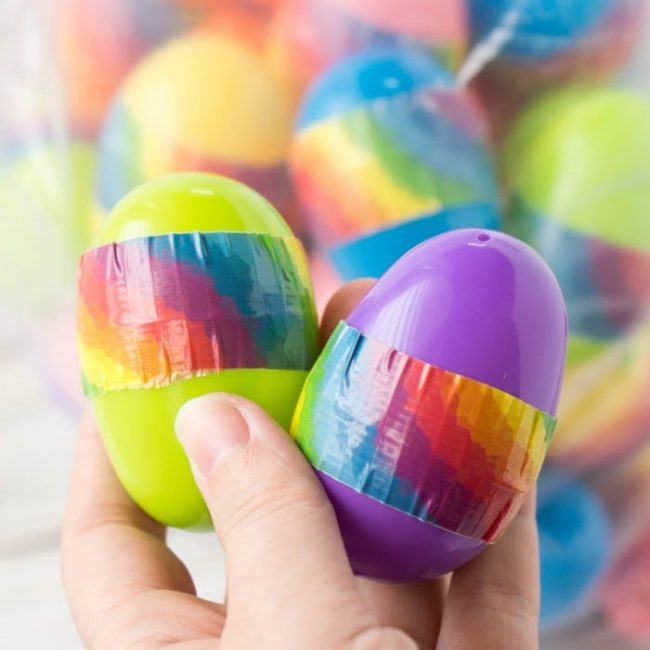 As a Child of God – Egg Shaker Lesson Plan
We used our egg shakers already once this year with As a Child of God primary song, it was a HUGE hit!
For Junior primary, I did:
3x pat on leg
3x tap on palm of the hand not holding the egg
We repeated this pattern through the entire song and you should end with the egg in your hand for one final beat on "right". It's an easy enough pattern that they picked up on it pretty quickly.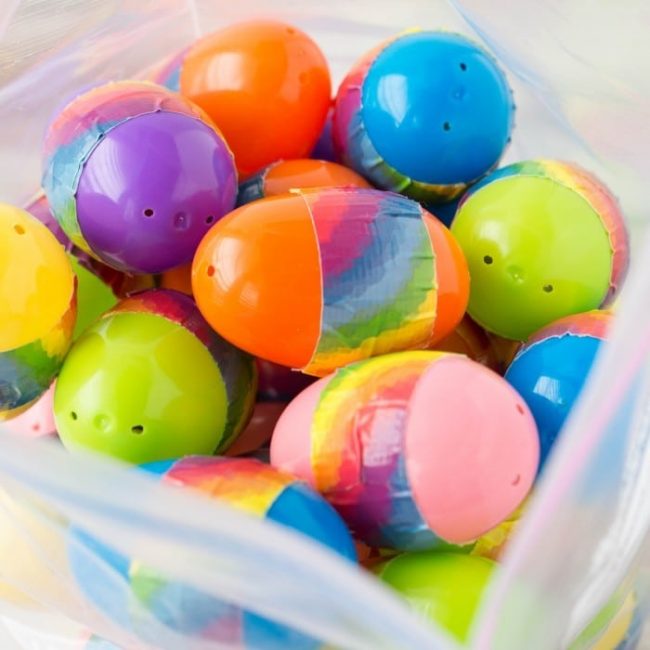 For Senior primary, I followed Teaching Primary Music's idea:
Shake in right hand
Pass around behind your back switching hands
Shake in left hand
Switch egg back to right hand
We repeated this pattern, then switched to her challenge pattern to tap 3x quickly on a partner's egg when the egg is in front before switching back to the starting hand.
The egg shakers added such a pretty sound to the primary room and the kids were having a blast! We rushed through the challenge version, as we were running out of time, so a few of the kids didn't pick up on the pattern but most of them did.
Head over to see even more fun Singing Time Ideas to make your lesson planning a cinch! Loved this post and idea? Please pin it!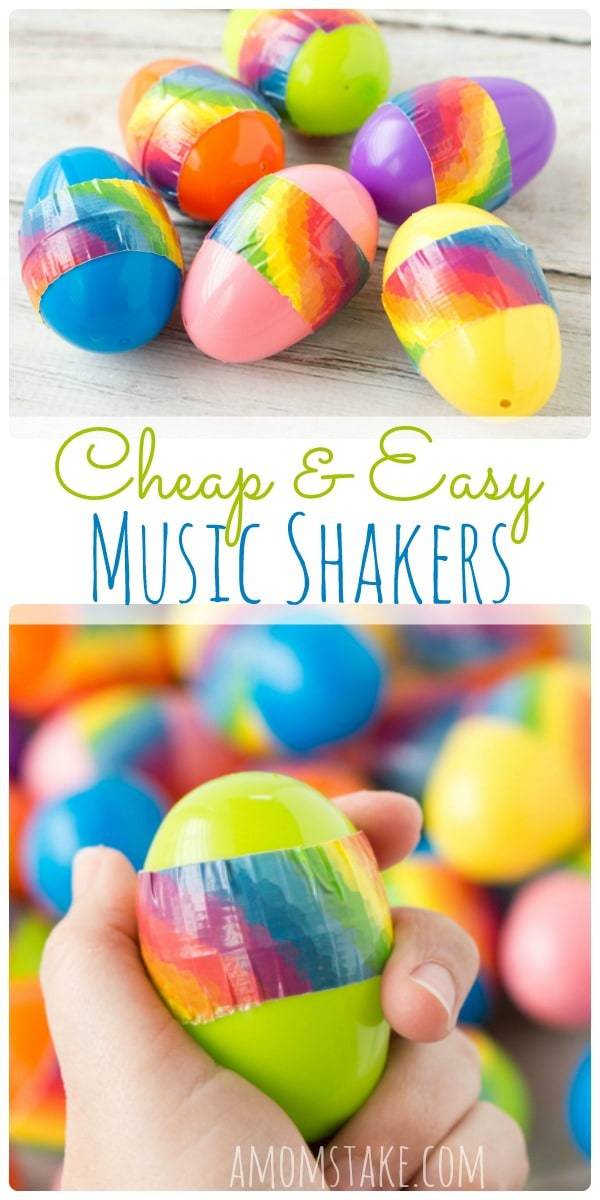 Head over next to see our free printable word strips for I Wiggle song to mix up the wiggle parts!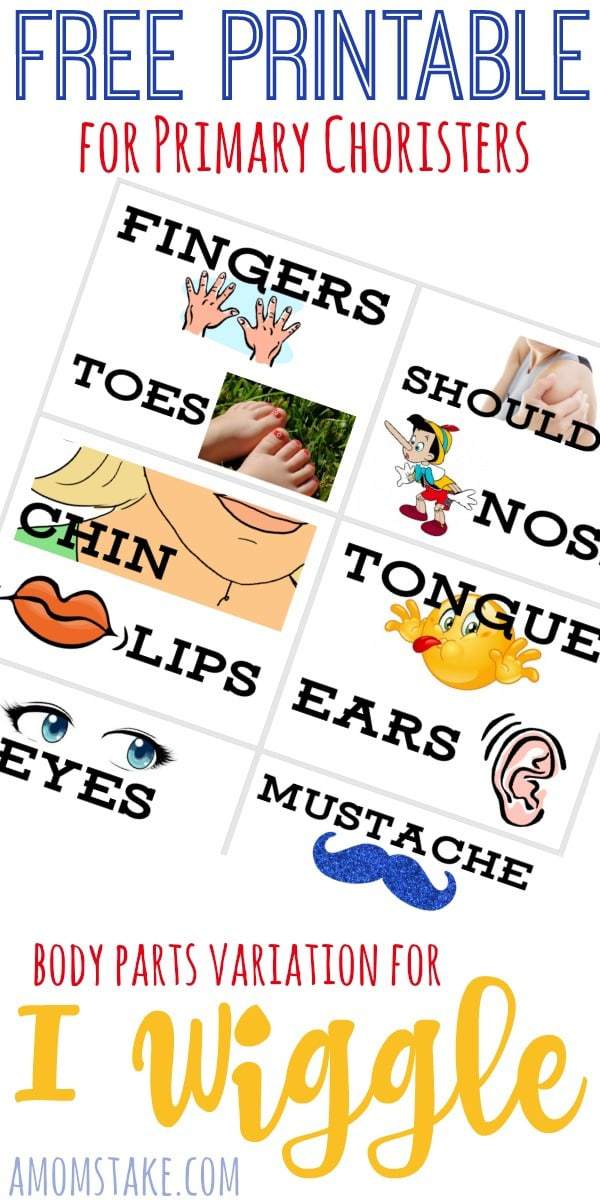 Or grab another fun variation of the egg shakers, Homemade Maracas.