I received a 092 Large Oval Springfree Trampoline for review. All opinions are my own.
My younger brother has been going through a difficult time the past few weeks and it's been really impacting my whole family. It's always hard to watch someone you love struggling. Despite the hard times, it created a really unique opportunity for my entire family to be able to gather together. Growing up in a family with 6 kids this was no small feat! We haven't had all the siblings together in a long time. My husband immediately decided the occasion called for him to barbecue and invited everyone to gather for a big meal he spent literally days preparing. The weather had cooled down enough that we got to visit with each other and let the kids play outside!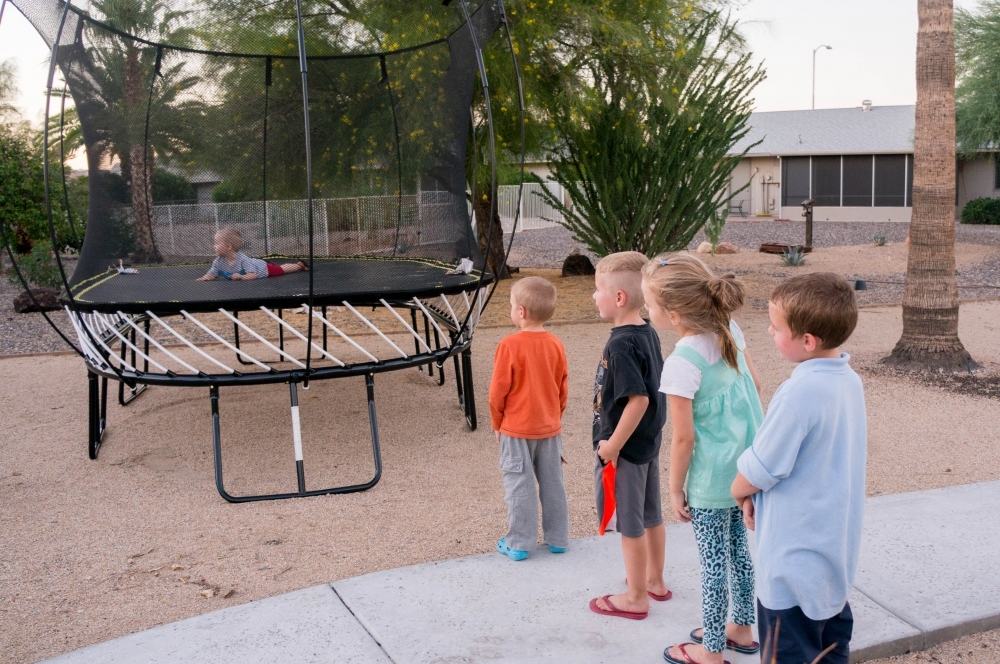 The kids all eagerly lined up to take a turn jumping on our Springfree Trampoline. My niece and nephews have a traditional trampoline, so it was especially fun to see what they thought of the new trampoline and how it compares. It was hard to get any of them off the trampoline.
My youngest nephew at only 2 loved to bounce and bounce and run across the trampoline. He never tired or wanted to get down, in fact he was always clamoring to get another turn!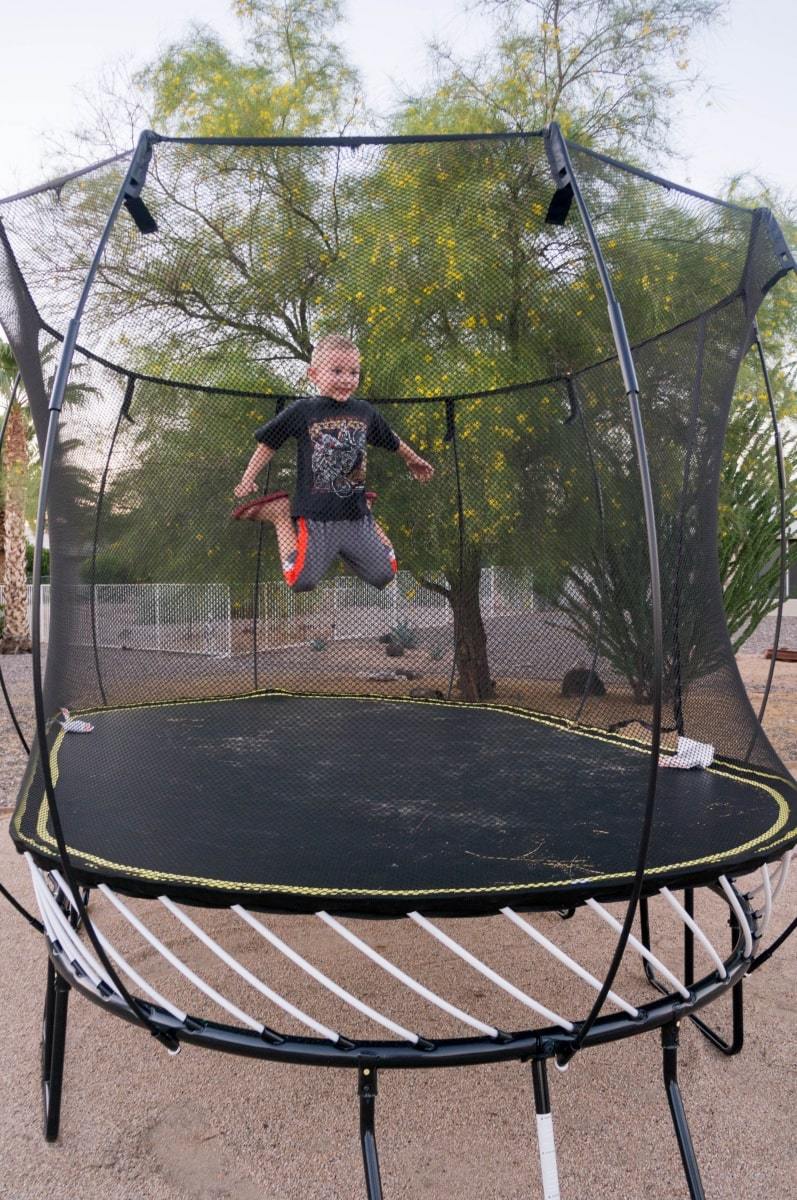 My other nephew was all about showing off his cool moves! He could jump really high and had no fear.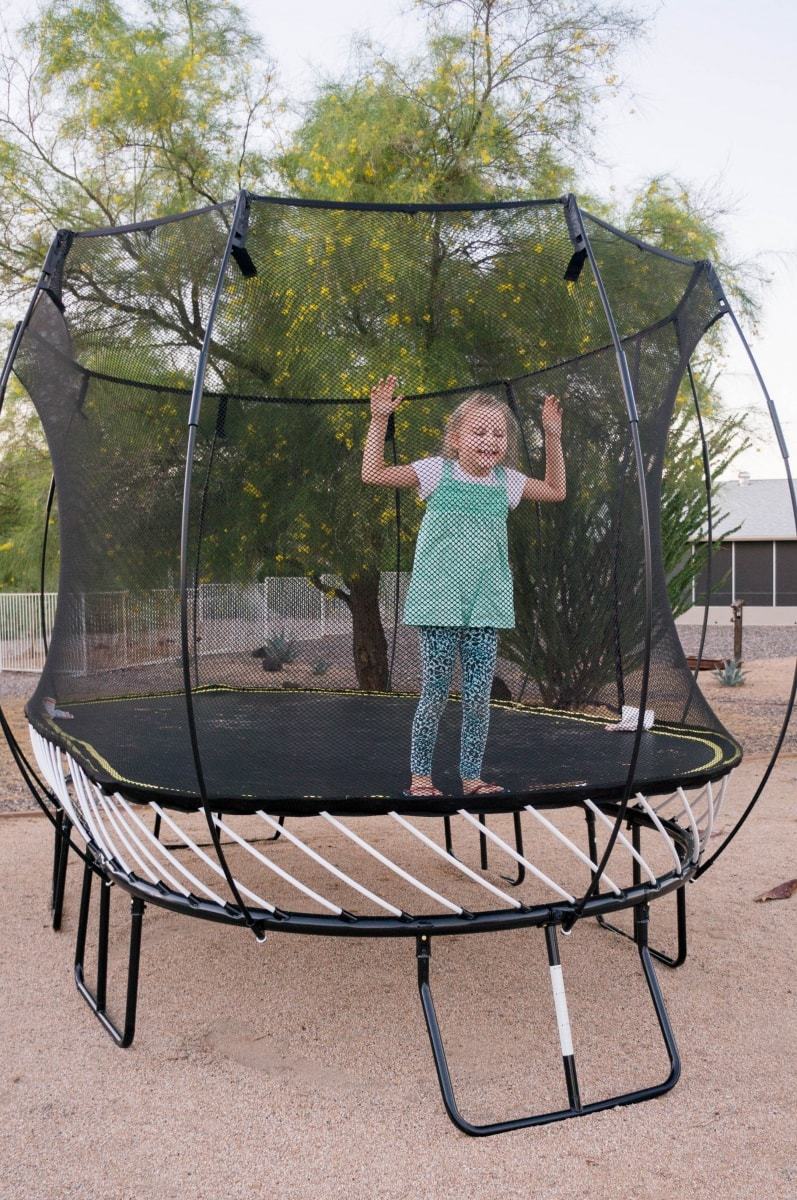 We challenged my niece to run into the sides to see what would happen. After one hesitant try, she was surprised, and excited, by how soft the mesh was and that it didn't hurt to run into the sides but instead safely supported her. Of course, then that's all she wanted to do was aim for the netting.
Though we can't say that's anything too unusual, as my son discovered crashing into the sides over a month ago and still might just think it's the best part! I cut off right as he was telling me that jumping in the middle gives you the highest bounce.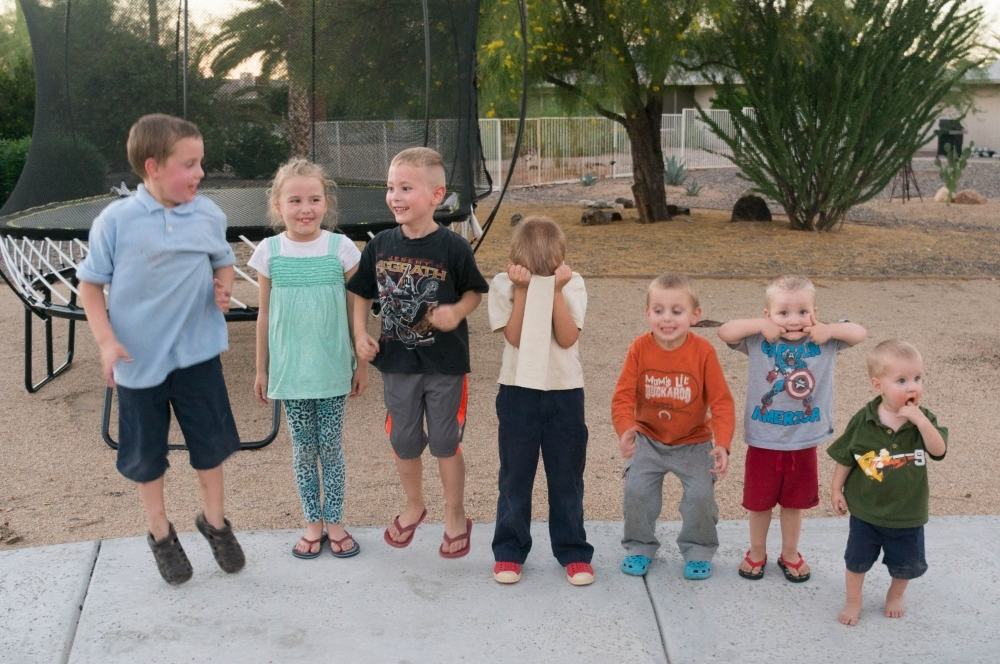 Even when we coaxed all the kids to line up for a picture and pause taking turns on the trampoline, they decided they were still going to jump! You can see a few of them mid-jump in our their cousins picture. Can you tell which kid didn't care for pictures and just wanted his turn?
They all had a great time playing together and taking turns on our Springfree Trampoline. I didn't get pictures of any of the adults playing because I was busy getting the kids fed, but even the adults that tried out the trampoline thought it was so unique and fun! Here's what they had to say:
Do you worry about trampoline safety?
"I do worry seeing as I grew up with them before they had nets surrounding their edges and have fallen off and seen many people injured by them."
What's your impression of a Springfree trampoline? How do you notice that it differs from a traditional trampoline?
"The Springfree trampoline was awesome! I felt like I was able to bounce high, but it never felt unsafe. With tradition trampolines that I had growing up, I was always afraid to jump too high as it seemed too easy to fall into the springs or bounce off of the trampoline to the ground. The Springfree felt like it gave a consistent bounce whether jumping exactly in the center or toward one of the sides."
"I thought it was beautifully constructed with sound ability to hold any person without the fear of running into springs or polls or making holes anytime soon."
Are you aware of the health benefits associated with jumping on a Springfree trampoline?
"Well, actually, after jumping on it for about 10 minutes I was starting to feel tired and thought, "This is a pretty good workout!" It is a fun way to get your heart going and exercise which is great for adults, but also means it is even better for kids as they will spend hours playing on it. The trampoline will keep kids outdoors and active!"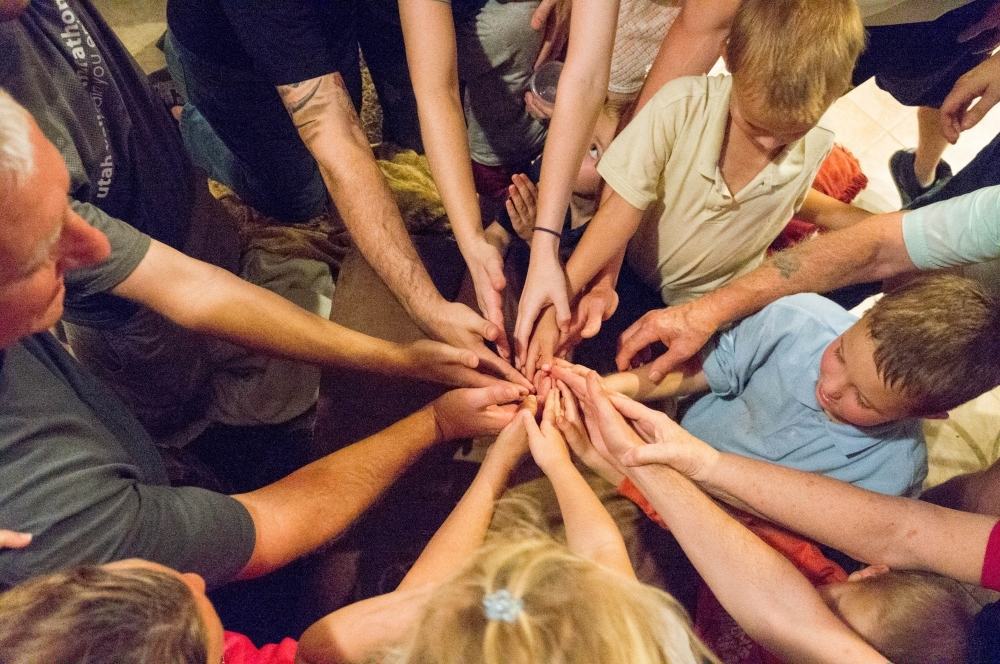 We have a family tradition my dad started when my siblings and I were just little kids that we would gather together at night after a family prayer and roll our hands together and shout our own little family cheer, "Love ya". It was neat to be gathered back together and carrying on our family traditions with a few more bodies in the mix with spouses, a fiance, and the next generation too. When it comes down to it, this is what matters. The time that we spend together as a family having fun together and creating those memories and traditions that mean something for years to come makes the biggest difference.