I received coupons redeemable for free Rubio's meals in exchange for this post. All opinions are my own.

My parents have a tradition of heading to Rubio's every Tuesday night for the famous "taco tuesdays" special! They absolutely love Rubio's fish tacos and have been raving to me for months now about how good they are and inviting us out for fish taco night! We've been meaning to go with them, but they go really early, like 3pm, and it just hasn't worked with our schedule yet because that's when our kids are just getting out of school and so we always miss their weekly trip. For my dad's birthday a few weeks ago, though, we told my dad we would treat him anywhere for dinner and asked him where he would like to go. He told us he wanted us to go to Rubio's so he could fix me up a plate of fish tacos loaded with salsa and promised me I would love them. That was the perfect plan since Rubio's had offered me free eats coupons to give them a try. We had been antsy to try out their fish tacos anyways!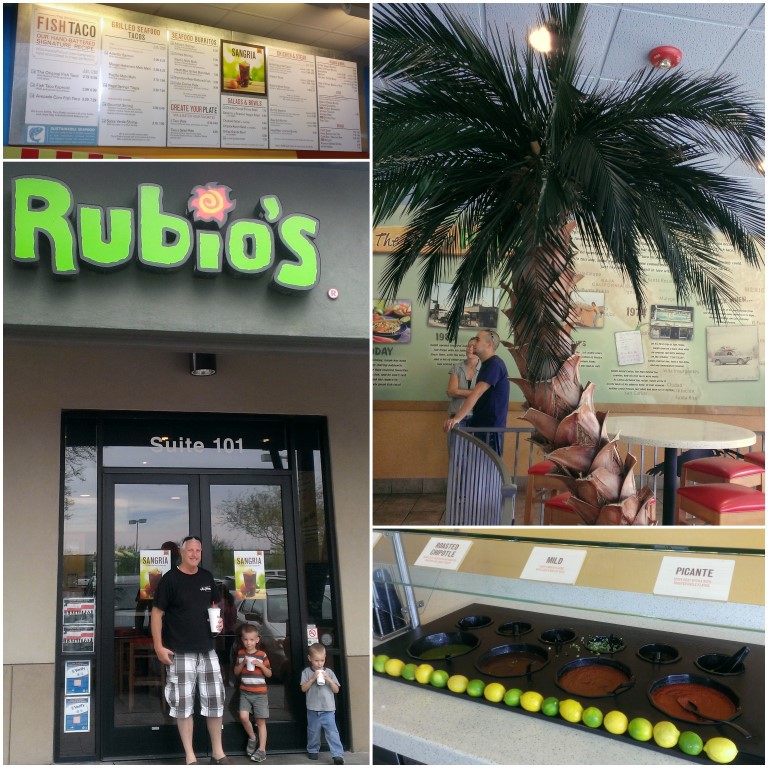 We headed up to our local Rubio's location which is about 20 minutes from our home. While it's not right around the corner, we quickly could see why it was worth the drive. Rubio's has a fun atmosphere with a big awesome palm tree right in the store and a whole buffet of salsa options that are yours to enjoy! We each picked out a variation of tacos to try from fish tacos to shrimp, steak and chicken, there was a little bit of everything. The kids each picked out a kids meal which came with their choice of tortilla chips or applesauce for the side. I loved how all their menu choice are good-for-you foods made with out all the processed foods typical of fast food. You'll find in Rubio's quick menu service that is brought to your table but without the hefty restaurant charges, tips, and long wait times. They also feel very family friendly!
After we got the kids settle with their drinks and meals, it was time for my dad to show me how to fix up my tacos his way. You can see my tacos below, their before and after. They come already really full but if you love salsa, then they definitely don't come complete. We headed over to the salsa bar and loaded up our tacos with three big scoops including salsa, a fresh squeezed lime and pico de gallo mix of onions and cilantro. They were so full you could barely pick them up but oh were they good! Everything was really yummy and really filling.
When we finished eating and were waiting on the kiddos to finish up their meals, I was impressed to see the store manager going around to visit each of the tables offering wedding mints after their meal. I'm not sure if this is something specific to our location or if they offer mints at all the Rubio's, but it was a really nice touch to freshen our breath after all the onions and salsa!
Rubio's offers $1.50 fish tacos every Tuesday starting at 2:30pm! It's the perfect excuse to have a Taco Tuesday night and you can order as many as you'd like! Head over to their website to find a Rubio's near you!